Cougar Club of America's Award-Winning Magazine
At the Sign of the Cat is a magazine exclusive to Mercury Cougar enthusiasts. It provides a network of relationships within the Cougar Club of America community in continuing the legacy since its founding in 1980. Since then, the magazine has become a respected source of information to experts and novices alike, in addition to passing resources on to a younger generation.
The Cougar Club of America is a global, collective community preserving the passion and nostalgia of Mercury Cougars built between 1967 and 2002.
The publication itself has taken on many forms, which aptly began as a hand-typed newsletter that sought to bring like-minded people together before the Internet. After several generations and increasing interest through word of mouth, the club has grown into something much larger–a worldwide effort that embodies the enthusiasm and compassion of the people that volunteer their contributions to preserve and help to create the movement that is Mercury Cougar. Through these efforts, ATSOTC magazine has become a staple for the past, present, and future.
Thierry Frisch Returns as Editor of ATSOTC
Some of you might already know me. After a five-year hiatus, I am returning as the editor of ATSOTC, a role I had from 2015 until 2018.
I am 48 years old, married, no children, and currently work in the communications and international relations department for a government agency in Luxembourg, Europe.
I am looking forward to designing some nice magazines for all of you. So, keep those articles and pictures coming.
ATSOTC magazine is published quarterly as four issues per year. Each issue comes filled with articles focusing on preservation and restoration, news and information from local and worldwide Mercury Cougar clubs, and additional coverage of all things Cougar.

CCOA Membership and ATSOTC Versions
One Year of Membership and Four Quarterly Issues of ATSOTC
$30.00 / year = Exclusive Digital Version of ATSOTC
$45.00 / year = Printed Version of ATSOFC (US only)
$50.00 / year = Printed Version of ATSOTC (International only)
Golden Quill Awards
ATSOTC is a multiple Golden Quill Awards recipient.
This award is presented annually to automotive club-sponsored publications and is tendered in recognition of outstanding efforts in the communication field of the old car hobby. This award is presented by the editors of Old Cars.
Click on an image to zoom in.
At the Sign of the Cat Website
At the Sign of the Cat Magazine is a club magazine created for the members of The Cougar Club of America. The publication began in 1980 as a newsletter to its members and has grown to cover all regional clubs internationally that support Mercury Cougars. Mercury is a subdivision of the Ford Motor Company. Cougars were produced from 1967 to 1997 and from 1999 to 2002.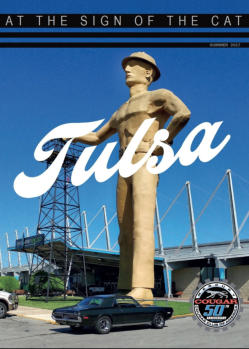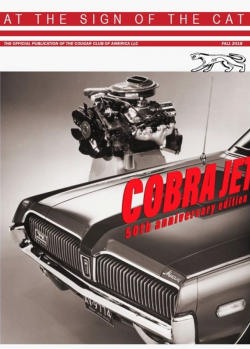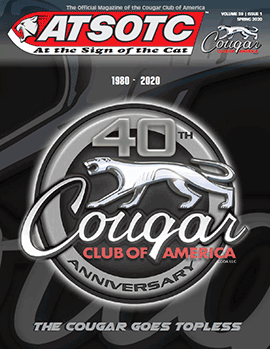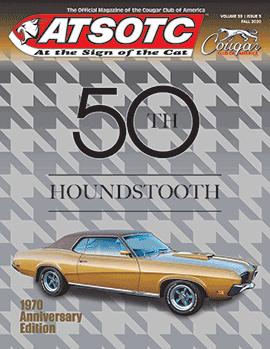 Sample Article and Other Information
Here are a few sample articles from past issues of At the Sign of the Cat: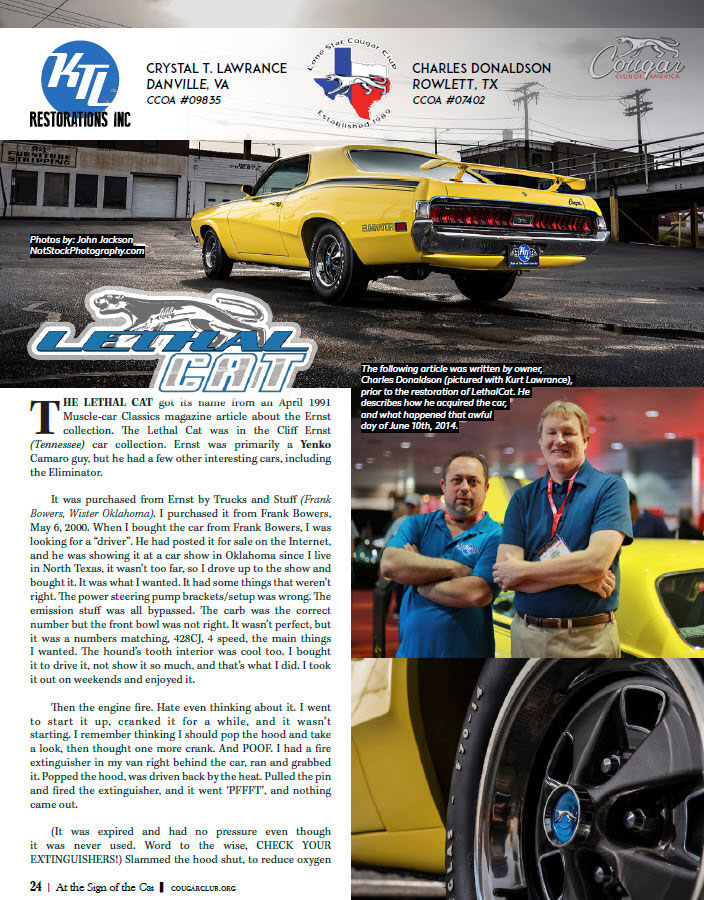 The Making of At the Sign of the Cat
Here are a couple of classic videos of At the Sign of the Cat being published.