KTL Restorations
"The Cougar Specialist"

KTL Restorations is a nationally recognized facility in Southern Virginia for premier auto restoration and custom car builds. They use their skills, experience, and passion to transform old school cars into new pieces of art to drive and enjoy. Every single car that comes to their facility has one important thing in common — history. Over time, they may have lost their shine, power, or comfort. It's their goal to bring vehicles back to their former glory, and maybe even get them looking better than they did the day they rolled off of the manufacturer floor. With comprehensive services for every aspect of classic cars, their team is the one-stop shop for prestigious restorations. Their experts perform everything from frame and chassis repair to professional painting, they take care of everything on-site to completely transform a car into its best condition ever. They use only the best in high-quality products and parts to ensure a vehicle will be looking and running well for many years to come! They're proud of their part in maintaining the history of these cars and preserving the memories that come with them!
Award-Winning Restoration Service
Listening to your favorite song on the radio, feeling the sunshine through the car window, and enjoying a smooth ride on a newly paved road. This might sound like a far-fetched dream to many, but not for the clients of KTL Restorations! Their team in Danville, Virginia, provides expert classic car restorations that take vehicle owners back in time so they can enjoy the same — or better — luxury and performance their classic car offered as the day it left the dealership. Whether your car is forty or sixty years old, thier team can provide the structural and mechanical repairs to bring it back to life, so you can get back on the road and enjoy it like the good-old-days. They perform repairs, painting, and upgrades in-house, so you know that your car is only being worked on by trained and vetted professionals. Their team works with each of our clients to create specific goals and plans, ensuring you get what you ask for from your auto restoration.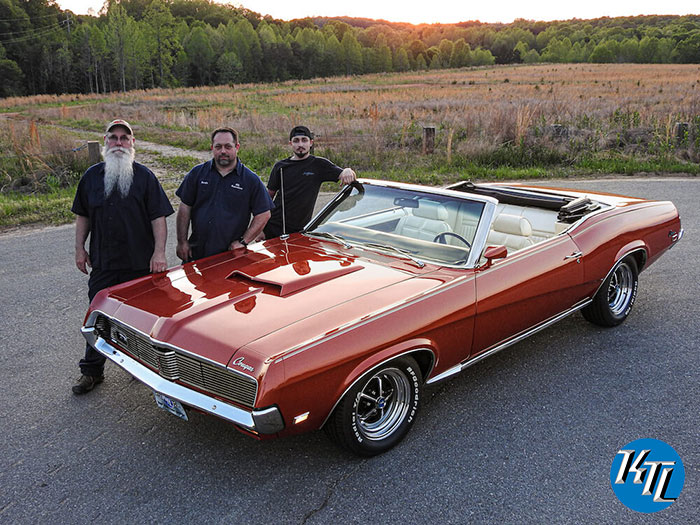 The Industry's Repair and Restoration Experts for 1967-1973 Mercury Cougars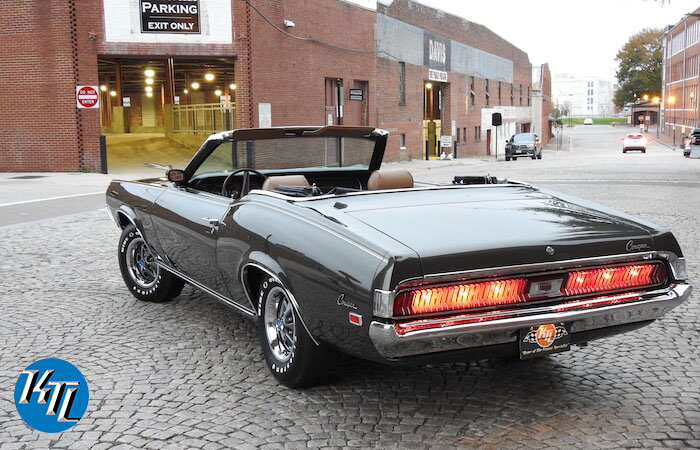 The name KTL Restorations is nearly synonymous with Mercury Cougar restoration. No one has a greater connection or passion for these vehicles than their team in Danville, Virginia. It all started with their founder, Tom Lawrance, who loved Cougars and spending his time and money restoring them to their full glory. He saved his money while stationed in Vietnam to buy a 1968 Cougar with a 6.5-liter engine and 4-speed transmission. That same passion translated to his son, Kurt Lawrance, who spent his summers as a student working in the family garage on his dad's next Cougar, a Yellow 1970 Eliminator with a 428 engine. When it needed work, Kurt sought out solutions. Along the way, he learned everything about mechanical repairs, electrical diagnostics, auto paint and body, and more. The duo's passion for at-home restorations grew into a reputation for quality accomplishments. Soon, they were the leading resource for anyone who wanted to see their cat brought back to life.
The Cougar Specialist
They focus on returning cars to their original factory showroom condition, which involves careful preservation and restoration. Their attention to detail has won them great respect in the Cougar community. Whether you're scrolling the CCOA's database, flipping through Legendary Cougar Magazine, or viewing the world's best muscle cars, chances are you'll see the renowned work of KTL Restorations. In 2019, their restoration of the infamous "Lethal Cat," a 1970 Mercury Cougar Eliminator, went on to win Muscle Car of the Year!
Give Your Cat All Nine Lives Back
KTL Restorations in Danville, Virginia, helps Cougar owners see their dreams come true with exceptional restorations that bring vehicles back to their original glory, power, and prowess. While they don't only work on these vehicles, there's no denying their place in their hearts and specialty services. No one can transform, protect, and restore Mercury cats better than them! To learn more about what they do, how they do it, and what they can do for you, please reach out to their team by calling 434-201-4144. They are always eager to take on a new challenge and know that their clients will be floored with the results. Your restoration project is as unique as your vehicle, and their experts will be happy to discuss the timeline and details with you. Your passion project is their life's work, and they can't wait to start the process together!

1969 Mercury Cougar XR7 Convertible – Jim's "Cayenne Cougar"
"Cayenne" traveled to SEMA 2021 and was displayed in the Por 15 booth, in part assembly, to showcase vendor product and refinish
Set to premiere at Detroit Autorama, March 4-6th
Modifications include: Custom "Candy" overlay Glasurit 55 line refinish in KTL "Cayenne"; Original bumpers have been shaved to body and re-chromed by Advanced Custom Chrome of Erie, PA; shaved and modified hood scoop; Chassisworks 4 link, Varishock, coil over suspension; IDidIt tilt away steering column: Baer Brakes T4 in "Black Ice" finish and Baer brake booster; Schott Performance 18″ Venom series wheels in Polished finish; Mickey Thompson Tires; Dakota Digital custom built gauge cluster to mock original style with analog and digital upgrades; Sparc Industries, Stallion steering wheel, wrapped with Moore and Giles Tribeca Black leather, Vintage Air upgrades, CVF black and polished combo pulley system, Holley Terminator X fuel injection on top of the rebuilt, original 390 FE engine, Dougs headers, Promaxx heads, CVF Valve covers and hood hinges; XS Power Battery; Painless wiring; Dewitt's Custom Radiator; Boom Mat by DEI sound-deadning; Titanium header, heat wrap by DEI.
Interior by King's Auto of Roanoke and Speed & Design of Nashville: Speed & Design: Custom seat covers from Speed & Design, with Moore and Giles in Tribeca Black and Quarry; King's Auto: modified vehicle and trunk floors, custom convertible boot; Convertible canvas top by Kee Auto Top; Lokar shifter; remaining interior has been fully restored and dyed by KTL Restorations.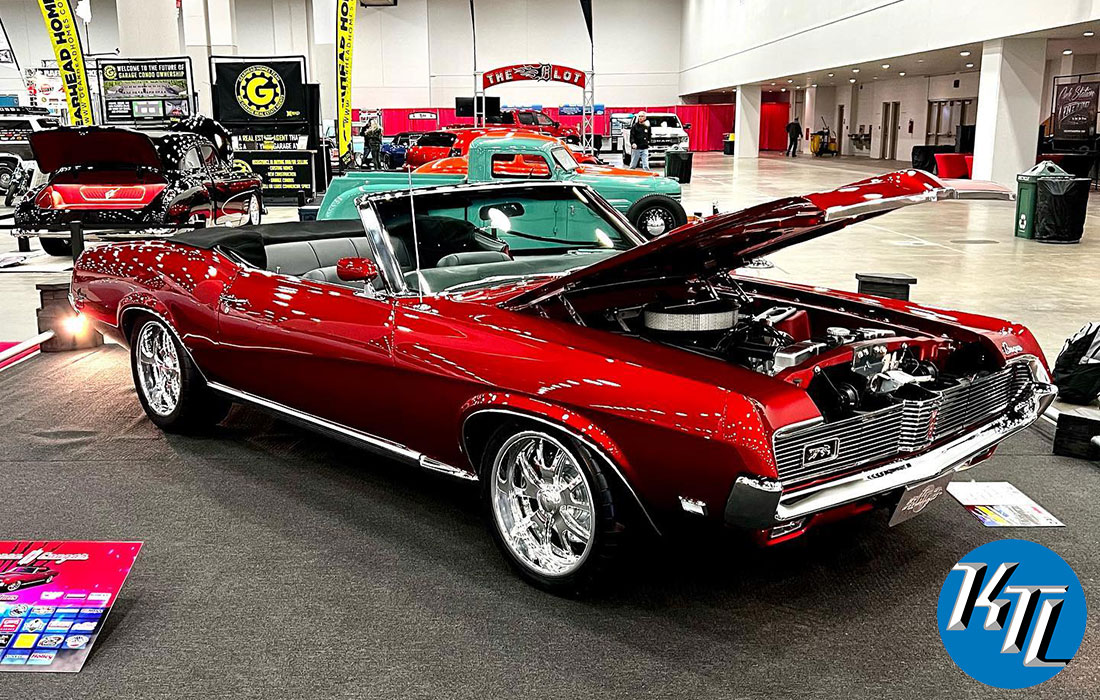 1970 Mercury Cougar XR-7
KTL Work performed
Minor paint correction

351 Clevelend rebuild and full engine compartment overhaul

Custom leather seats

Full interior restoration

A/C upgrades from

New floor pan, torque boxes and frame rails from

LED conversion

Front vacuum delete

Front grill restoration

Paint detail, buff and polish

Undercarriage overhaul

Emblem restoration

Refinished style steel wheels

King's Auto Upholstery of Roanoke, VA – Upholster for original style XR-7 seats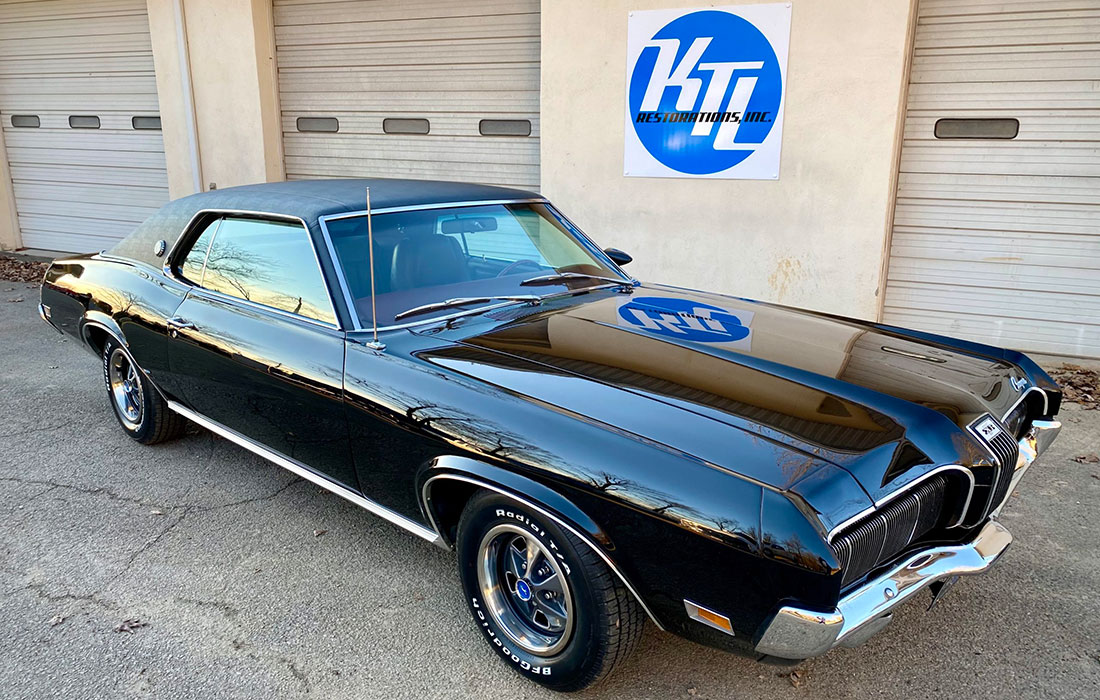 1968 Mercury Cougar XR-7 "G" (rare packaging option)
Paint Code T – Cardinal Red / Candy Apple Red
100% Concours restoration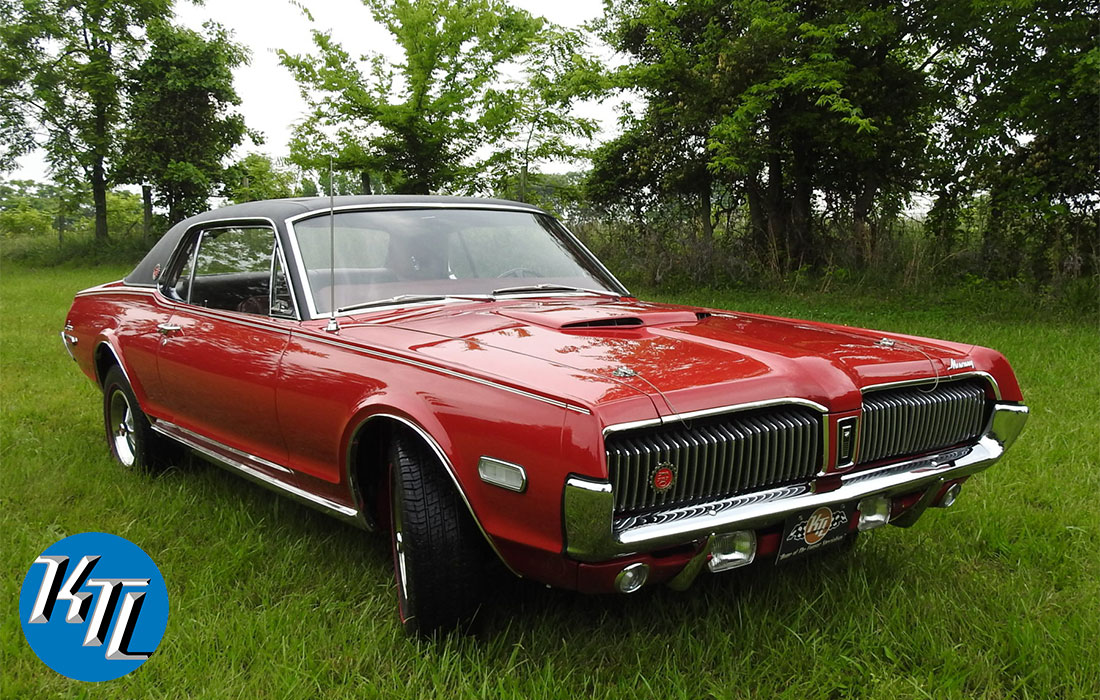 1968 Mercury Cougar XR-7 Mod
Custom built for a client's teenage dream-come-true!
Back in highschool, Mike owned a beloved 1968 Cougar, but was not able to keep the car for financial reasons and had to sell it a short time later. In 2017, his long-time goals of having his dream-ride came true. KTL Restorations spent 2 cars building and designing the car he had always wanted. It was unveiled at Carlisle All-Ford Nationals and resides in Georgia with Mike and his family. It will one day be passed down to his grandson.
Exterior: Custom "GT-E" inspired 2-tone. Deep Black with Silver bottom
Interior: Black
Engine: 347 Stroker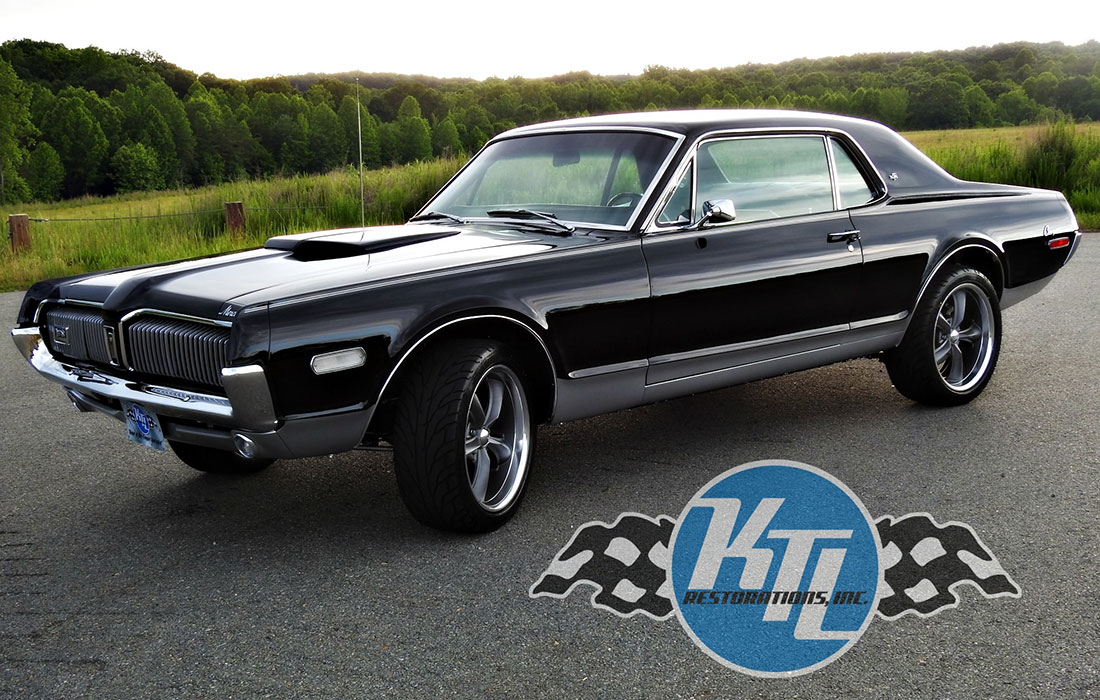 1969 Mercury Cougar – Dan Gurney XR7 Gifting Car
The gift that keeps on giving…
This '69 Cougar was the gifting car in the Canadian – American Challenge Cup Series (Can-am) from the famous American racer, Dan Gurney.
Bruce McLaren took home the win and the '69 Mercury Cougar.  The car was later found in New Hampshire and fully restored by KTL Restorations in 2013. Later the vehicle was featured on Legendary Motor Car and is now owned in a private collection.
Exterior: Paint code T: Red (later known as Cardinal Red / Candy Apple Red)
Interior: Red
Engine: 428 Cobra Jet, Ram Air induction
Transmission: C6
Other noted features: power windows, tilt-away column, style steel wheels, XR-7 package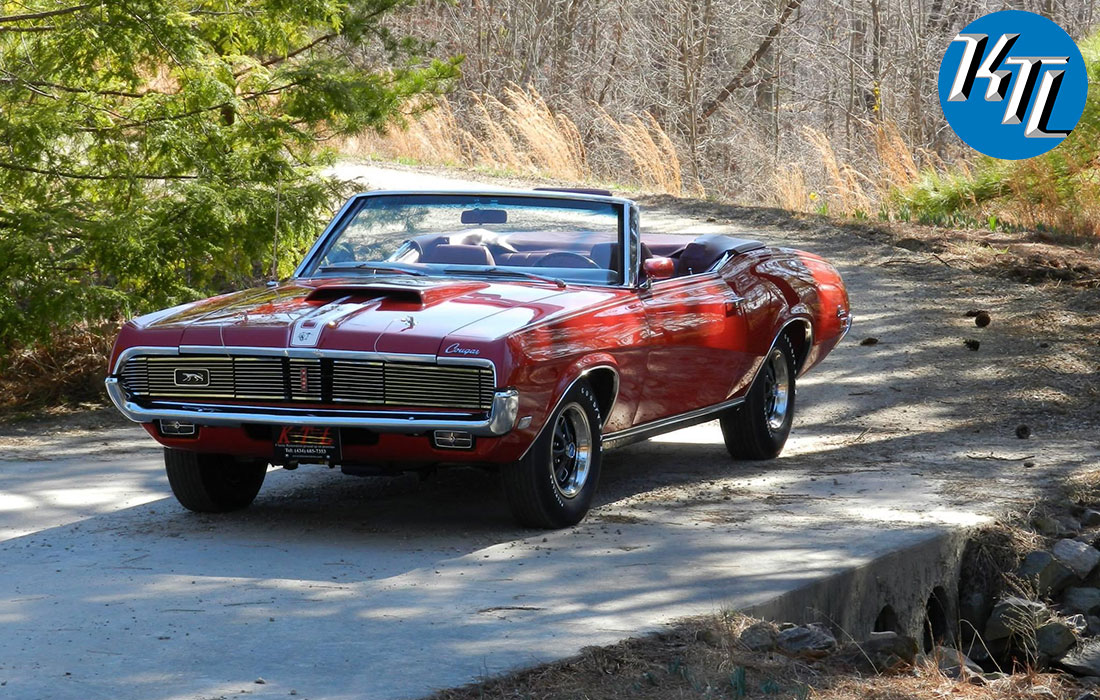 1969 Mercury Cougar Convertible / Light Mod
Goodguys Rod & Custom Award of Excellence, Raleigh, NC 2019
Exterior: Indian Fire Metallic / Burnt Orange ~ Glasurit 55 line
Interior: White
Engine: 351 Windsor with MSD Ignition
Transmission: FMX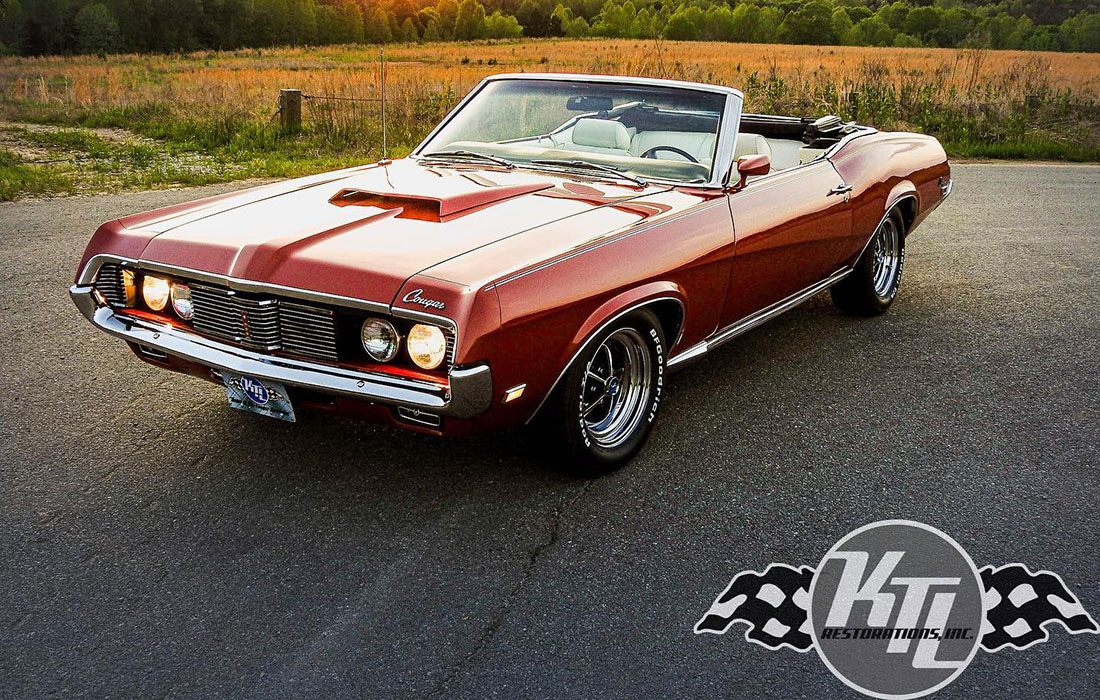 1969 Rare Mercury Cougar Convertible
Engine: 428 Cobra Jet / Non- Ram air
Transmission: Top Loader 4 speed  / Center force clutch
Exterior: Dark Ivy Green Met. / Black Jade
Interior: Saddle
100% full rotisserie restoration / concours restoration.
Appox a 20 month restore. Featured in RM 2019 Calendar (BASF Refinish)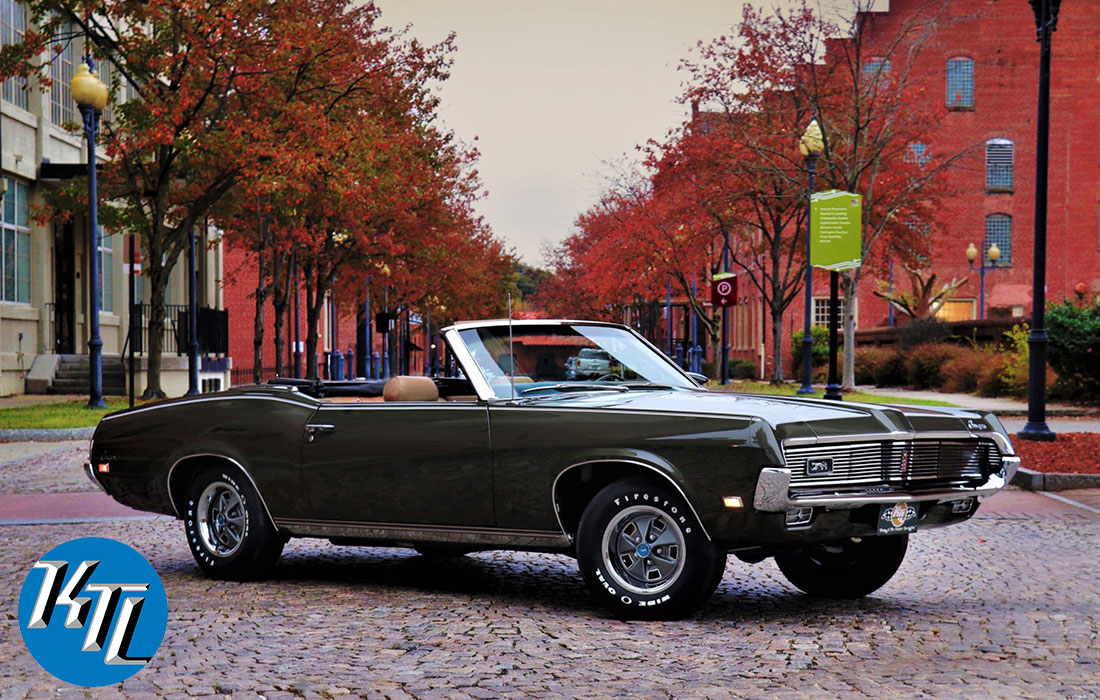 1973 Mercury Cougar Convertible "Diablo Gato"
Modified – Triple Black with custom, fabricated, inlay bumpers
Engine: 414ci Cleveland Ford, powered by the Holley Terminator X Stealth 4150 EFI system from Holley features 4, 100LB/HR Fuel Injectors complete with Trick Flow Specialties CNC heads and March Performance front pulley system.
Transmission: Tremec TKO 5 speed
Suspension: Chris Alston's Chassisworks. Coil-Over / A-Arm Conversion Suspension System – Ford / Mercury 60-77. Baer Brakes
Paint: Glasurit, a brand of BASF. Deep Black with custom "ghosted" Eliminator stripe in custom mixed "Ghost Pepper"
Interior: Stock appearance with '70 style high-back seats. Stock appearance dash with digital conversation instrument cluster by Dakota Digital. Custom, KTL edition Cougar steering wheel by Con2R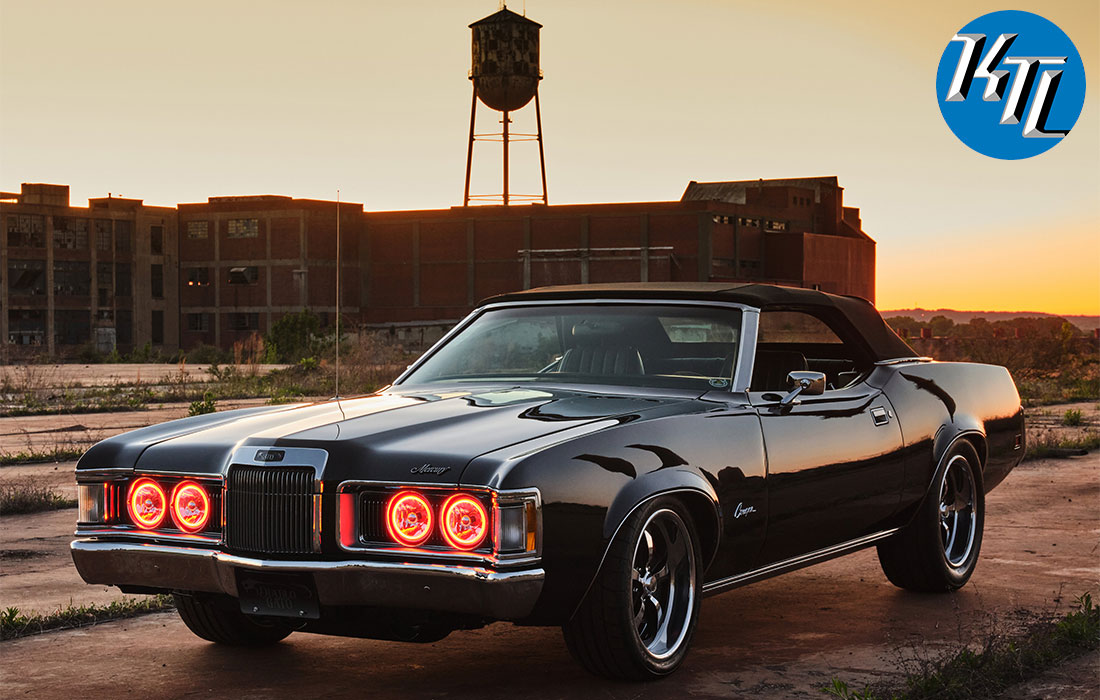 1970 Mercury Cougar Eliminator "Lethal Cat"
All number matching, all original ~ Burnt in June 2013. 4 year restoration by KTL Restorations Inc.
Engine: 428 CJ
Transmission: Top loader 4 speed
Exterior: Competition Yellow ~ Glasurit
Interior: Houndtooth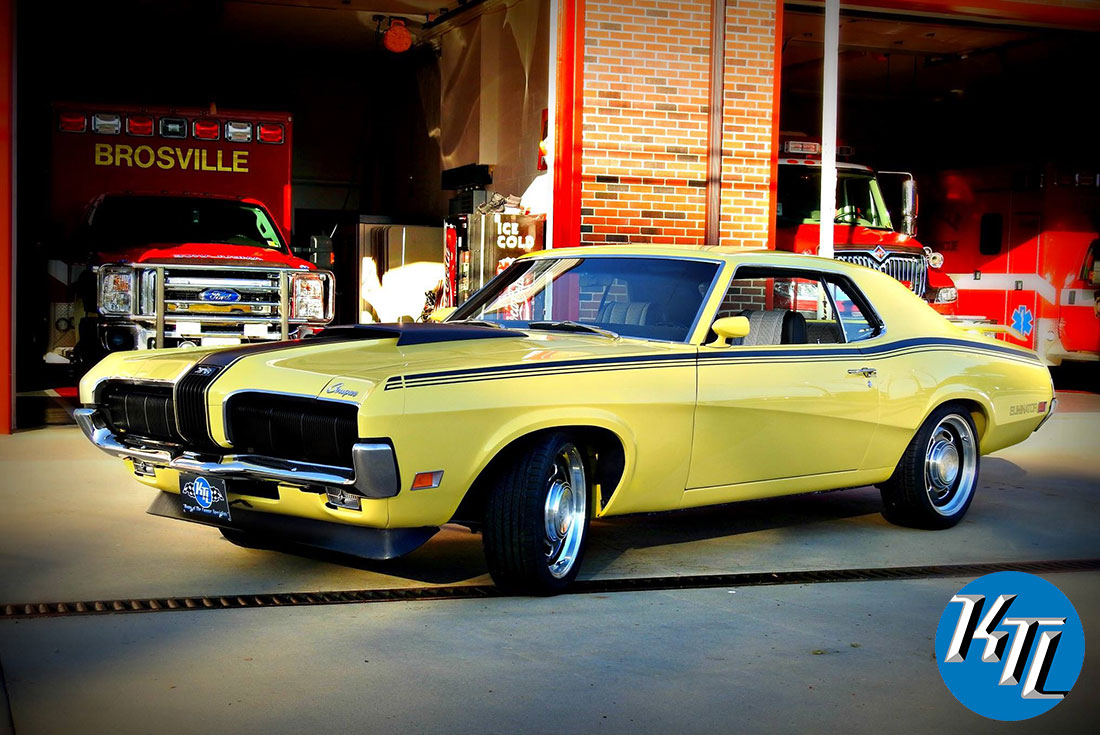 Other Cougars Restored / Light Mod