Mercury Cougar Books, Manuals & Owner's Guides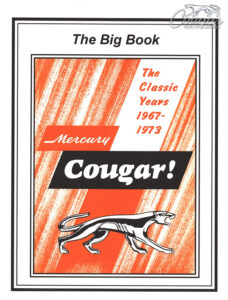 There are books that are exclusively about the Mercury Cougar. There are books that mention a Mercury Cougar in it. Whatever the case, the authors have picked the right classic car to write about.
Check out these Mercury Cougar books.
If you have a Cougar book that is not on this page and would like it included, please send a clear and bright picture of the items to the webmaster. Please look at the items below for an idea of the information I will need.
To zoom in on an image, click on it once.
NOTE: Most of the Don Skinner books on Mercury Cougars are available in the CCOA Store.

Title: The 1969 & 1970 Mercury Cougar Eliminator
Date: 2019
Author: Don Skinner
Type: Book
Pages: 129
Photo: Don Skinner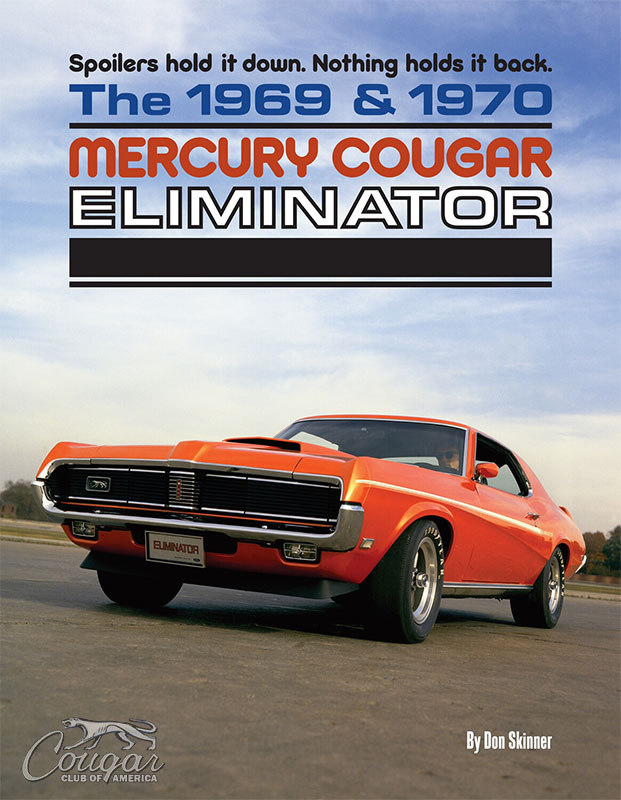 Title: The Luxury Sports Car: Mercury Cougar XR7-G
Date: 2018
Author: Don Skinner
Type: Book
Pages: 69
Photo: Don Skinner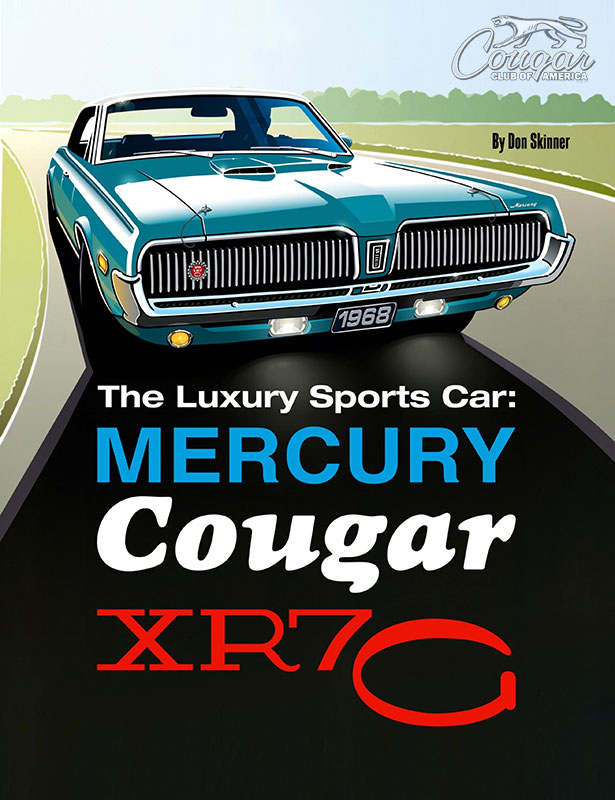 Title: The Mystery Muscle Car: Mercury Cougar 7.0 Litre GT-E
Date: 2017
Author: Don Skinner
Type: Book
Pages: 70
Photo: Conan Tigard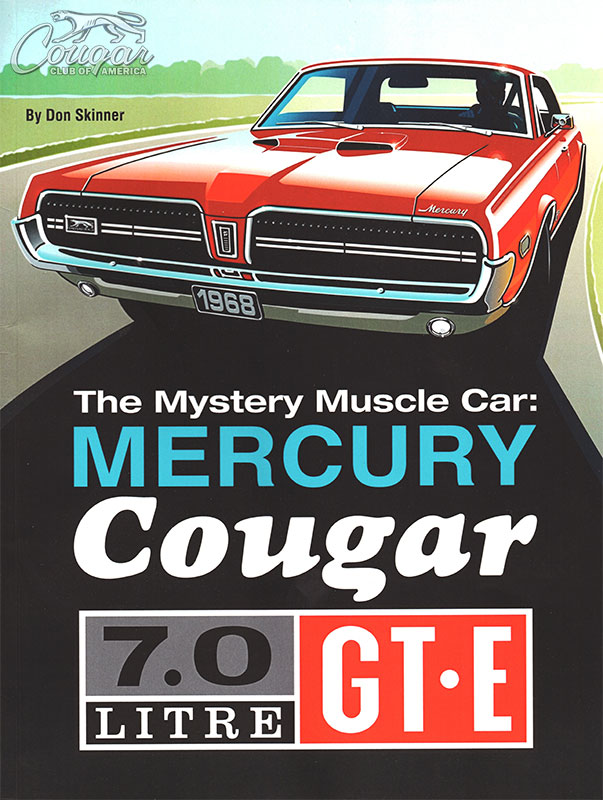 Title: The Big Book Mercury Cougar: The Classic Years 1967-1973
Date: 2014
Editor: Don Skinner
Type: Book
Pages: 186
Photo: Conan Tigard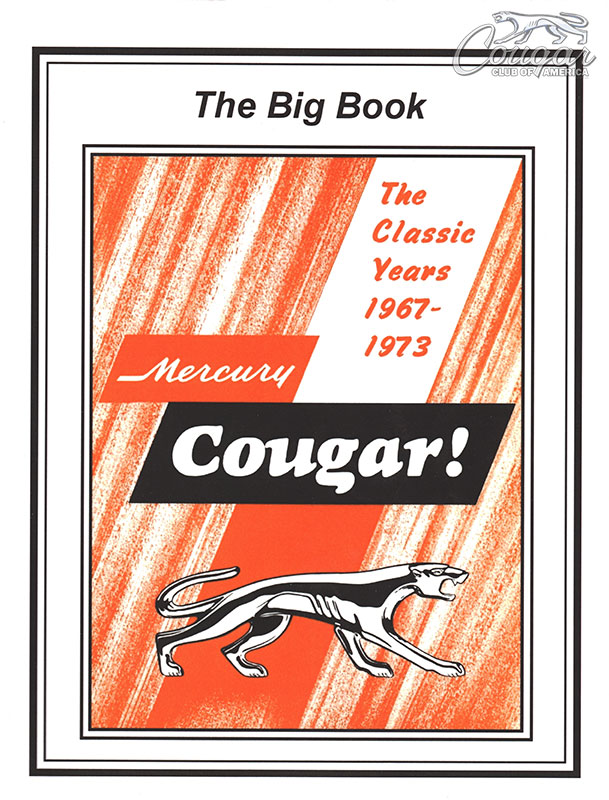 Title: 1968 Mercury Cougar: The Action Car for Action People!
Date: 2008
Editor: Don Skinner
Type: Booklet
Pages: 24
Club: Cascade Cougar Club
Photo: Randy Goodling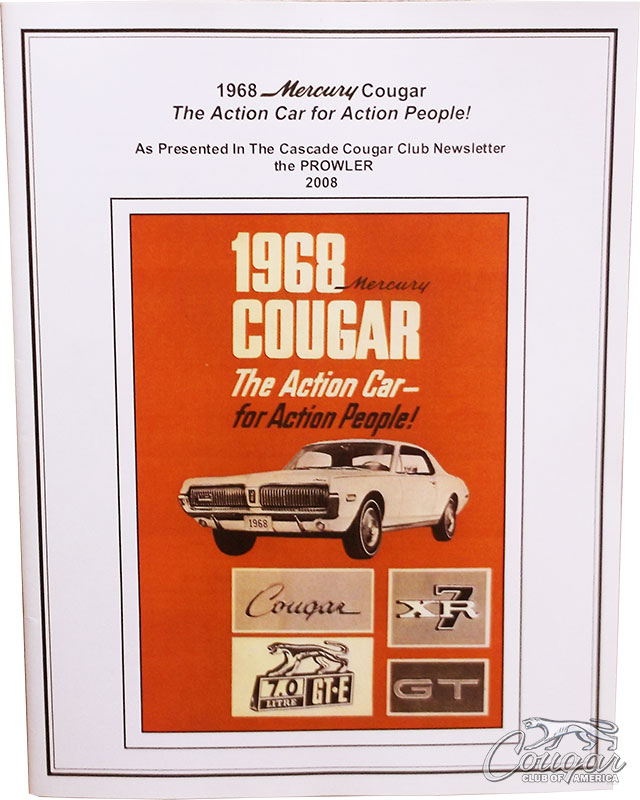 Title: 40th Anniversary: 1967 Mercury Cougar Introduction Program
Date: 2006
Editor: Don Skinner
Type: Booklet
Pages: 20
Club: Cascade Cougar Club
Photo: Randy Goodling
Title: Cougar . . . by the Numbers (1967-1973)
Date: 2000, 2017
Edition: Third Edition, First Printing
Author: Kevin Marti
Publisher: KiSeM Publishing
Type: Book
Pages: 127
Photo: Conan Tigard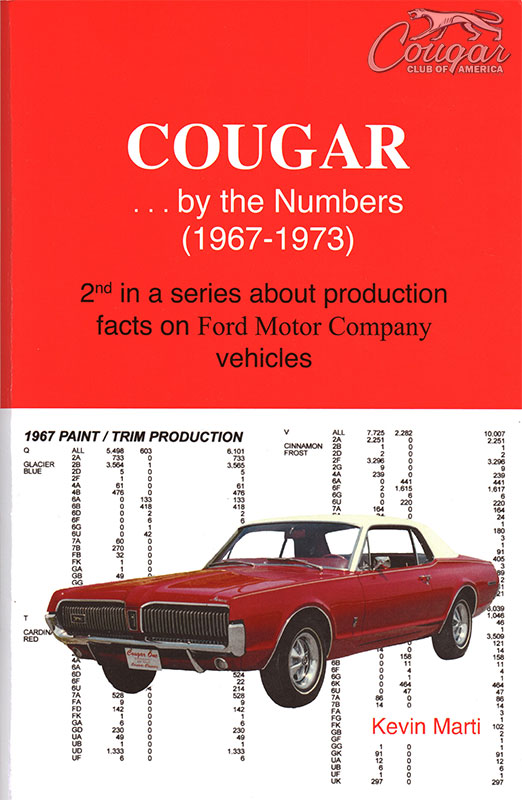 Title: Ford Mustang / Cougar 1964-73 Repair Manual
Date: 1997
Edition: First Edition
Author: Dawn M. Hoch, SAE
Company: Chilton
Publisher: Haynes North America, Inc.
Type: Manual
Pages: 450
Photo: Conan Tigard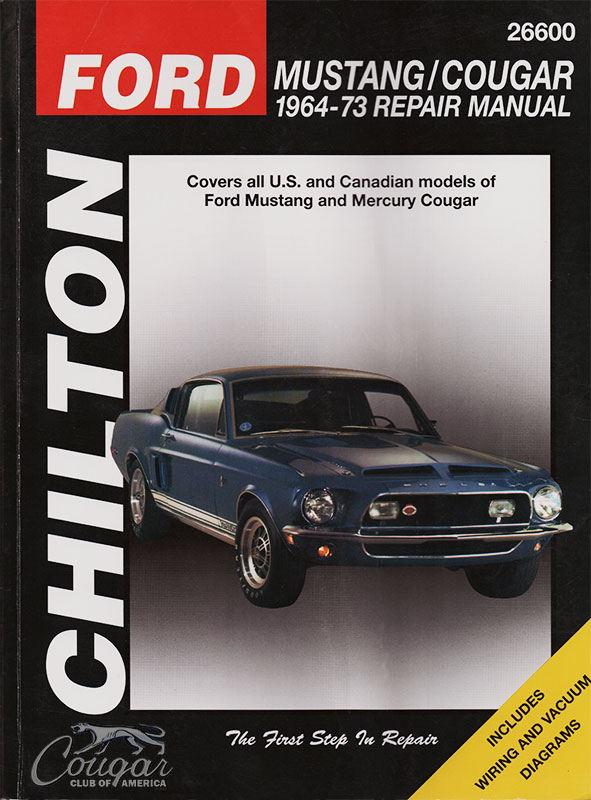 Title: Innocents, Incidents & Indiscretions
Date: 1996
Author: C. Gayle Warnock
Publisher: ProWest
Type: Book
Pages: 276
Photo: Randy Goodling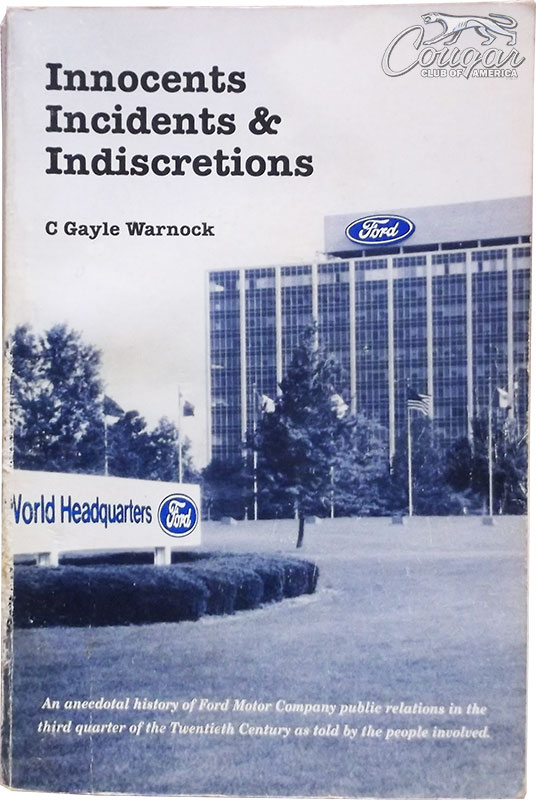 Title: Classic Motorbooks: Mercury Cougar 1967-1973 Photofacts
Date: 1992
Author: Chris Halla
Publisher: Motorbooks Intl.
Type: Book
Pages: 80
Photo: Phillip Payne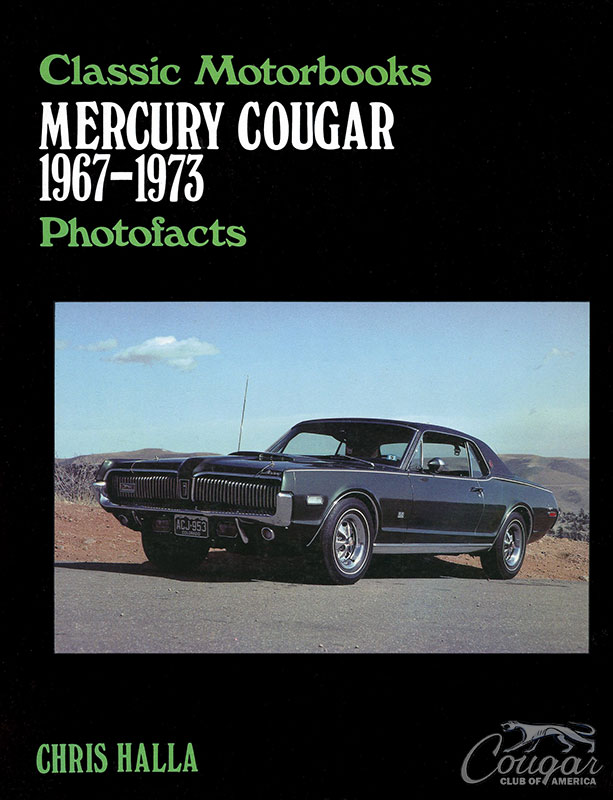 Title: Mercury Cougar 1967-1973
Date: 1987
Author: Gary Witzenburg
Type: Book
Pages: 59
Photo: Phillip Payne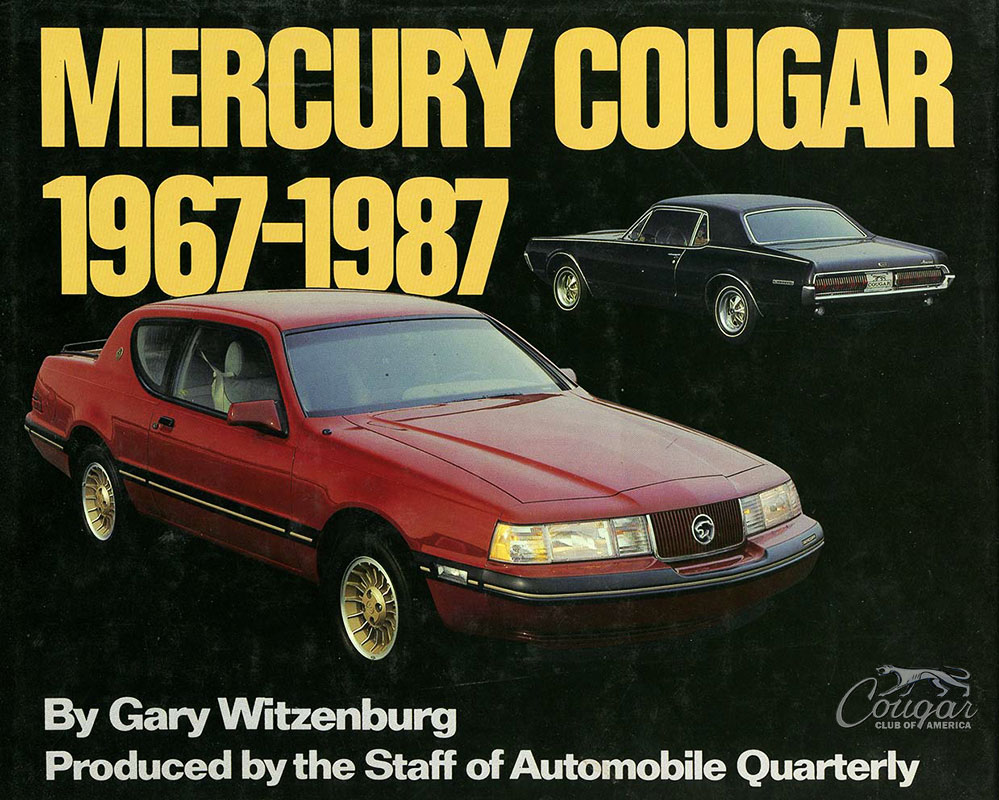 Title: 1979 Mercury Cougar
Date: November 1978
Publisher: Ford Parts & Service Division
Printing: Second Printing
Type: Owner's Guide
Pages: 109
Photo: Conan Tigard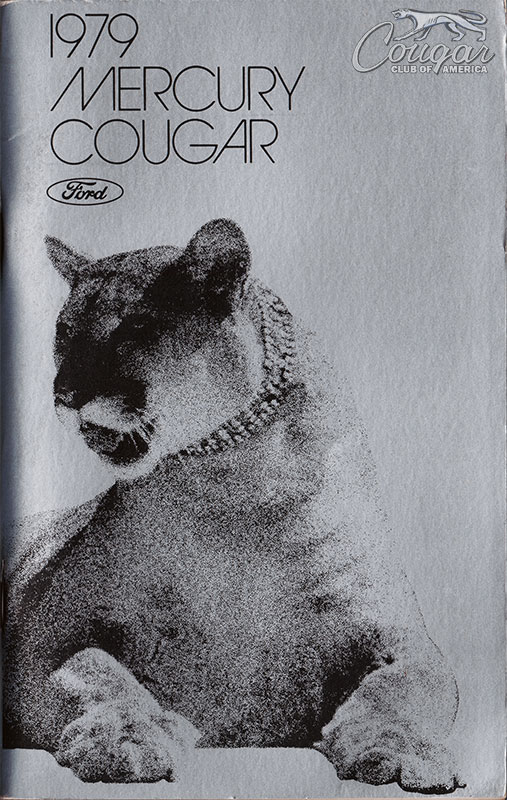 Title: 1970 Car Shop Manual
Date: 1969
Company: Ford Motor Company
Publisher: Ford Services Publications
Type: Manuals
Books: 5
Photo: Conan Tigard
Title: A Car is Born: The Exciting Story of Producing Today's Automobiles
Date: 1967
Company: Ford Motor Company
Division: Educational Affairs Department
Type: Booklet
Pages: 32
Photo: Dennis Pierachini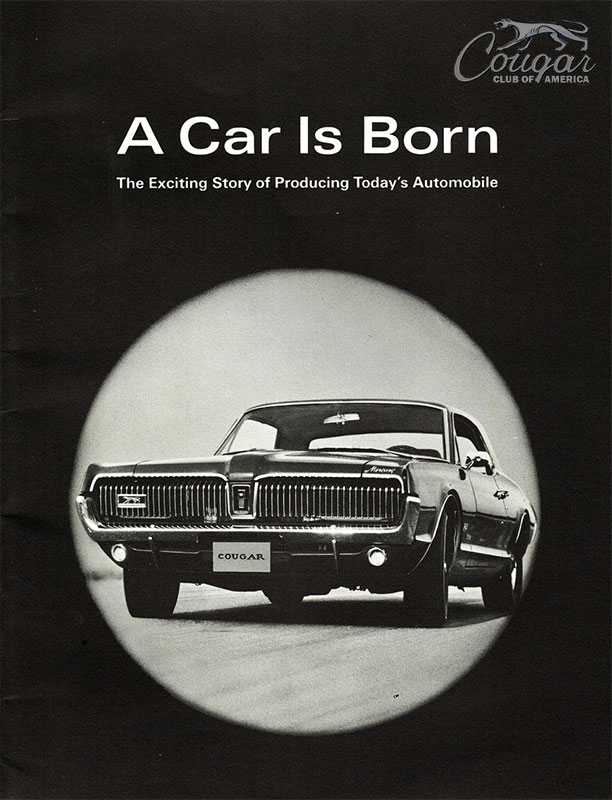 Title: Lincoln-Mercury's Wonderful World of Sport
Date: 1967
Publisher: Sports Illustrated
Type: Book
Pages: 324
Photo: Dennis Pierachini