Etrl Collectibles Mercury Cougar 1:64 Scale Diecast Cars

Ertl has been producing farm toy replicas since 1945. In the early 1990's, Ertl started the American Muscle line up of diecast collectible cars and trucks. In 1999, they were bought out by Racing Champions and then in 2011, they were bought out by Tomy. Their diecasts cars are well-detailed and highly collectible.
Check out these Ertl Mercury Cougar diecast cars.
If you have a Etrl Cougar that is not on this page and would like it included, please send a clear and bright picture of the car in its packaging to the webmaster. Please include the year of release and if it is in a group. Ex: Superfast.
For more information on Etrl, click on the image above to visit the Etrl website.
To zoom in on an image, click on it once.
2001 Etrl Collectibles Mercury Cougar
Name: 1969 Mercury Cougar Eliminator
Year: 2001
Color: Bright Blue
Series: American Muscle
Scale: 1:64
Photo: Randy Goodling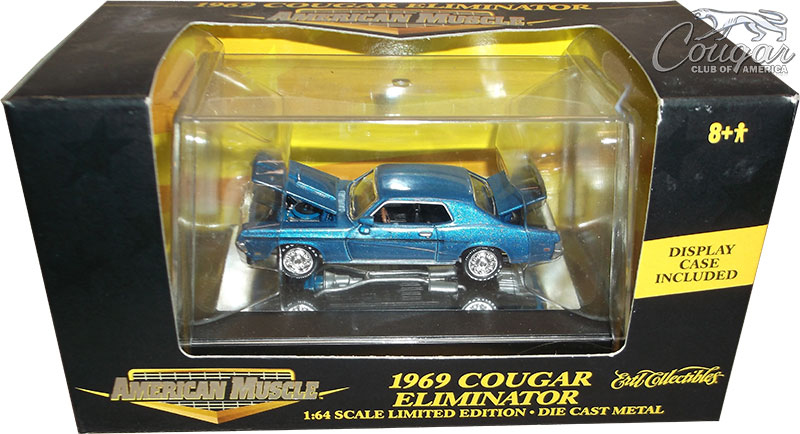 Name: 1969 Mercury Cougar Eliminator
Year: 2001
Color: Competition Yellow
Series: American Muscle
Scale: 1:64
Photo: Randy Goodling