Greenlight Collectibles Mercury Cougar 1:64 Scale Diecast Cars

GreenLight Collectibles is a premier manufacturer and marketer of authentic die-cast vehicle replicas, scale figures and other automotive-related products.
Check out these Greenlight Collectible Mercury Cougar diecast cars.
If you have a Greenlight Collectibles Cougar that is not on this page and would like it included, please send a clear and bright picture of the car in its packaging to the webmaster. Please include the year of release and if it is in a group. Ex: Superfast.
For more information on Greenlight Collectibles, click on the image above to visit the Greenlight Collectibles website.
To zoom in on an image, click on it once.

2021 Greenlight Collectibles Mercury Cougar
Name: 1967 Mercury Cougar XR-7 Trans AM Racer
Year: 2021
Color: Light Blue & Orange
Series: Running on Empty: Series 13
Scale: 1:64
Photo: Conan Tigard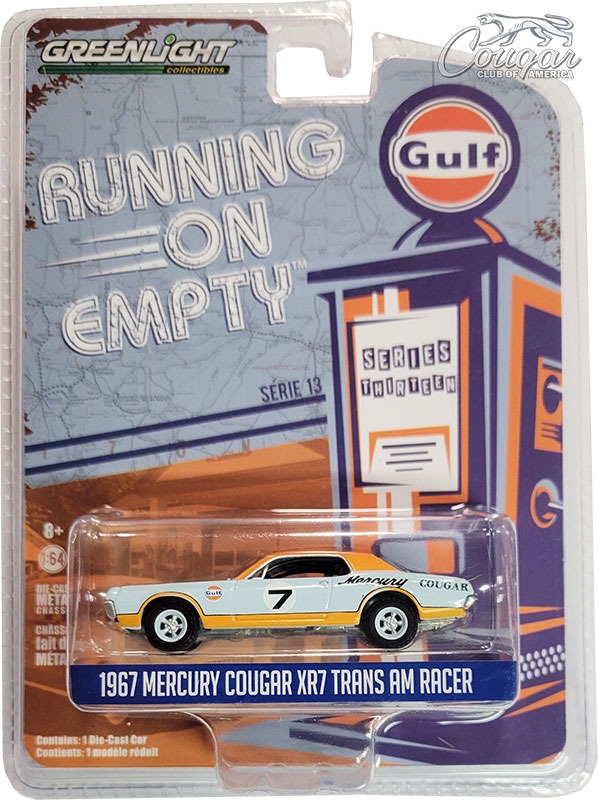 Name: 1967 Mercury Cougar XR-7 Trans AM Racer
Year: 2021
Color: Light Blue & Orange
Series: Running on Empty: Series 13
Special: Green Machine (Chase)
Scale: 1:64
Photo: Randy Goodling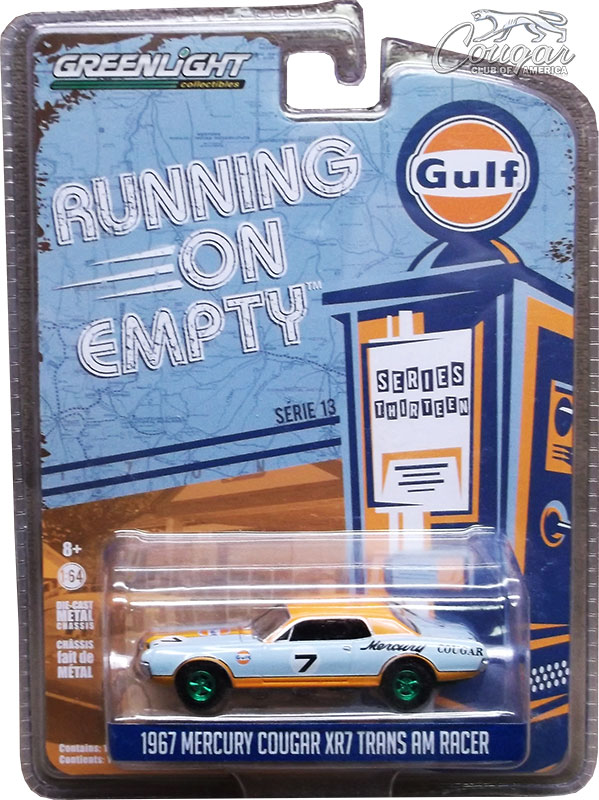 Name: 1969 Mercury Cougar Eliminator
Year: 2021
Color: No paint (bare metal)
Series: GL Muscle: Series 25
Scale: 1:64
Special: Green Machine (Chase)
Photo: Randy Goodling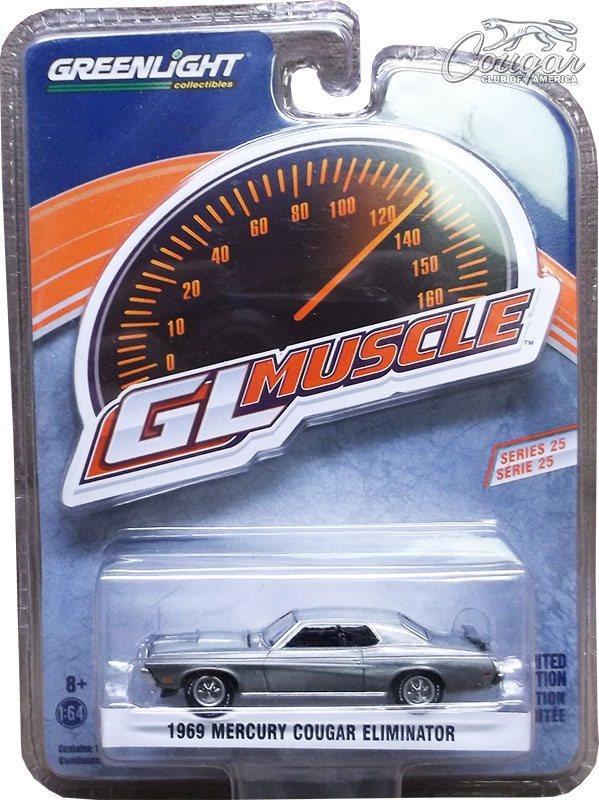 2020 Greenlight Collectibles Mercury Cougar
Name: 1967 Mercury Cougar
Year: 2020
Color: Red
Series: Vintage Ad Cars: Series 2
Scale: 1:64
Photo: Conan Tigard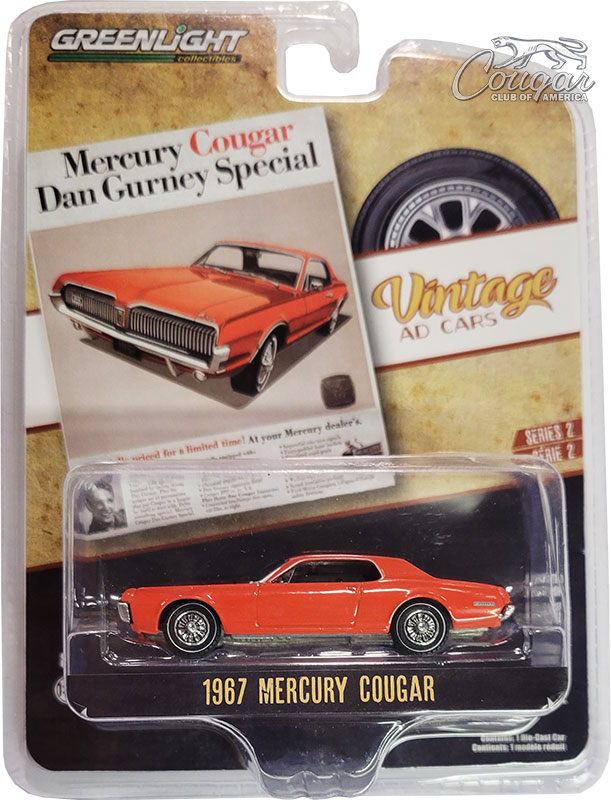 Name: 1967 Mercury Cougar
Year: 2020
Color: No paint (bare metal)
Series: Vintage Ad Cars: Series 2
Special: Green Machine (Chase)
Scale: 1:64
Photo: Randy Goodling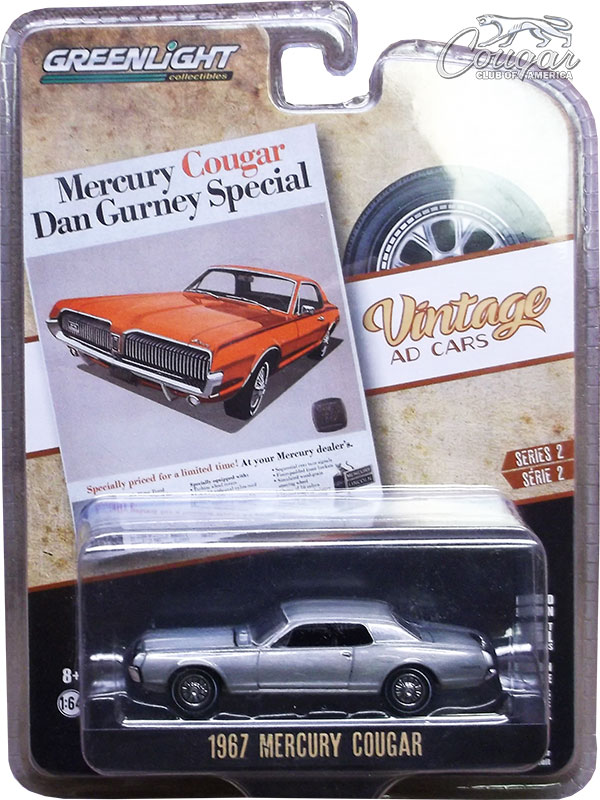 Name: 1967 Ford F-100 & 1967 Mercury Cougar with Flatbed Trailer
Year: 2020
Color: Red
Series: Racing Hitch & Tow: Series 2
Scale: 1:64
Photo: Keith Hyatt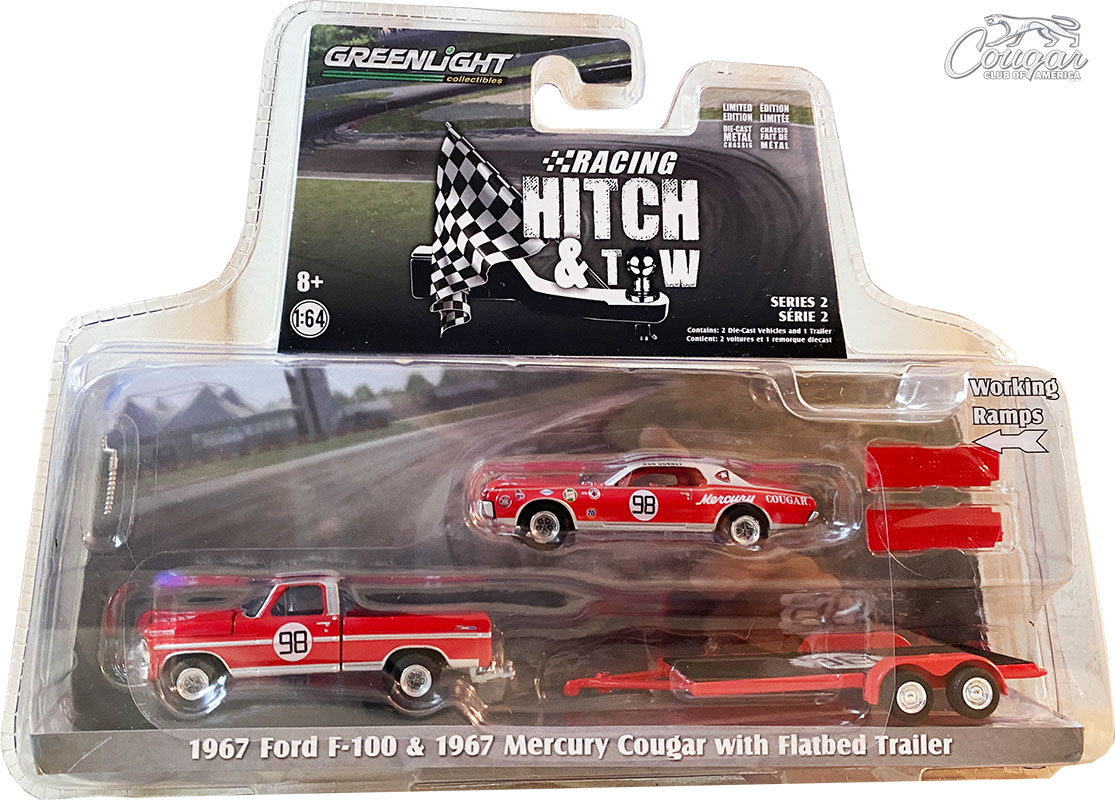 Name: 1970 Mercury Cougar Eliminator
Year: 2020
Color: Competition Red
Series: Barrett-Jackson: Series 5
Scale: 1:64
Photo: Conan Tigard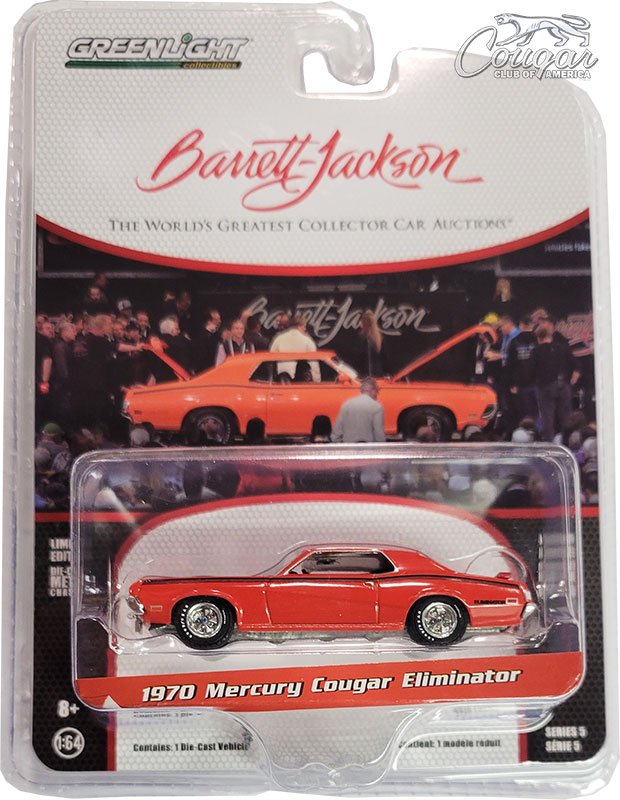 Name: 1970 Mercury Cougar Eliminator
Year: 2020
Color: No paint (bare metal)
Series: Barrett-Jackson: Series 5
Scale: 1:64
Special: Green Machine (Chase)
Photo: Randy Goodling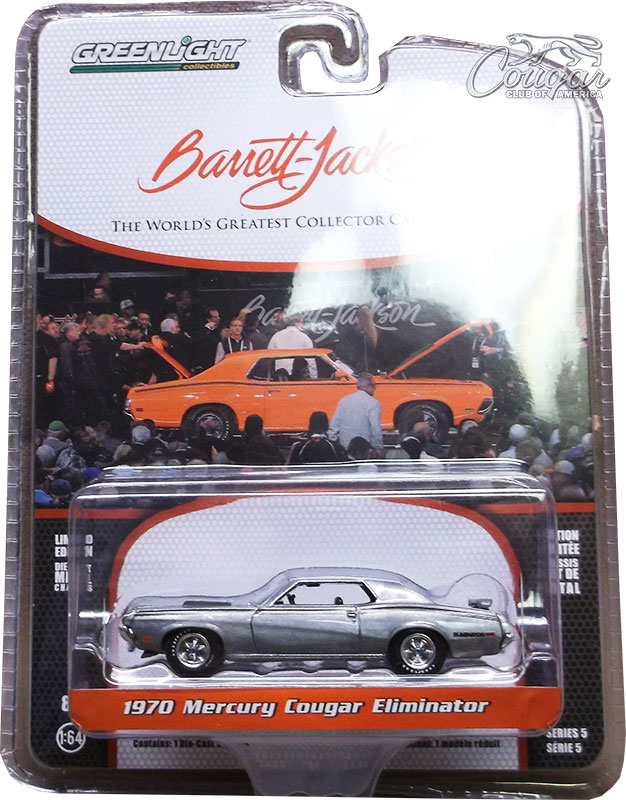 Name: 1968 Mercury Cougar GT-E 427
Year: 2020
Color: Onyx Black
Series: GL Muscle: Series 23
Scale: 1:64
Special: Green Machine (Chase)
Photo: Randy Goodling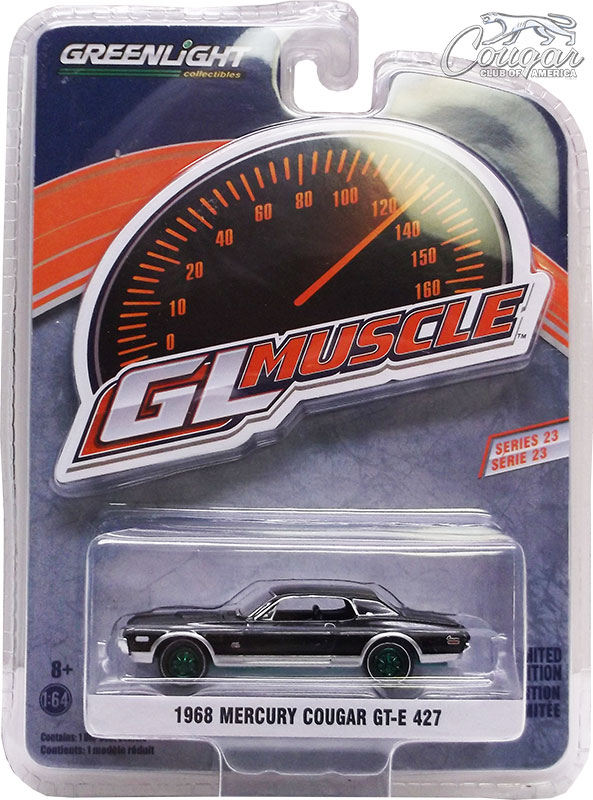 2019 Greenlight Collectibles Mercury Cougar
Name: 1968 Mercury Cougar XR-7 GT-E 428 Cobra Jet
Year: 2019
Color: Augusta Green
Series: Cobra Jet 50th Annivarsary: 1968-2018
Scale: 1:64
Photo: Conan Tigard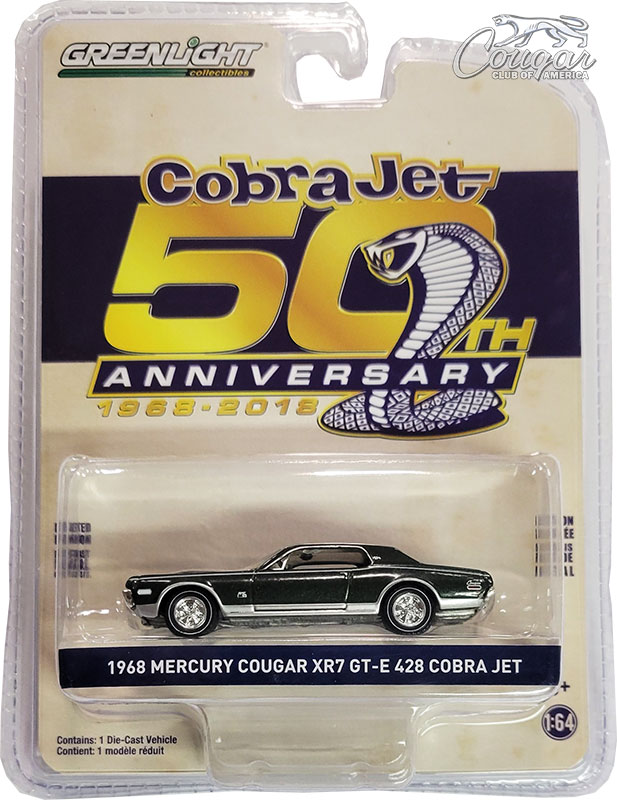 Name: 1968 Mercury Cougar XR-7 GT-E 428 Cobra Jet
Year: 2019
Color: Augusta Green
Series: Cobra Jet 50th Annivarsary: 1968-2018
Scale: 1:64
Special: Green Machine (Chase)
Photo: Randy Goodling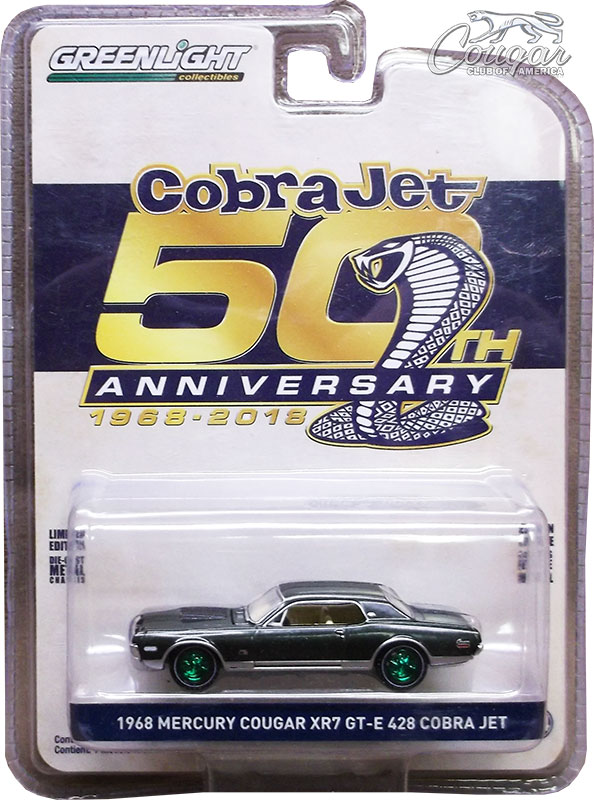 Name: 1970 Mercury Cougar Eliminator
Year: 2019
Color: Pastel Blue
Series: GL Muscle: Series 22
Scale: 1:64
Photo: Conan Tigard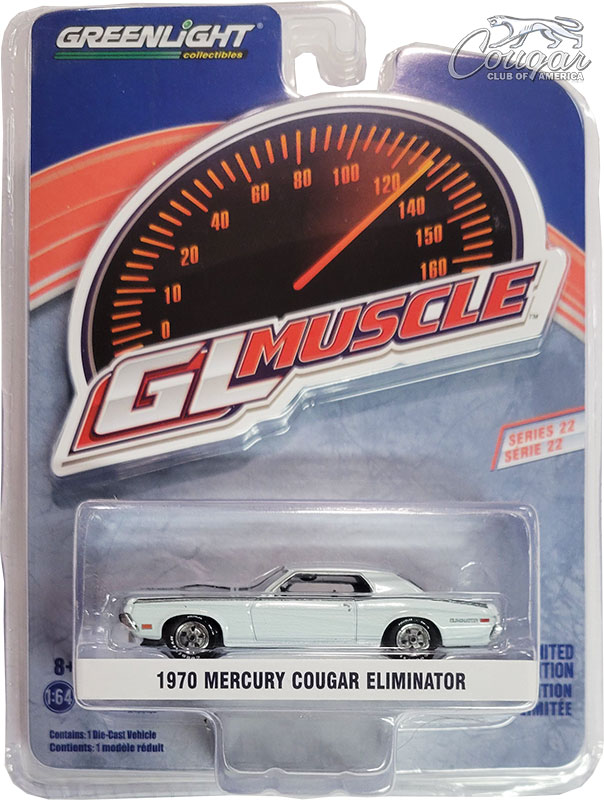 Name: 1970 Mercury Cougar Eliminator
Year: 2019
Color: Green
Series: GL Muscle: Series 22
Scale: 1:64
Special: Green Machine (Chase)
Photo: Randy Goodling