Matchbox Mercury Cougar 1:64 Scale Diecast Cars

The first Mercury Cougar that Matchbox produced was a 1968 Cougar that was released in 1968.  Since then, there have been a lot of versions of the Cougar made by Matchbox, including the ever-popular Superfast series.
Check out these Matchbox Mercury Cougar diecast cars.
If you have a Matchbox Cougar that is not on this page and would like it included, please send a clear and bright picture of the car in its packaging to the webmaster. Please include the year of release and if it is in a group. Ex: Superfast.
For more information on Matchbox, click on the image above to visit the Mattel Matchbox website.
To zoom in on an image, click on it once.
2010 Matchbox Mercury Cougar
Name: '68 Mercury Cougar
Year: 2010
Color: Orange w/ Black Top
Series: Lesney Edition
Scale: 1:64
Photo: Randy Goodling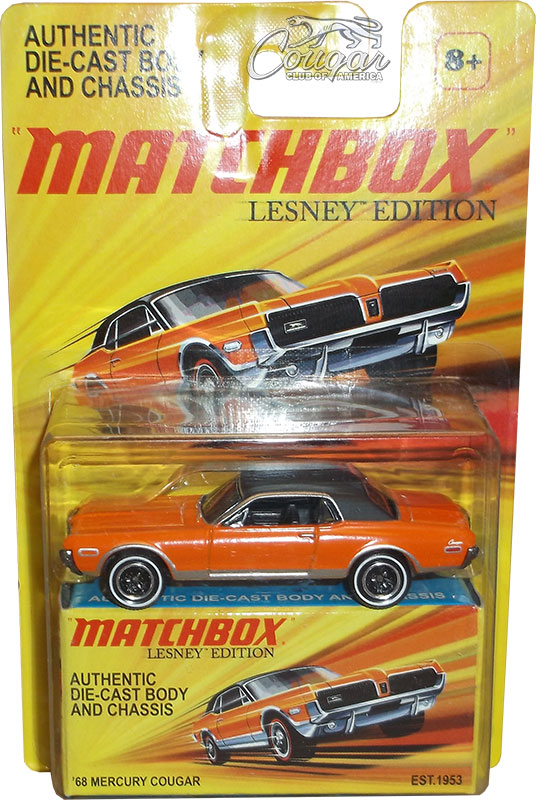 2009 Matchbox Mercury Cougar
Name: Kenworth Cabover Racing Teransporter & 1968 Mercury Cougar
Year: 2009
Color: Red & White
Series: Barillaro Motorsports
Scale: 1:64
Photo: Bill Quay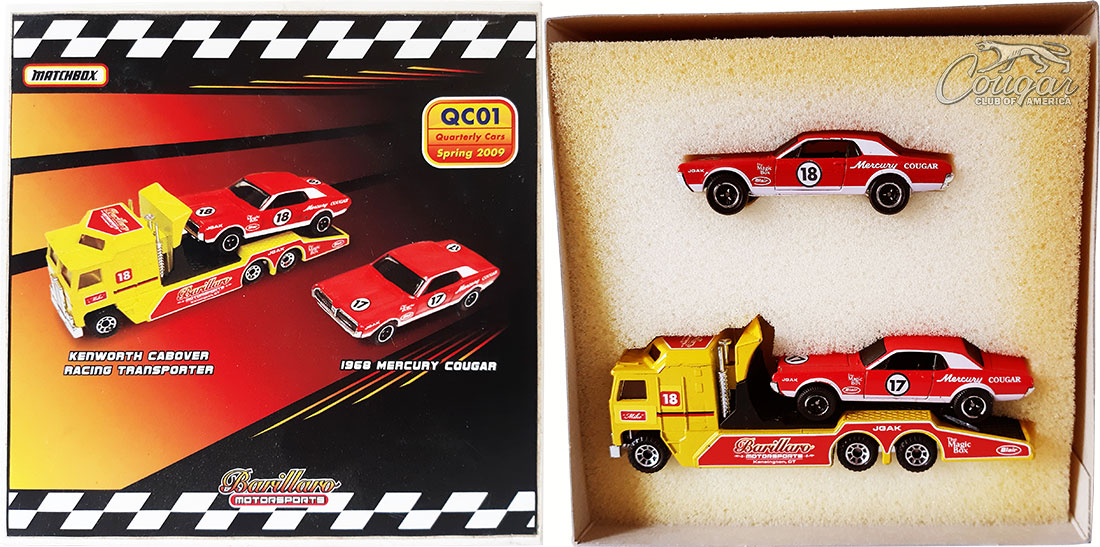 2008 Matchbox Mercury Cougar
Name: '68 Mercury Cougar
Year: 2008
Color: Light Blue
Series: Heritage Classics
Scale: 1:64
Photo: Conan Tigard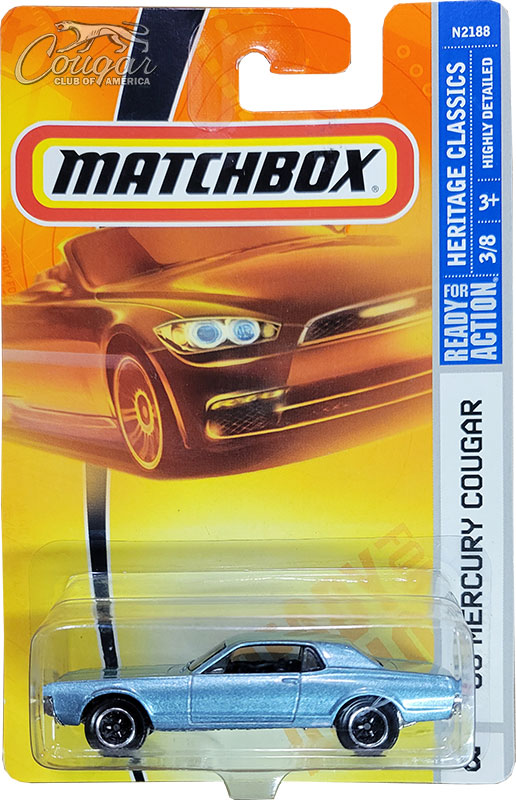 2007 Matchbox Mercury Cougar
Name: '68 Mercury Cougar
Year: 2007
Name: Shonen Jump Naruto: Sasuke
Series: MBX Metal
Scale: 1:64
Photo: Randy Goodling

2006 Matchbox Mercury Cougar
Name: 1968 Mercury Cougar
Year: 2006
Color: Gold w/ Black Top
Series: Superfast America
Scale: 1:64
Photo: Randy Goodling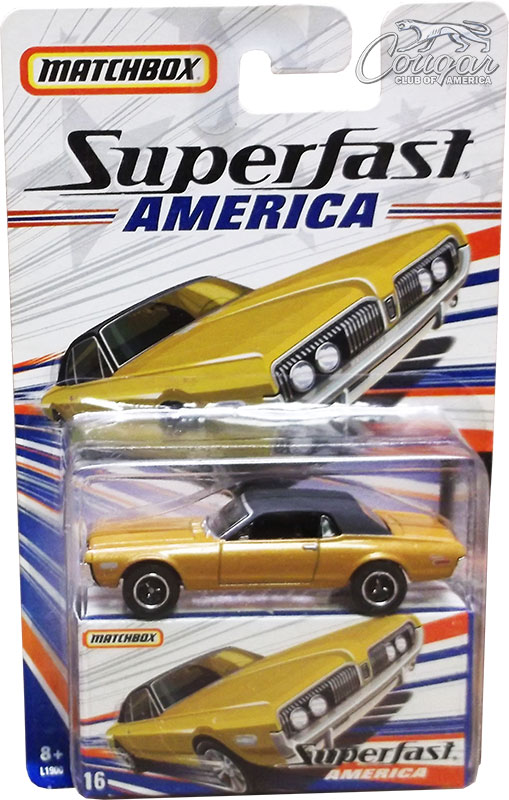 2005 Matchbox Mercury Cougar
Name: 1968 Mercury Cougar
Year: 2005
Color: Dark Red Metallic
Series: Superfast
Scale: 1:64
Special: Chase
Photo: Randy Goodling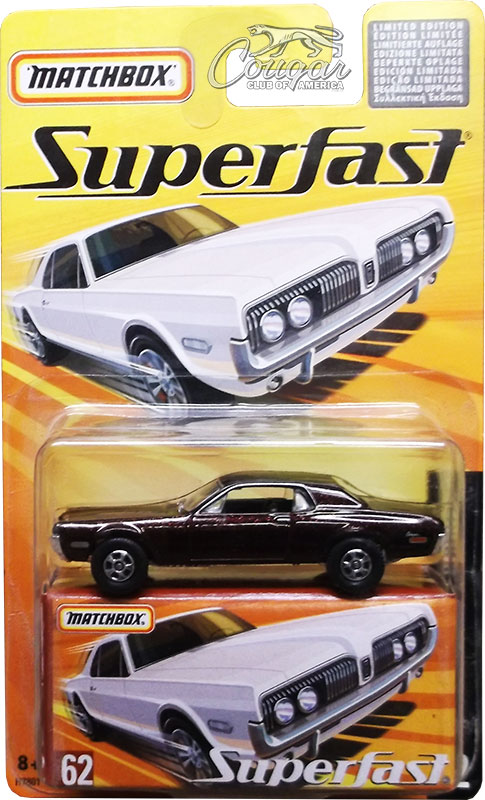 2004 Matchbox Mercury Cougar
Name: 1968 Mercury Cougar #62
Year: 2004
Color: Lime Frost
Series: Superfast
Scale: 1:64
Photo: Randy Goodling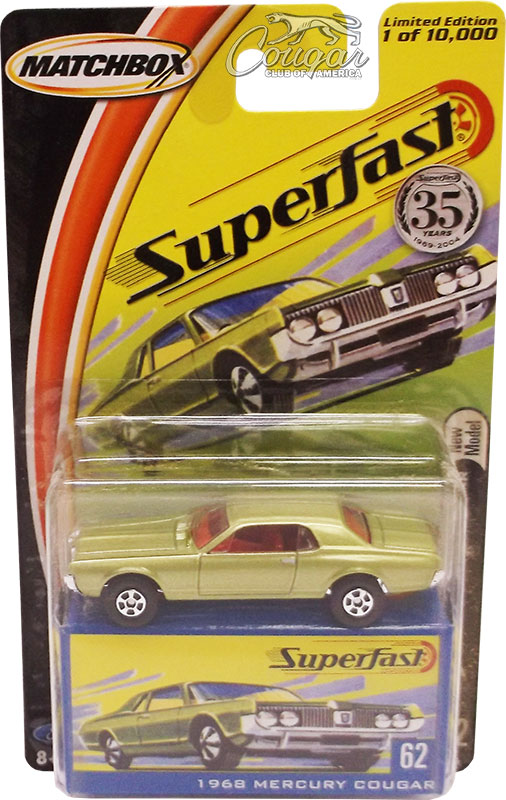 1978 Matchbox Mercury Cougar
Name: #74 Cougar Villager
Car: 1977 Mercury Cougar Villager Station Wagon
Year: 1978
Color: Lime Green
Series: Matchbox 75
Scale: 1:64
Photo: Randy Goodling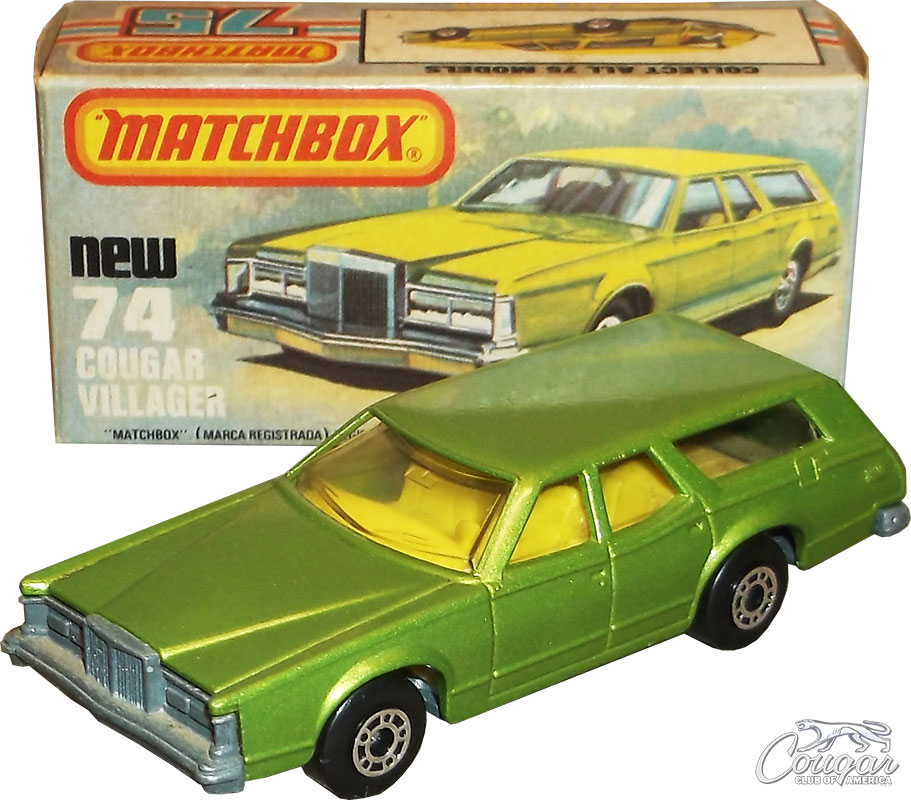 1971 Matchbox Mercury Cougar
Name: Rat Rod Dragster #62
Car: 1967 Mercury Cougar
Year: 1971
Color: Lime Green
Series: Superfast
Scale: 1:64
Photo: Bill Quay
1970 Matchbox Mercury Cougar
Name: Rat Rod Dragster #62
Car: 1967 Mercury Cougar
Year: 1970
Color: Lime Green
Series: Superfast
Scale: 1:64
Photo: Bill Quay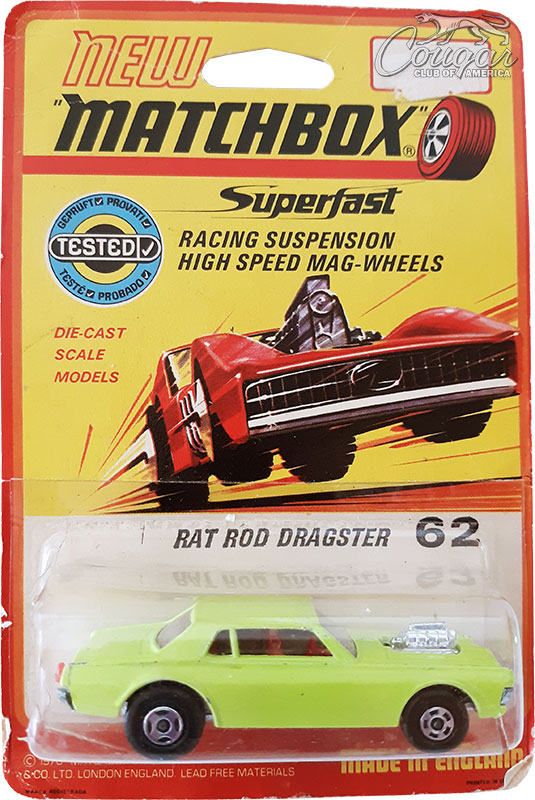 1968 Matchbox Mercury Cougar
Name: Mercury Cougar
Year: 1968
Color: Lime Frost
Series: Matchbox Series #62
Scale: 1:64
Photo: Cliff Gardiner

Matchbox Mercury Cougar Miscellaneous
 

Items