Phil Parcells 9/16/2016
Not much is known about the 1968 Cougar 500. It appears to have been a regional dealer promotion in the Atlanta and Washington DC districts. They have 1968 Cougar script on the rear quarters followed by block 500 letters from the 1968 Ford Custom 500, then a 64-67 Cyclone checkered flag. The part numbers of the flags are: C7GY-16300-A (RH) and C7GY-16301-A (LH).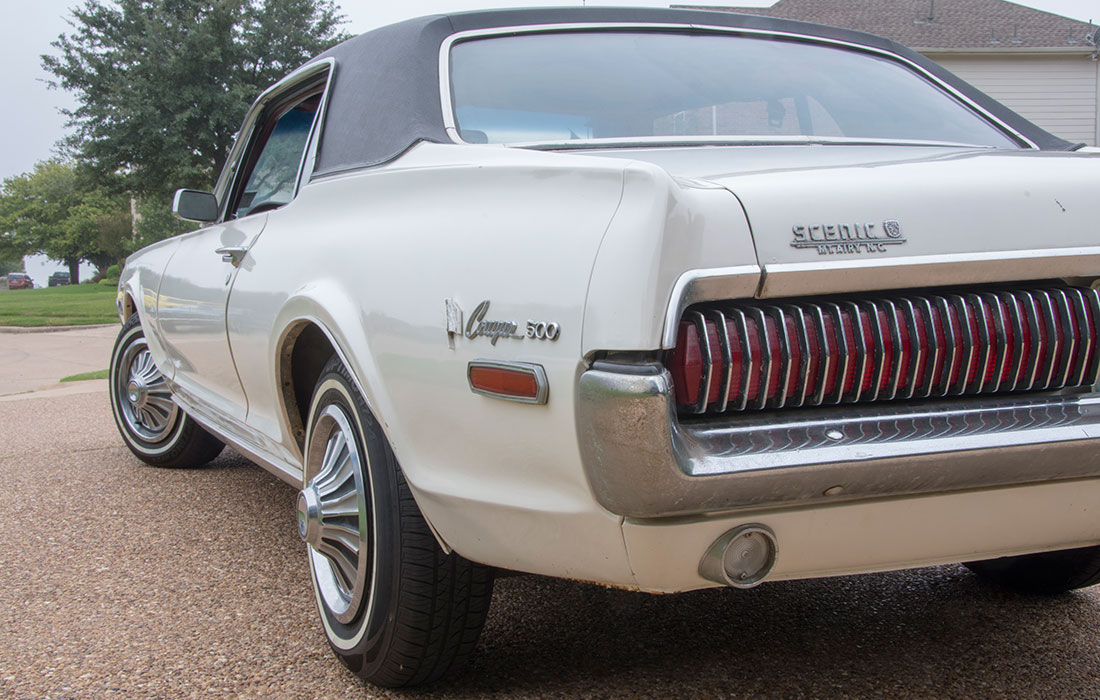 They were sold in the Atlanta (DSO 21) and the Washington, DC (DSO 17) districts only. All are standard (91) Cougars. Per Bill Quay, Cougar R-code registrar, and Marti reports there were 54 Cougar 500s built in 1968. 38 of them are small block cars, and 16 are R-code CJ cars. All had white exterior color with either red or black interior, standard or deluxe. They could have either a manual or auto transmission.
The Cougar 500's were all scheduled to be built on May 1 or May 2 of 1968. We presently (as of 2/15) know of the existence of a small block Cougar 500 in Tennessee, VIN 8F91C5x, and another in North Carolina VIN 8F91F5x. We know of the existence of 5 of the 16 R-code Cougar 500s.
Due to many similarities, the Cougar 500 promotion seems to be tied to the Cyclone 500 promotion, but we have no firm documentation linking the two programs together. The Cyclones were all delivered to the track 5 hours before the Atlanta 500 race in March 31 of 1968. Their buyers got to drive 2 laps on the track before the race began. There also were 3 hour appearances by Cale Yarborough in select dealerships. 85 of the 145 dealers in the Atlanta district participated in the Cyclone 500 Driveaway program. However there were no Cougars involved in this program, as this pre-dates the build of the 54 Cougar 500's.
Per a magazine ad from Antietam Motors in Hagerstown, MD, there may have been a second similar promotion in May of 1968 at the Charlotte 600 race. Due to the build dates of the Cougar 500s, perhaps they were delivered to this race. This is pure conjecture at this point, but logically it makes sense.
Known dealers who sold Cougar 500's:
Ferrell Lincoln-Mercury, Decatur, GA (Cyclone 500)
Parks – Bayless LM, Atlanta, GA (Cyclone 500)
Stovall Motor Co, Cornelia, GA (Cyclone 500)
Leader Linc-Merc Inc, Atlanta, GA
Coliseum Lincoln-Mercury Inc, Hampton, VA
O'Brien & Rohall Inc, Arlington, VA
Courtesy Motors Inc, Richmond, VA
Zeller Linc-Merc Inc, Roanoke, VA
Dave Pyles Motors Inc, Marlow Heights, MD
Antietam Motors, Hagerstown, MD
Guy Steuart Mtrs, Silver Spring, MD
Scenic Motors, Inc, Mount Airy, NC
Wilson Motors, Inc, Columbia, SC
Cox-Fitz Motors Inc, Florence, SC
Barnes Linc-Merc, Montgomery, AL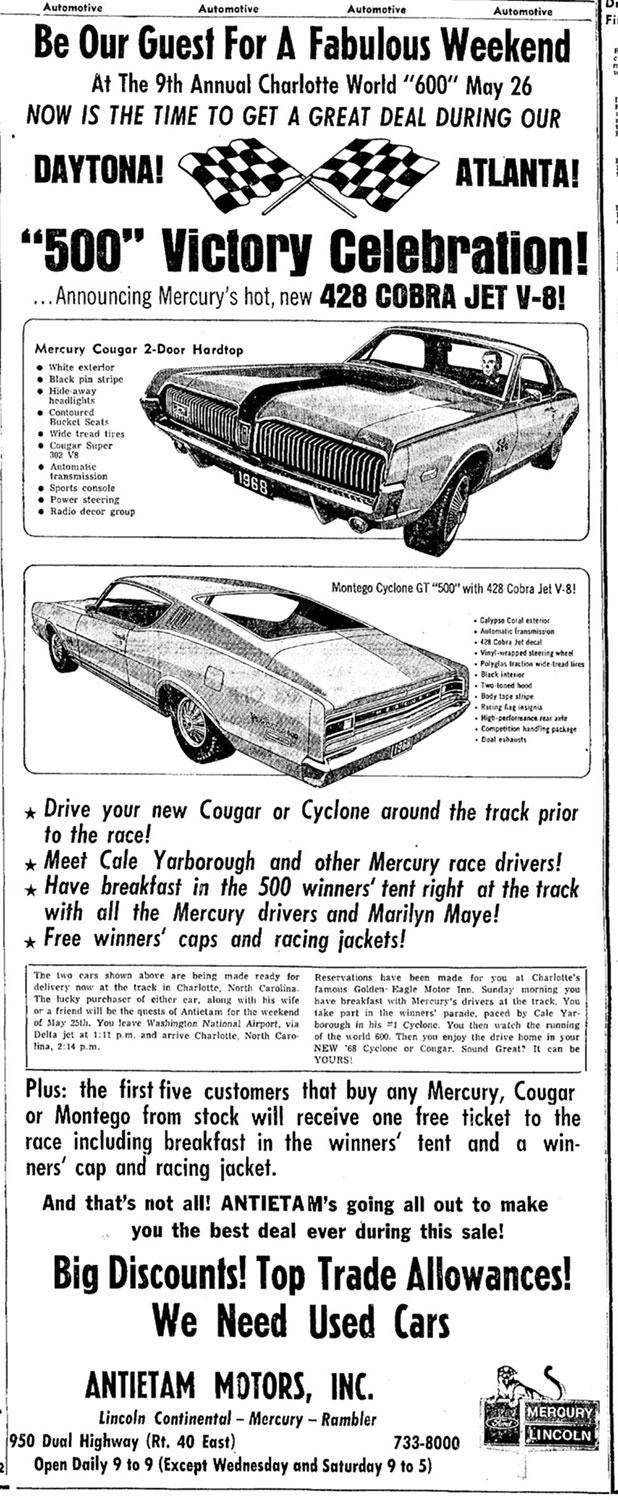 Written by Chuck Donaldson, Cougar 500 Owner
What is a Cougar 500?
The Cougar 500 was a regional promotional car built in 1968 for the Atlanta and Washington D.C. sales districts. This means that it was a car specifically marketed toward that area to sell more cars. There is nothing mechanically different or special about a Cougar 500. The only difference is that they all have Cougar 500 badging with a flag on the back panels. I've read that the badging is a repurpose of the "500" from a Galaxy 500, and the flag from an early Comet/Cyclone.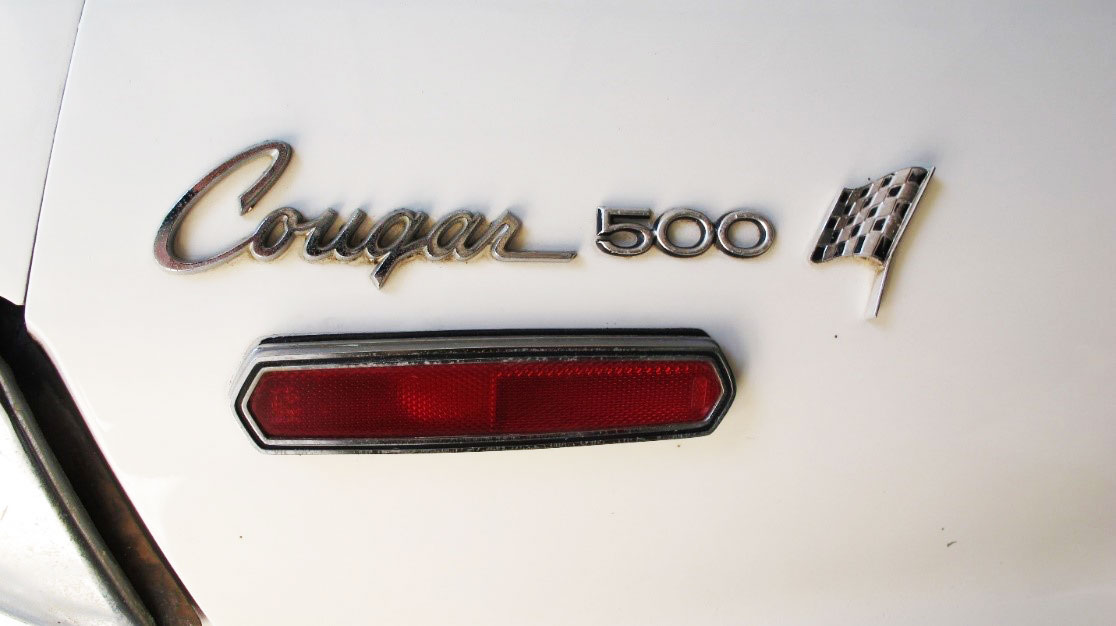 My personal car also has the "Mercury" badge on the front fender, not sure if all had this, or if it was just something added by a previous owner.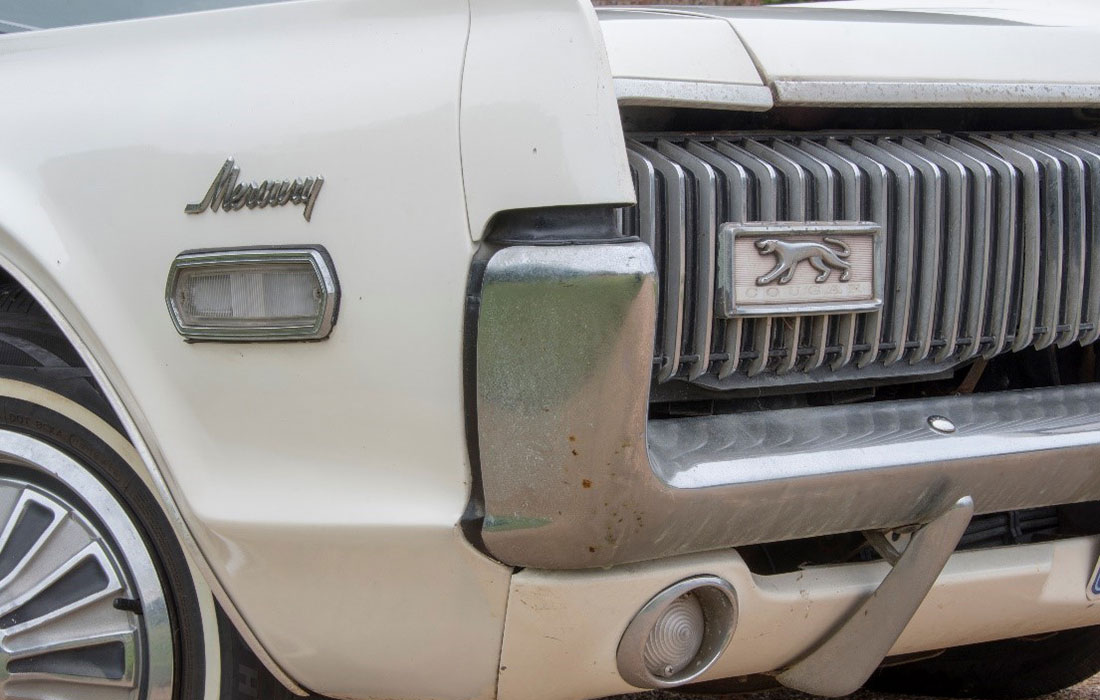 Cougar 500 428 Cobra Jet
One cool aspect is that there were 428 Cobra Jet Cougar 500s.  The famous Mercury Cougar GTE-s that had the legendary 427 engines, were being switched to 428 Cobra Jets in May, and the Cougar 500s also came out in May.  These cars may have been some of the first to get 428s.  From what I could research, in 1968 there were 244 Cobra Jets made, 37 were GTE's, so that leaves 207 that were GT cars.  I'm guessing the 16 Cougar 500 428 Cobra Jets built were basically GT's with extra badging.
Here are some pictures from an ad from WCCC for an unrestored 428 Cougar 500. Notice the hood scoop, GT badging, and of course the Cougar 500 badging.
Cougar 500 Production Numbers
I love to see production number stuff.  So, I'll share some info I stole from a spreadsheet that Gavin Schlesinger sent me.
Vital Statistics
54 were made.
All were Polar White exterior.
Some had a black vinyl top.
Breakdown of Engine / Transmission / Interior Options
| | | | |
| --- | --- | --- | --- |
| Engine: 289 2V | Trans: 3-Speed Manual | Interior: Red Crinkle Vinyl | 4 |
| | Trans: C4 Automatic | Interior: Red Crinkle Vinyl | 9 |
| | | Total | 13 |
| | |   | |
| Engine: 302 2V | Trans: 3-Speed Manual | Interior: Red Vinyl | 3 |
| | Trans: C4 Automatic | Interior: Black Vinyl | 1 |
| | | Interior: Red Vinyl | 9 |
| | | Total | 13 |
| | | | |
| Engine: 302 4V | Trans: 3-Speed Manual | Interior: Red Crinkle Vinyl | 1 |
| | Trans: C4 Automatic | Interior: Black Vinyl | 7 |
| | | Interior: Red Vinyl | 3 |
| | | Total | 11 |
| | | | |
| Engine: 390 GT 4V | Trans: C6 Automatic | Interior: Red Crinkle Vinyl | 1 |
| | | Total | 1 |
| | | | |
| Engine: 428T 4V | Trans: Toploader 4-Speed Wide Ratio | Interior: Black Vinyl | 3 |
| | | Interior: Red Vinyl | 2 |
| | Trans: C6 Automatic | Interior: Red Crinkle Vinyl | 2 |
| | | Interior: Black Vinyl | 1 |
| | | Interior: Red Vinyl | 8 |
| | | Total | 16 |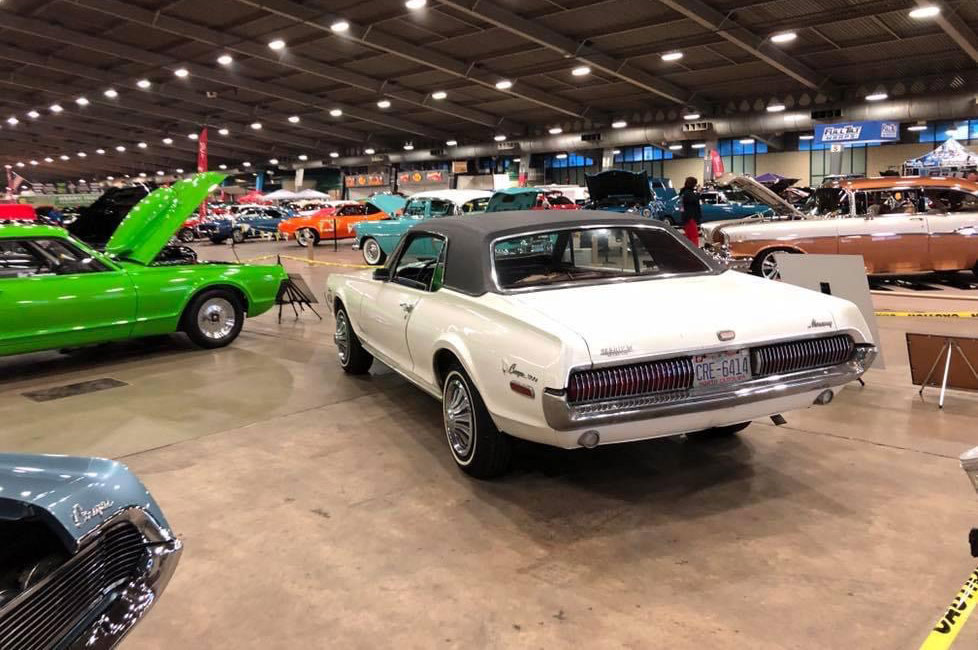 Why was it called a Cougar 500?
In a nutshell, the Cougar 500 is a promotional model that was built to take advantage of Mercury's success on the NASCAR circuit, the "500" mile races.  Win on Sunday, sell on Monday, was a mantra of many car manufacturers.   Mercury was no exception, especially since it wanted to leverage its' NASCAR presence.
When ads started for the 1968 Mercury lineup in mid-late1967, they were emphasizing the luxury more than the performance.   The "Mercury's Got It" ads emphasize how the cars were inspired by the Continental.
I found "Mercury's Got It" ads in papers across the nation, it was a true national campaign.
This ad is from the Madison state journal full page ad Nov 21 1967.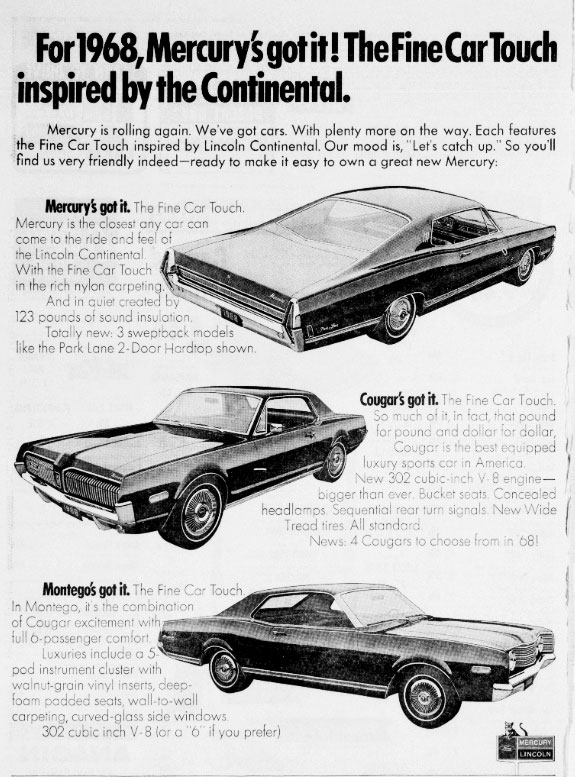 Then along came the 1968 NASCAR season.  Mercury Cyclones with 427's won 1st and 2nd in the Daytona 500 on Feb 25, 1968.  Cale Yarborough won from the pole and Lee Roy Yarborough took second (interestingly, they aren't related, and they were on different racing teams).
With a big win at Daytona, the ads started to change towards highlighting the performance rather than the luxury.  The ads ran throughout the year, all across the nation.  Many still mentioned that "Mercury's Got It" but the emphasis was definitely on the NASCAR wins and less about being like a Continental.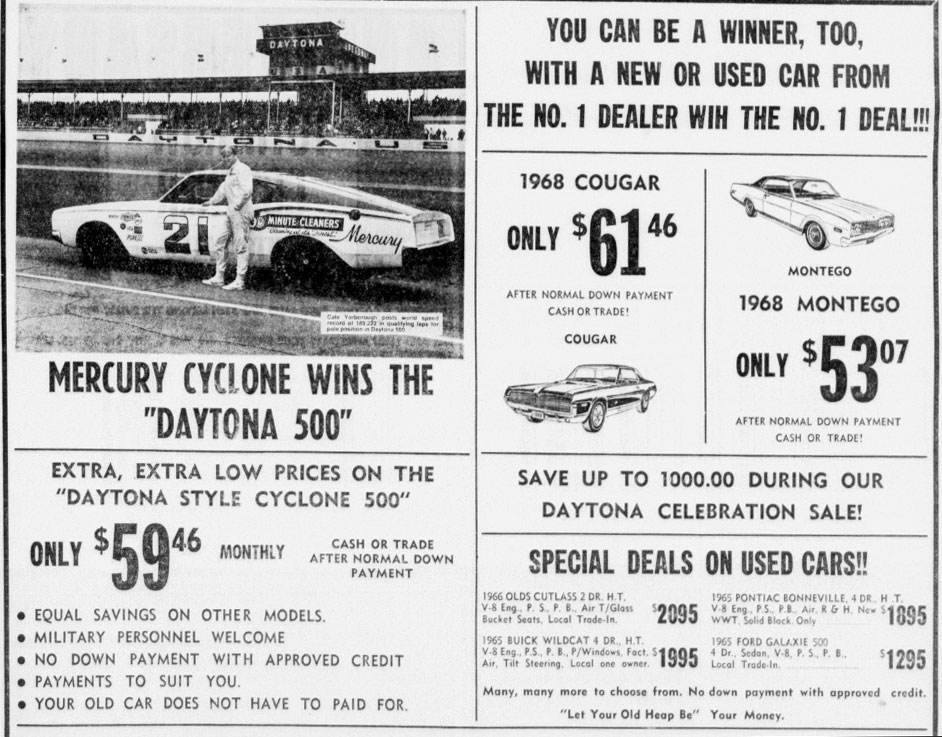 So, what does all this Cyclone stuff have to do with the Cougar 500?  Well the success of the Cyclone 500 promotion at Atlanta, where they won 1st and 2nd again, led them to go forward with a similar promotion for the Charlotte 600 on May 26th.  Mercury made sixty more Cyclone 500s, and this time they were going to put some of the unique badges on some Cougars, and hence the Cougar 500 was born.  Something cool and different about this promotion was that some of the Cyclones and Cougars would have the recently introduced 428 Cobra Jet engines. A lot of the Cyclones were Cyclone 500 GT's.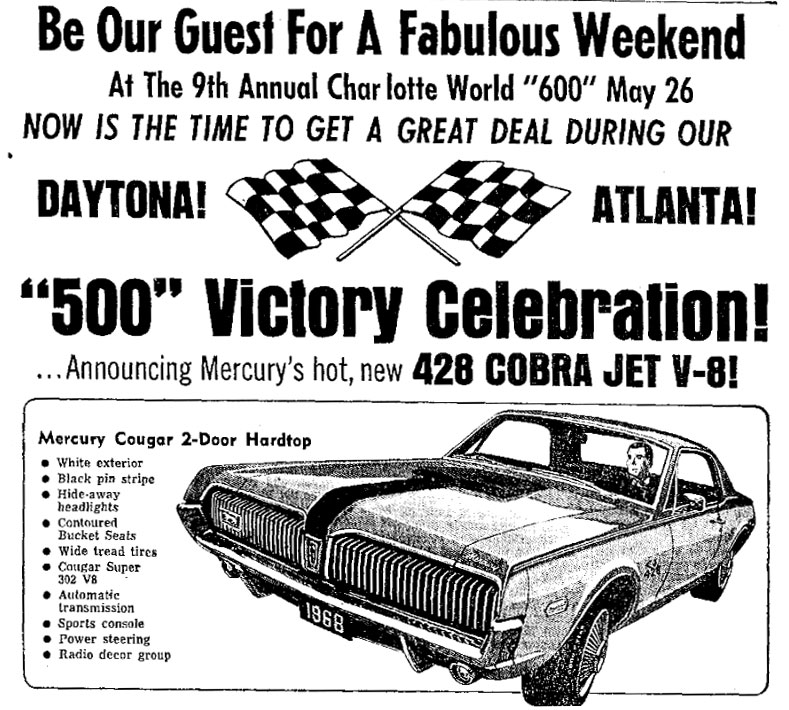 Something funny is the mention of a "Super 302 V8", whatever that is.  My Cougar 500 is a 302 and when I got it, it had the chrome 390/428 air cleaner setup on it.  Now I wonder if that was a real change they made to make it a "Super 302" for the promotion.  I've tried to contact the previous owner, no luck.  One question I would like to know is when the air cleaner setup was put on it. 
I suspect "Super 302 V8" is just advertising promotion of the standard 302, and wasn't actually indicating that there was something changed to make it different from, or superior to, the normal 302.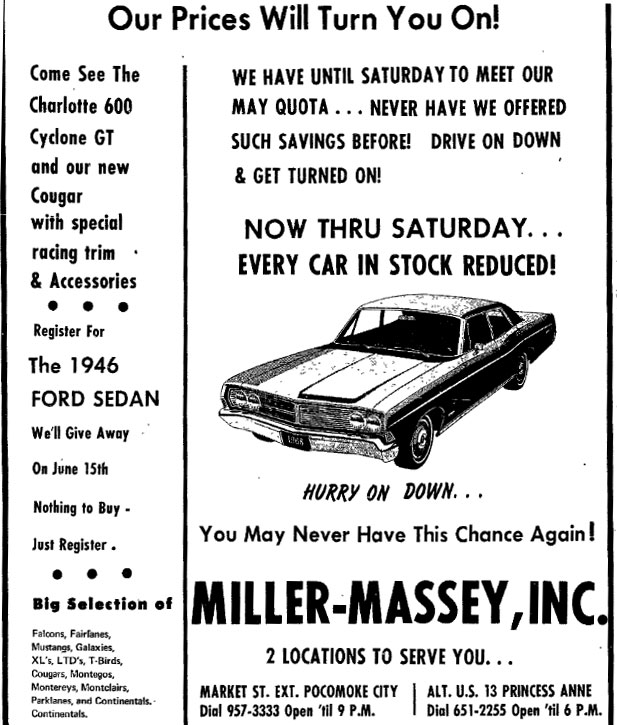 This ad in Salisbury Daily Times on May 30, 1968, appeared a day before the race.
This was a happy find for me.   This ad includes "Come See The Charlotte 600 Cyclone GT and our new Cougar with special racing trim & Accessories".  I finally found an ad that mentions the special Cougar badging.  I wonder what they meant by Accessories though.
This ad ties it all together.
Miller-Massey has not been identified as receiving any Cougar 500s, so it appears they are just touting that you should go see one at the race.
Closing Thoughts – Things I Think but Cannot Prove…
I think there may have been some tension between Ford and Mercury about shutting down the Mercury race teams.  Had Ford shut them down, there would've been no successful Atlanta 500 promotion, hence no Charlotte 600 promotion, hence no Cougar 500s.
I think that if the Atlanta 500 promotion had been a flop, they wouldn't have done the Charlotte promotion.   The order date for the Cougar 500s was around April 19.  They had over 2 weeks after the Atlanta 500 to make the decision.  Again, no Charlotte 600, no Cougar 500s.
It's possible that all the cars were painted polar white with red or black interiors because the Cyclones that the Yarboroughs were winning with were white, red, and black.  I have no idea why some of the Cyclones were painted Calypso Coral.
The Cougar ads were hard to find.  I found Cyclone only ads, but no Cougar only ads.   I suspect that is because Cougars weren't actually in the race, and the race that they were targeting was a 600 and not a 500, so the badges for the Cougar were kind of odd.  Also, it was a rain shortened race, and Mercury did not win the World 600, Lee Roy Yarborough took 2nd and Cale took 3rd.  Donnie Allison in a Ford Torino won, so big daddy Ford kind of put a damper on things since the promotion didn't have the big finish like the Atlanta 500 did.
Here is a summary of some highlights of the timeline that led to the Cougar 500:
Mid 1967 "Mercury's Got It" campaign starts for 1968 models. Ads highlight luxury inspired by Continental.
Mid Feb, 1968 – Cyclone 500s promotion planned for Atlanta 500, 155 Cyclone 500s are ordered. Need to verify this with some order dates for Cyclone 500s.
Feb 25, 1968 – Mercury wins 1st and 2nd at Daytona.
Late Feb, 1968 – Mercury ads begin highlighting performance.
Late Feb, 1968 – Ford does not cancel Mercury Cyclones in NASCAR
March 31, 1968 – Atlanta 500 race is run. Promotion very successful. Mercury wins 1st and 2nd
April 1968 – Mercury plans another promotion targeting the Charlotte 600. This time including Cougars. 54 Cougar 500s, and 60 more Cyclone GTs are ordered.
May 26, 1968 – Charlotte 600 is run. Promotion not as successful, Ford wins instead of Mercury, rain shortened race. No more promotions are done.
I kind of think that the promotion for the Cougar was a bit of a flop for the Cougars.  I don't think the Cougar 500 helped make Cougars fly off the shelves like the Cyclones were after the Atlanta race.  I only have a few data points to back my thinking, and I've asked Kevin Marti for more, but what I have is that my personal Cougar 500 was built on May 5, 1968, but didn't sell until Aug 26, 1968, so it was sold way after the Charlotte race on March 31.   I saw a Marti for a 428 Cougar 500 that had a sell date of July 8, 1968, so even this sweet ride wasn't sold for over a month after the promotion.
I enjoy researching the history of the Cougar 500, and enjoyed sharing some of the info.  In this little write up I tried to answer the typical reporter questions of who, what, when, where, and why; I hope I succeeded a little and it added a little to your knowledge.  I hope you enjoyed reading about it.
A 1968 Cougar 500 Marti Report with all the detail.