Say Merc. Say Streep. Say . . . "ELIMINATOR"
Mercury's '69 supercar offering is said to be a guaranteed eliminator of your competition!
This beautiful Eliminator was unveiled in October 1968 at the Los Angeles Auto Show. Within Mercury's Streep Scene extravaganza display, the exhibit was called "Eliminator" and featured a stunning Sun Gold Pearlescent 1969 "dream" Cougar.gs.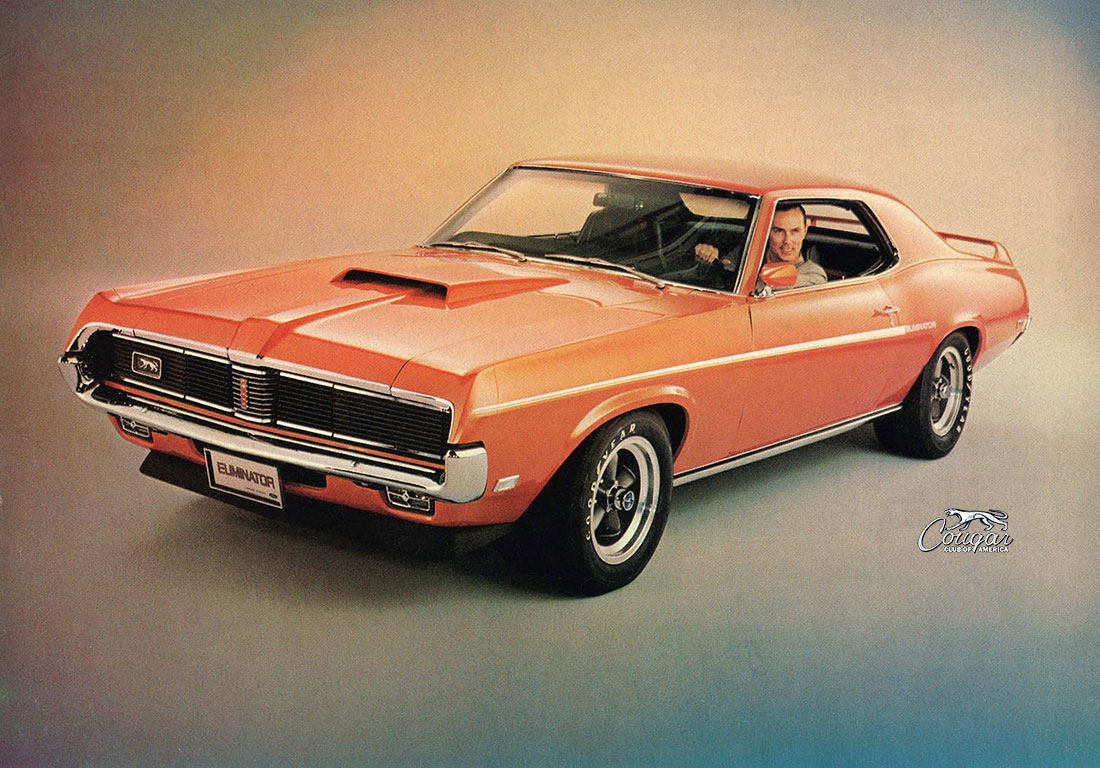 Based on the Lincoln-Mercury Cougar two-door hardtop, the one-of-a-kind Cougar "Eliminator" is at home on the street and at the strip for that "Show & Go" performance scene.

Special Features:
Sun Gold Pearlescent exterior with special belt line white pearl stripe terminating in an "Eliminator" monogram
Blacked out grille
Functional front and rear spoilers
Mod interior featuring high back bucket seats done in an orange weave pattern
428 cubic inch, 335 horsepower, Cougar Cobra Jet engine with functional Ram-Air Hood Scoop

The hot new setup for street and strip is the Dana-Spicer two-speed "Streep" rear axle. This goody allows the "Eliminator" to make quick work of the street and the strip.
Unfortunately, no one knows what happened to this Eliminator.
Special thanks to Hot Rod magazine and Chris Brost for providing the information on this page.
Text from The Big Book Mercury Cougar: The Classic Years 1967-1973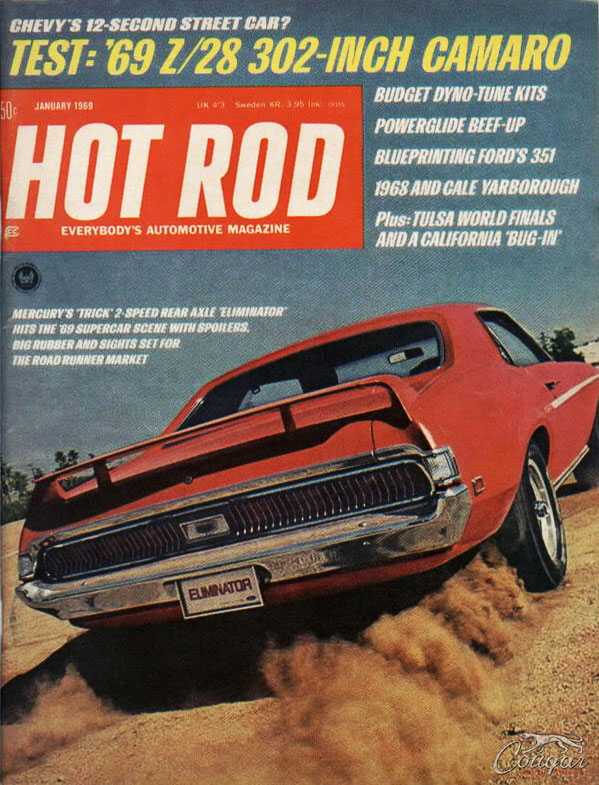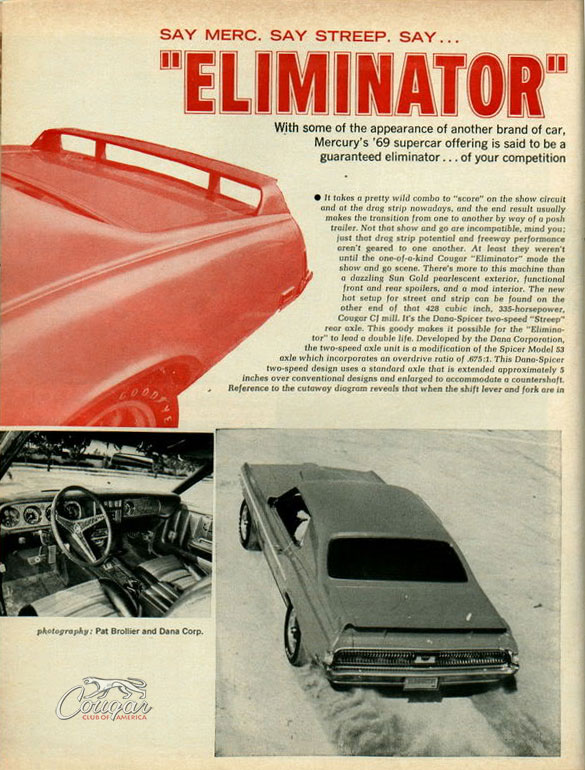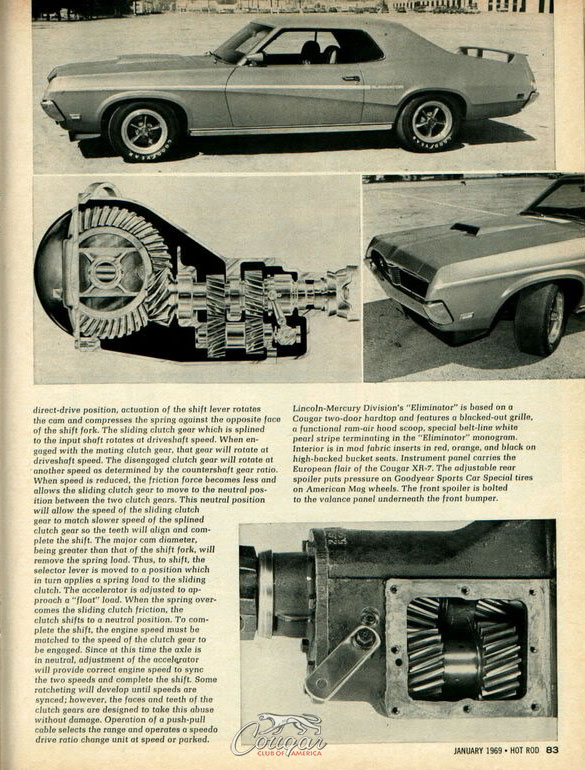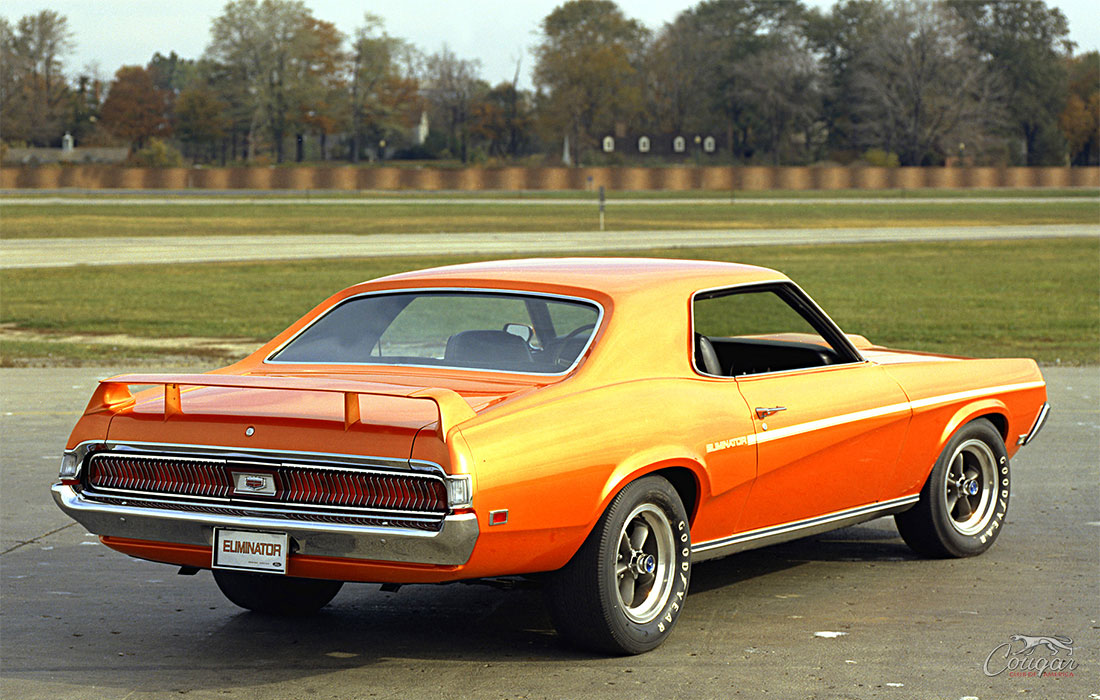 1969 Mercury Cougar Demo / Promotional Eliminators BP-8043 & 16M-775
This 1969 Mercury Cougar Eliminator is sometimes refrred to as the Demo / Promotional Eliminator for lack of a better description, because it's the one that was featured in early promotional photos.  You can tell this car from the chrome base on the driver's side mirror and chrome rear spoiler pedestals.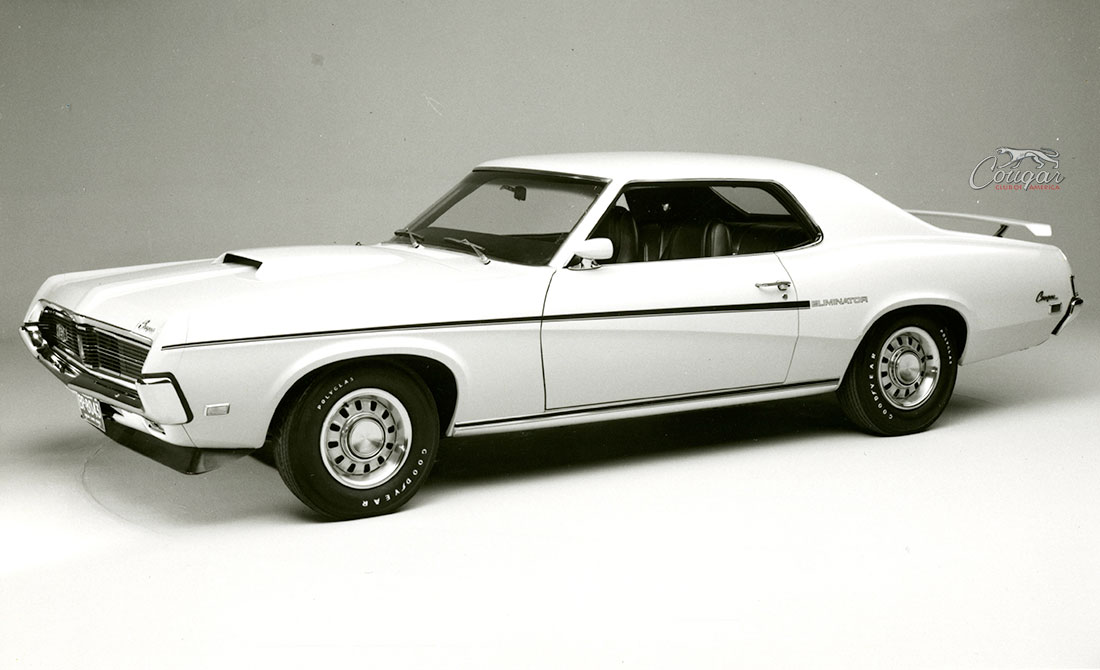 It is quite possible that this car was built before actual Eliminator production began and was not built as a "true Eliminator" ~ not having the Eliminator Option recorded on the invoice (and would also not appear on a Marti Report).  Unfortunately, the dates of these promo photos are unknown, so it is difficult to say for sure.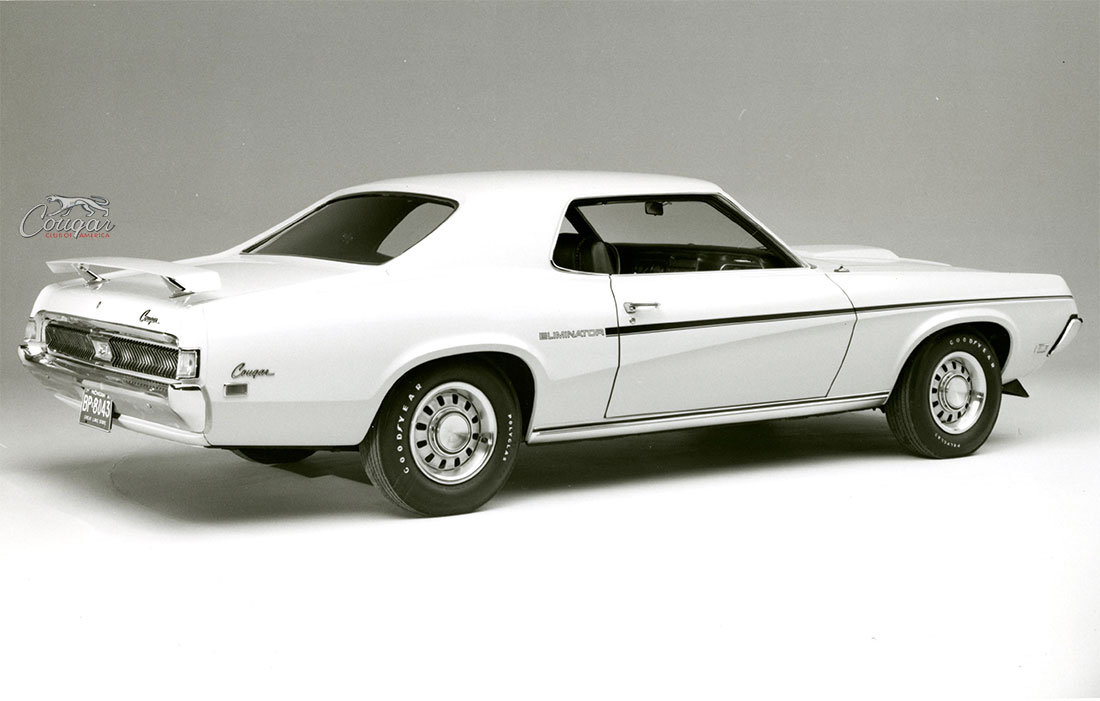 It is believed that this car was also used to promote the Eliminator given away to the winner of the 5th annual Super Stock Nationals by the Air Lift company, where the same chrome mirror base is visible and a hint of chrome rear spoiler pedestals.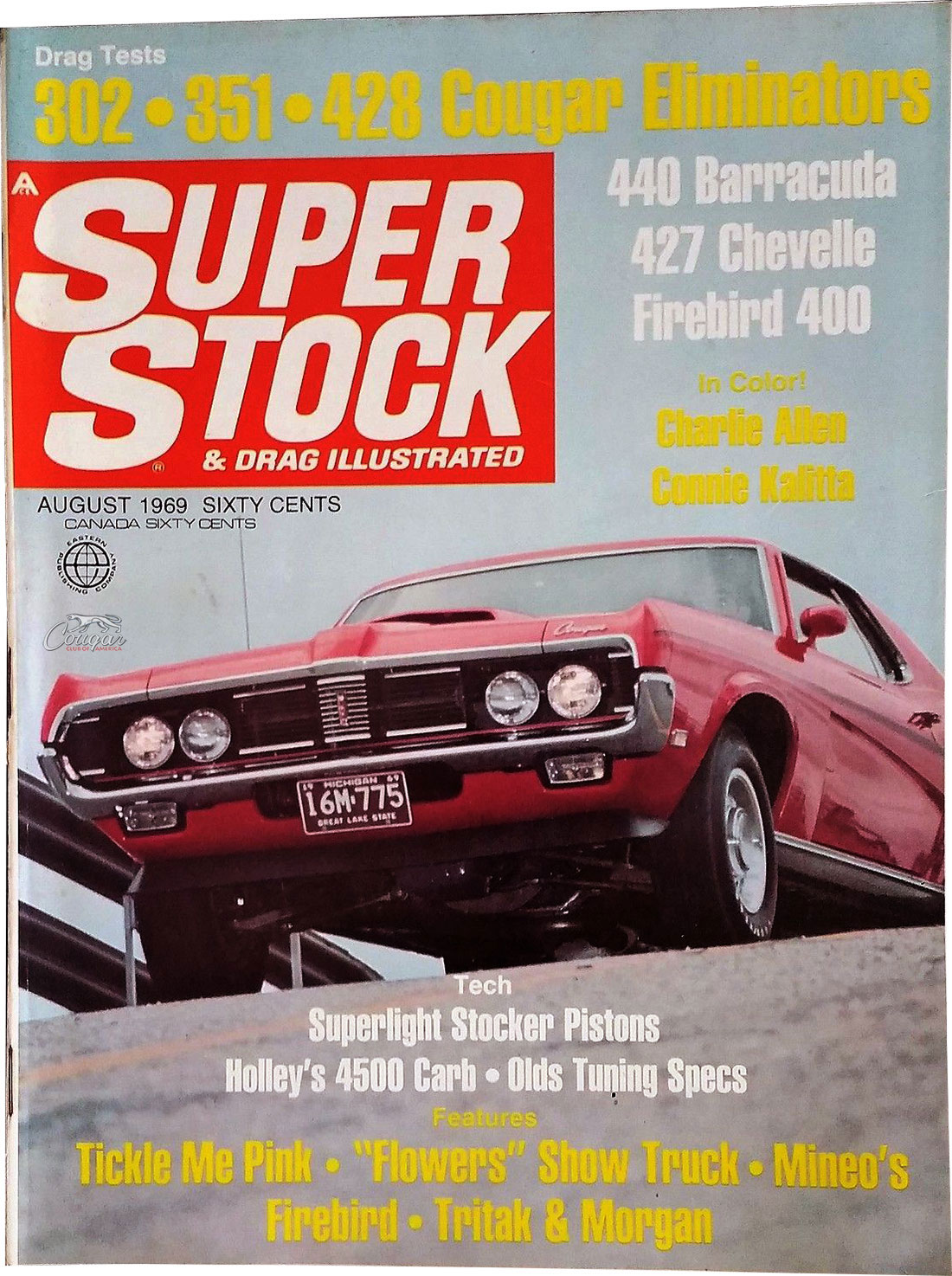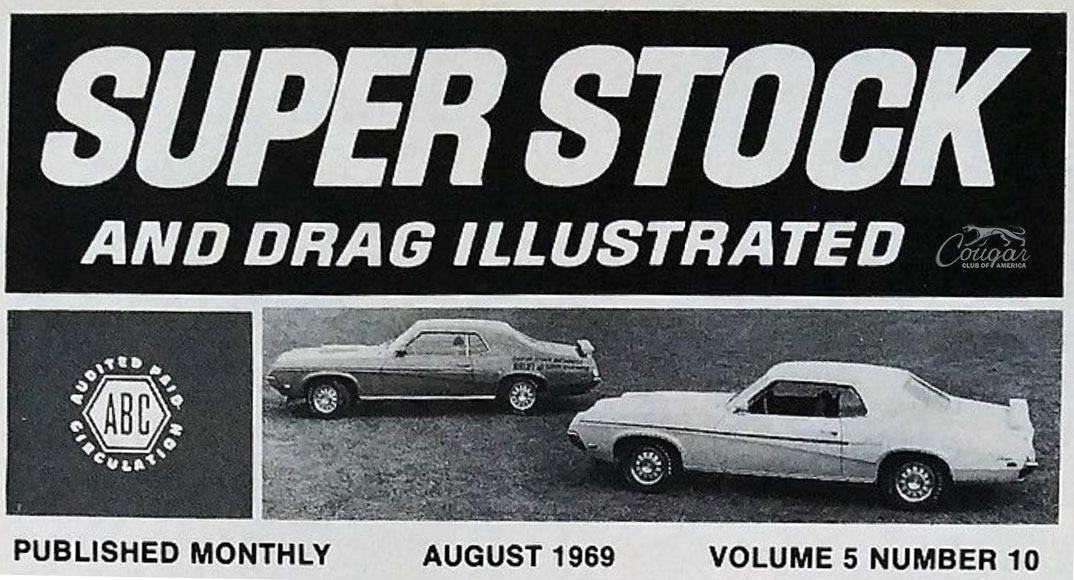 Note: This this car was not actually given away to the winner.  By the time the races were held, the 1969 model was out of production.  Instead, the winner, Frank Iaconio, received a voucher that was used to purchase a brand new 1970 Eliminator, which he promptly sold.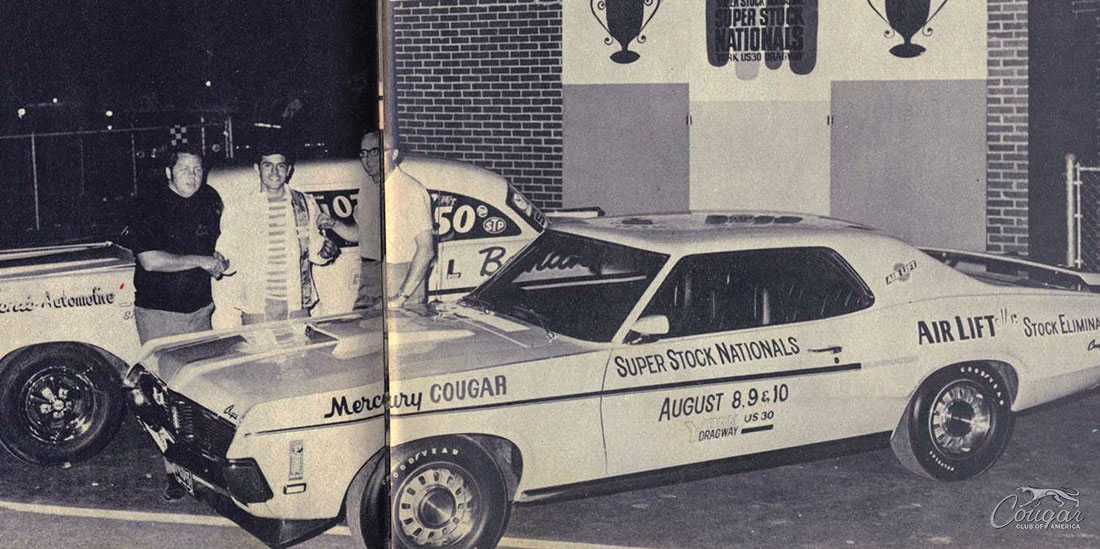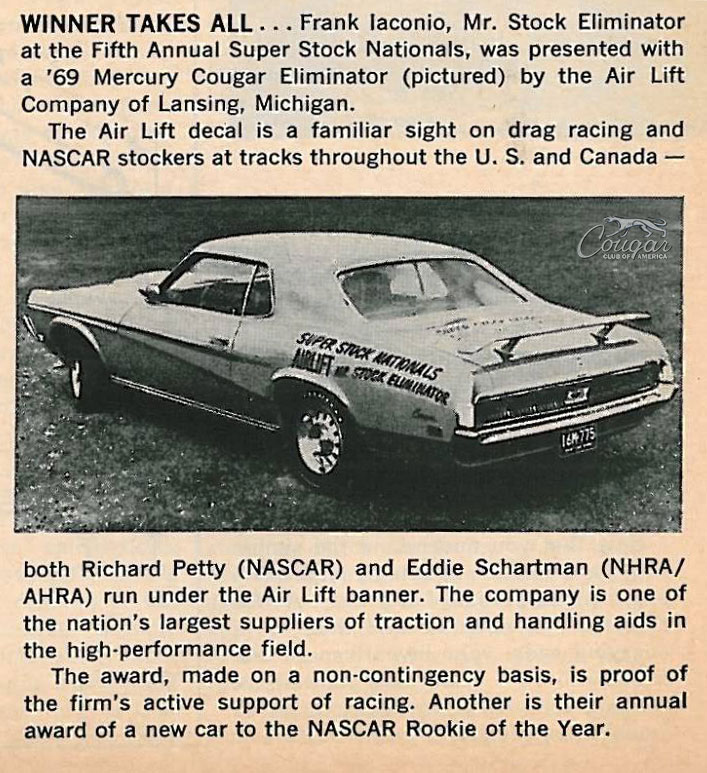 There was also a Competition Orange Eliminator that was also done up with Super Stock Air Lift lettering, and used as a Demo / Promotional car in magazine articles.  This Competition Orange car had Michigan plate 16M-775 and appeared on the cover and interior of Super Stock and Drag Illustrated, Aug 1969.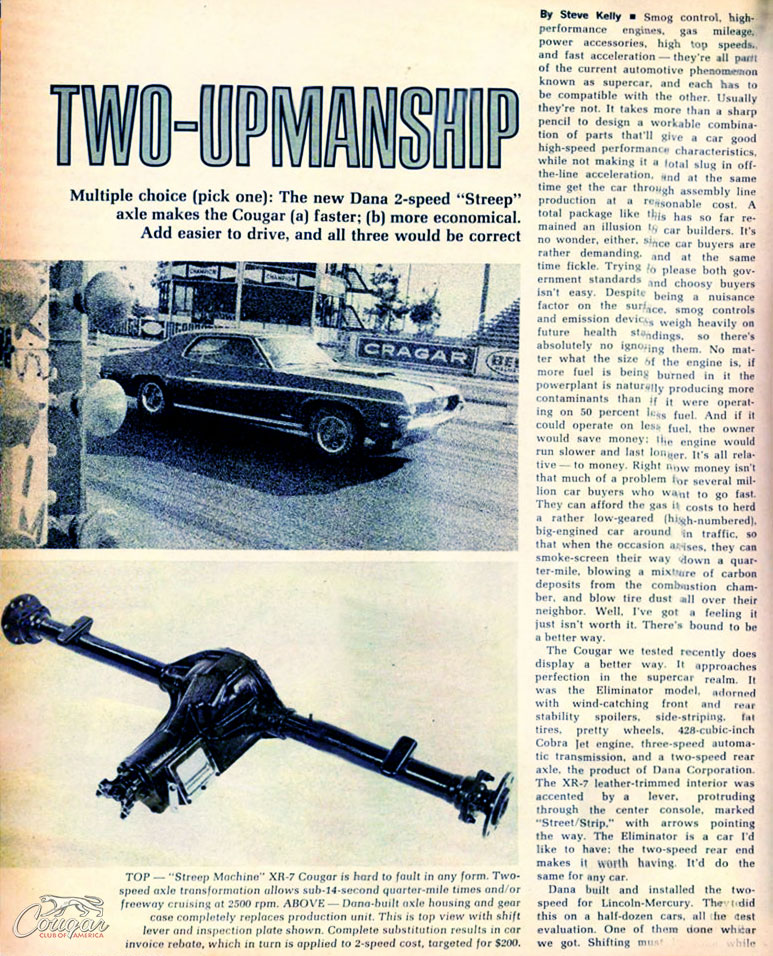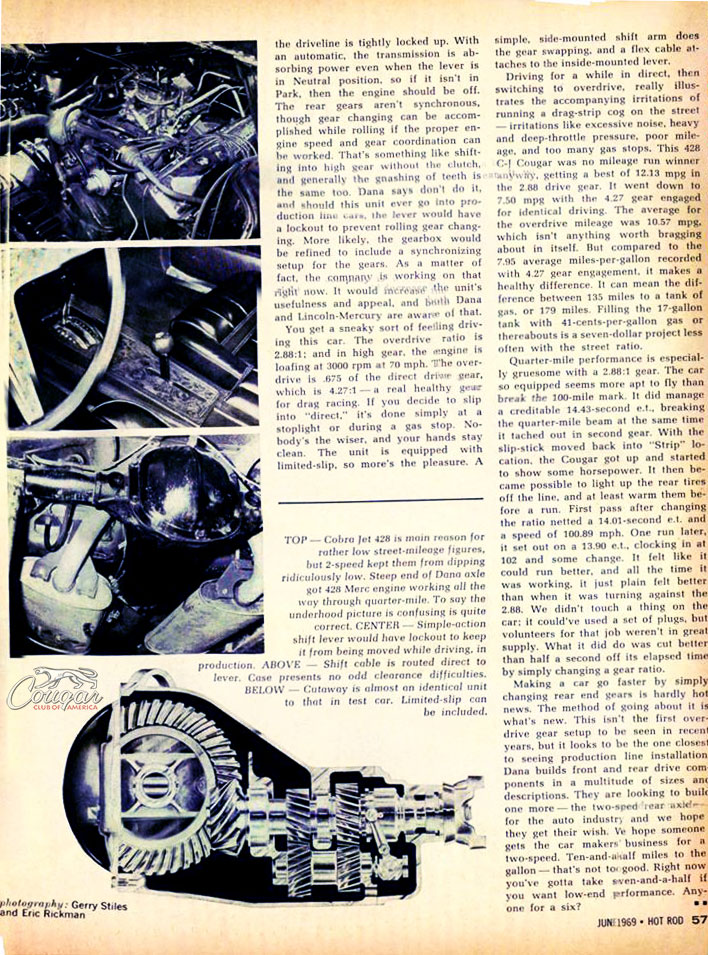 1969 Mercury Cougar Demo / Promotional Eliminator 13M-741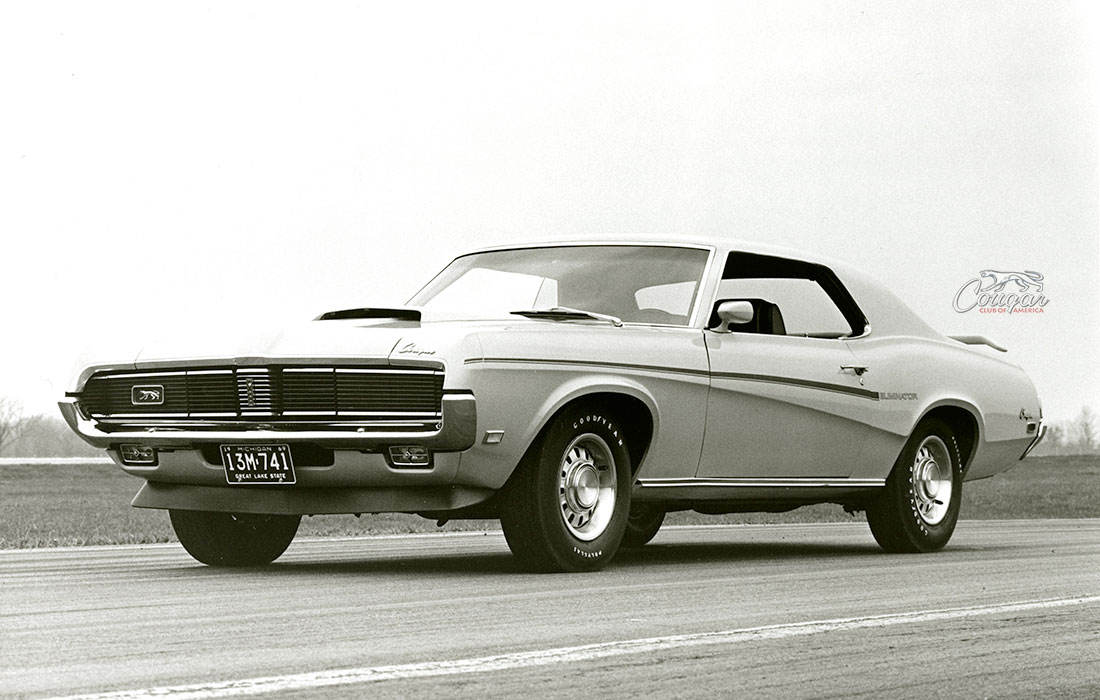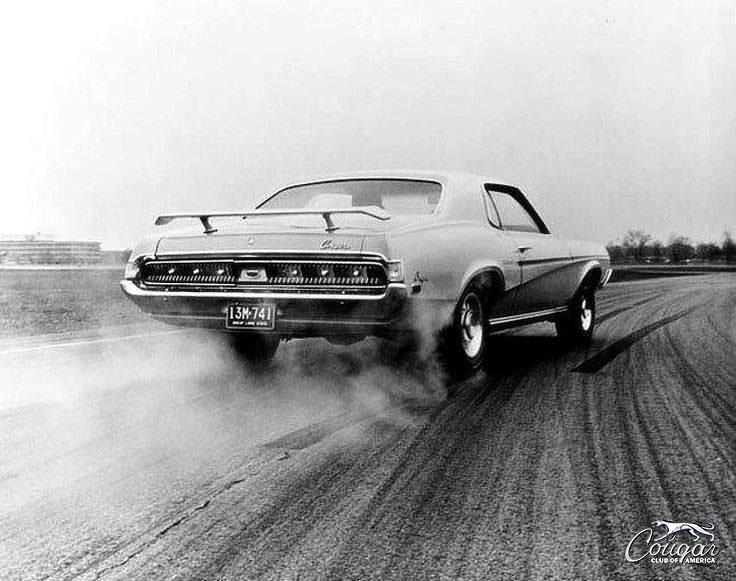 1969 Mercury Cougar Eliminator Marketing Photo
This is the orginal Ford Marketing photo of the 1969 Mercury Cougar Eliminator