1969 Kumpf / Kenz & Leslie Special Cougar
The Kumpf / Kenz & Leslie Special Cougar was another special Cougar sponsored by The Kumpf Motor Company in Denver.
This Cougar was a 428 car made up by a local shop called Kenz & Leslie. (They also set a land speed record using flat head V8 in a streamliner type car). Ed Leslie was the same person who drove for Team Cougar.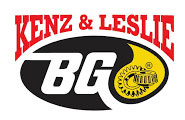 We suppose they used Kumpf as their performance shop / supplier. They also had a 1969 Cougar funny car sponsored by Kumpf and Wynns with the number 777 on the side.
The dealership has since changed hands and Kenz & Leslie now sells BG products wholesale. BG Products, Inc., manufactures and distributes high quality additives, cleaners, specialty lubricants and the professional equipment used to service vehicles all over the world!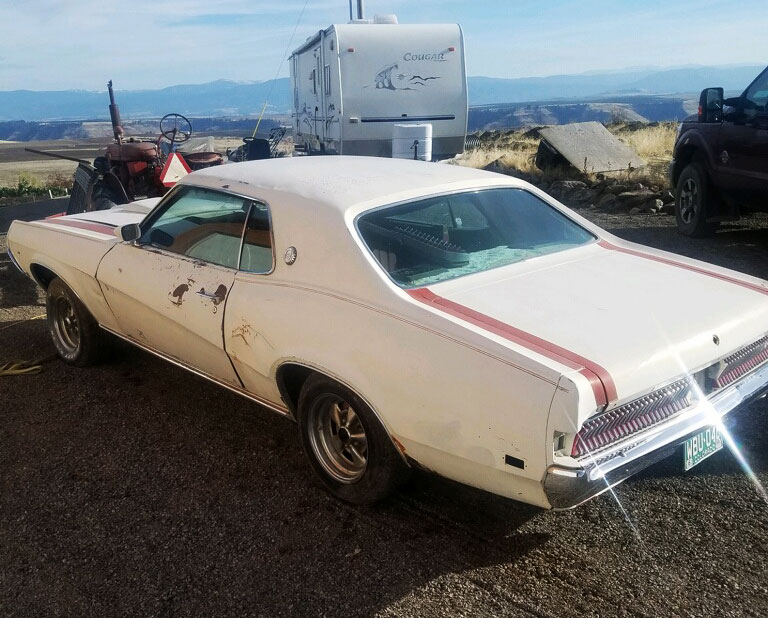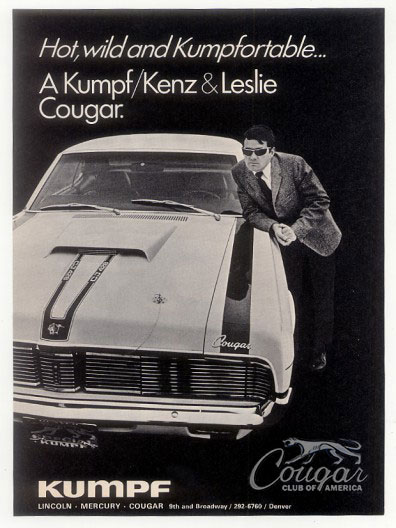 The Big Cat's Out of the Bag
Now . . . for the first time, Coloradians have their own specialty, high-performance automobile. The new Kumpf / Kenz & Leslie Special. It combines the talents of the two most respected names on the Denver motoring scene — Kumpf Lincoln-Mercury and Kenz & Leslie, Denver's oldest  and most respected high-performance specialists.
The Kumpf / Kenz & Leslie Special promises to be something very unique and special for performance enthusiasts. It could well be the hottest thing on the local scene! Standard equipment includes a 428 4V Cobra Jet engine, ram air induction, F-70 traction belted tires, a heavy-duty close ratio 4-speed tranmission, traction lock differential, power brakes, power steering, dual paint stripes, Cragar 16″ wheels, competition handling package, and a host of other special features.
The Kumpf / Kenz & Leslie Special comes with a wide variety of performance options to satisfy the most demanding enthusiast. Factory options include a special Select Shift Automatic, 3.5 – 3.9 or 4.30 axles, a choice of three sounds systems, sports console, head restraints, visual check panel, and many others. All these plus a wide range of colors and interiors . . . including a leather interior in the special XR-7 model.
On top of all this equipment and options, the Kumpf / Kenz & Leslie Special offers owners the unmatched service and performance engineering of the Kenz & Leslie organization. It's an unbeatable combination of equipment, service, and know-how resulting in the best performing and handling automobile in its class.
The Kumpf / Kenz & Leslie Special Cougar is another exclusive from Kumpf Motors, Denver's largest and most respected Lincoln-Mercury dealer . . . in its 30th year of serving Rocky Mountain Motorists.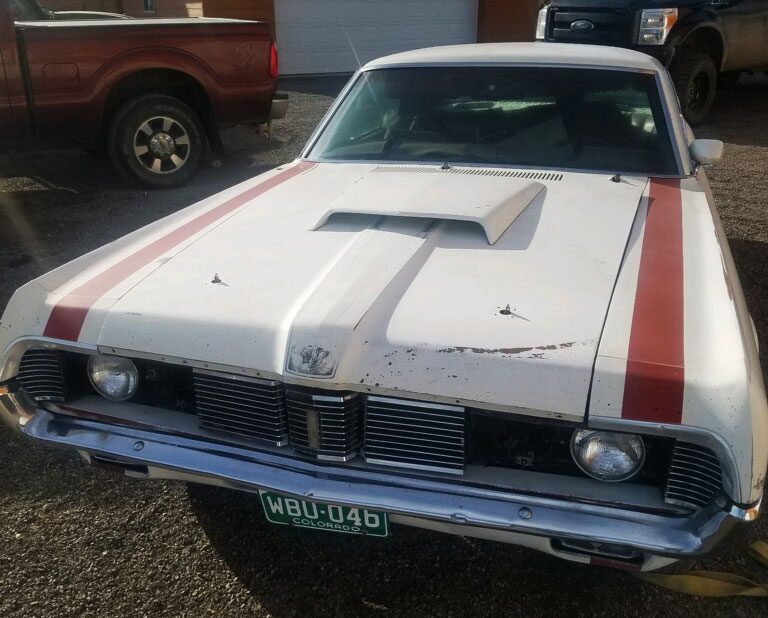 Kumpf / Kenz & Leslie Special Price List
1969 Cougar 2-door Hardtop Equiped as follows:
Cobra Jet 428 4V Engine
Ram Air Induction
3.5, 3.91, or 4.30 to 1 Axle
F-70 Transaction Belted Tires
4-speed Manual Transmission, Close Ratio, Heavy Duty
Heavy-duty Clutch
Traction Lock Differential, Heavy Duty
Power Disc Brakes
Dual Paint Strips
Cragar Wheels, Speed Balanced
Special Finned Valve Covers
Competition Handling Package
Dual Low Pressure Exhaust
Anti-Torque Rear Shock Mounting
Hood Locking Pins
Bucket Seats
Backup Lights
Electric Windshield Washer
Bright Windshields, Rear Window, and Drip Rail Mouldings
Full Carpeting
Concealed Headlamps
Sequential Turn Signals
Reversible Key Locking System
Bright Wheel Opening Moldings
Courtesy Light
20-gallon Tank
Glove Compartment Light and Lock
Special Kumpf / Kenz & Leslie Special Identification
Special Owner Identification
Performance Engineered and Performace Serviced by Kenz & Leslie
List Price: $4,483.50
Grand opening Special: $3,995.00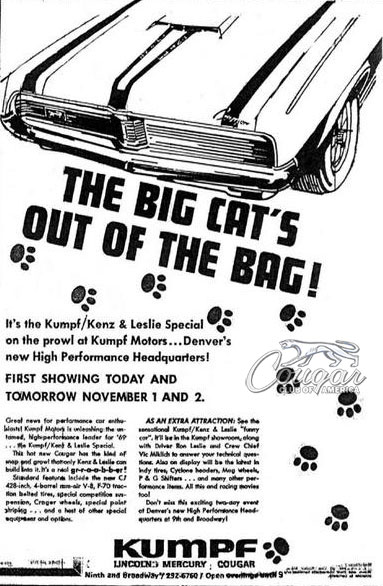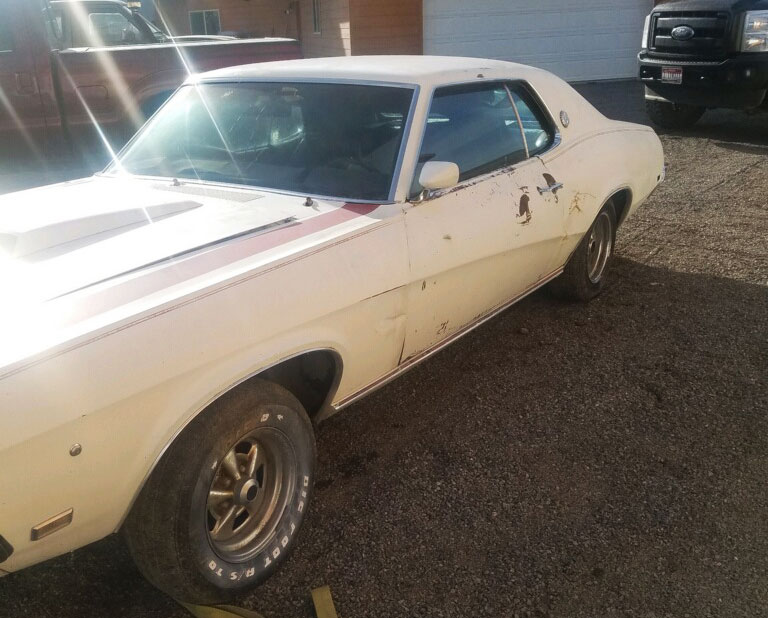 Factory Options
| | |
| --- | --- |
| Selct Shift Auto Tranmission, Heavy Duty | $22.30 |
| Electric Clock | $15.60 |
| Console, Sports | $57.10 |
| Tinted Glass, All Windows | $29.80 |
| Front Bumper Guards | $13.00 |
| Head Restraints (until January 1, 1969) | $17.00 |
| Light Group, Courtesy | $16.90 |
| Floor Mats, Front and Reear | 13.00 |
| Remote Control Racing Mirror | $13.00 |
| Power Windows | $104.00 |
| Radio AM | $60.90 |
| Radio AM-FM Stereo | $185.30 |
| Roof Vinyl | $89.40 |
| Speaker, Rear Seat – AM Radio Only | $15.60 |
| Steering Wheel, Rim Blow | $35.00 |
| Stereosonic Tape System (includes AM Radio) | $195.00 |
| Comfort Stream Ventilation | $25.90 |
| Visual Check Panel | $25.90 |
| Windshiled Wipers, Interval | $16.90 |
 Factory Options (cont.)
| | |
| --- | --- |
| XR-7 Over Standard Cougar | $299.00 |
| | |
| --- | --- |
| | Alternator and Oil Pressure Gauge |
| | Bright and Black Curb Moldings |
| | Clock and Elapsed Time Indicator |
| | Leather and Vinyl Seats |
| | Low Fuel and Door Ajar Warning Lights |
| | Paring Brake Warrning Light |
| | Rear Seat Armrests |
| | Trip odometer |
| | Deluxe Door Trim |
| | Tachometer |
| | Courtesy Light Group |
| | Rim Blow Steering Wheel |
| | Visual Check Panel |
| | Remote Control Racing Mirror |