"The Last Convertible"
1973 Mercury Cougar XR-7 Convertible
(This title was held until the Ford Motor Company resumed making convertibles again in 1983)
by Rick Schmidt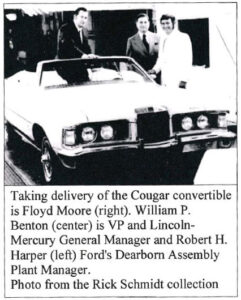 The end of an era came when Ford Motor Company pro­duced its last convertible, an XR-7 Cougar. For 1973, the only Ford product lines with a convertible model were Mus­tang from the Ford Division and the Cougar from Lincoln­-Mercury Division. July 5, 1973 marked the end of an era when the last convertible came off the assembly line, an XR- 7 Cougar. Increasing safety mandates and changing buyer attitudes caused the demise of the convertible.
"It is a fact that our Cougar's VIN # is not the highest, nor was the production-date the latest. As has been the practice with most "lasts" from Ford, the car was produced, pulled aside, meticulously gone-over / inspected and prepped, pho­tographed, and then "ceremoniously" rolled off the assembly line as the LAST. As you can see in the photo, our car rolled off the line for the media with its top down, boot installed, and all plastic coverings and tags and stickers removed. After rolling off the assembly line the Cougar was immediately delivered to Floyd Moore, a Chicago automobile collector." – Rick Schmidt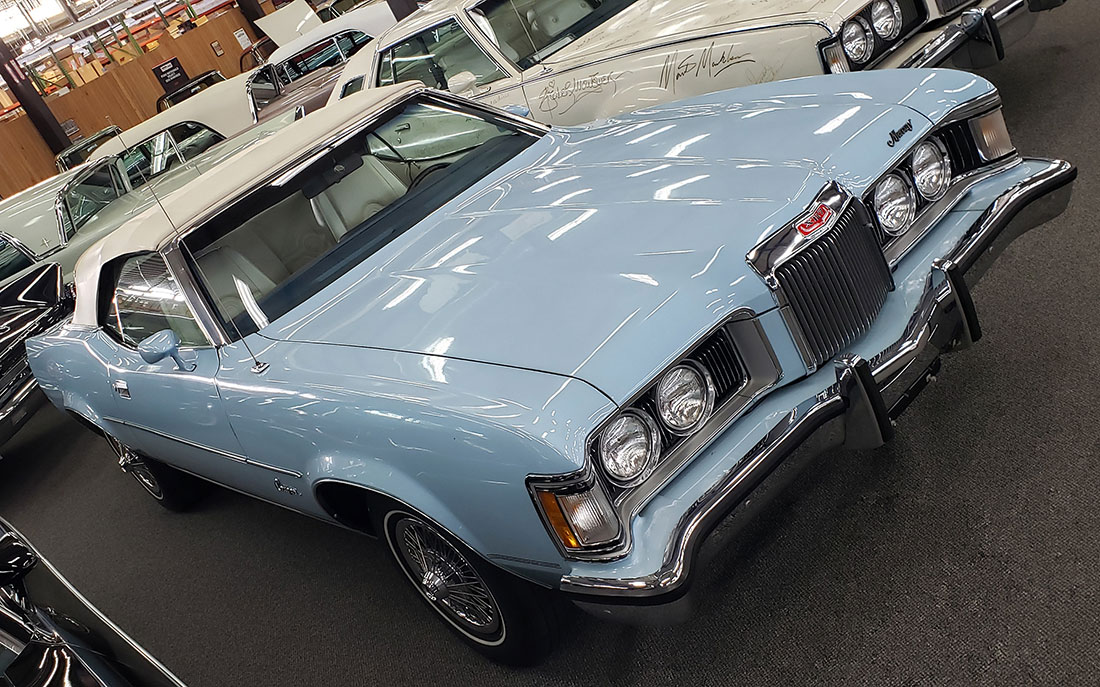 "We acquired the car in the mid-90's from Floyd Moore, who had owned it since new. Floyd had 'friends in high places' within Ford, hence his ability to acquire special benchmark Ford vehicles through the years . . . We also pur­chased the 1 GO-millionth and 150-millionth Fords from Floyd, 1979 Mustang VIN # 00001, and several other nifty pieces that he had arranged for through his executive friendships at Ford throughout the '70's.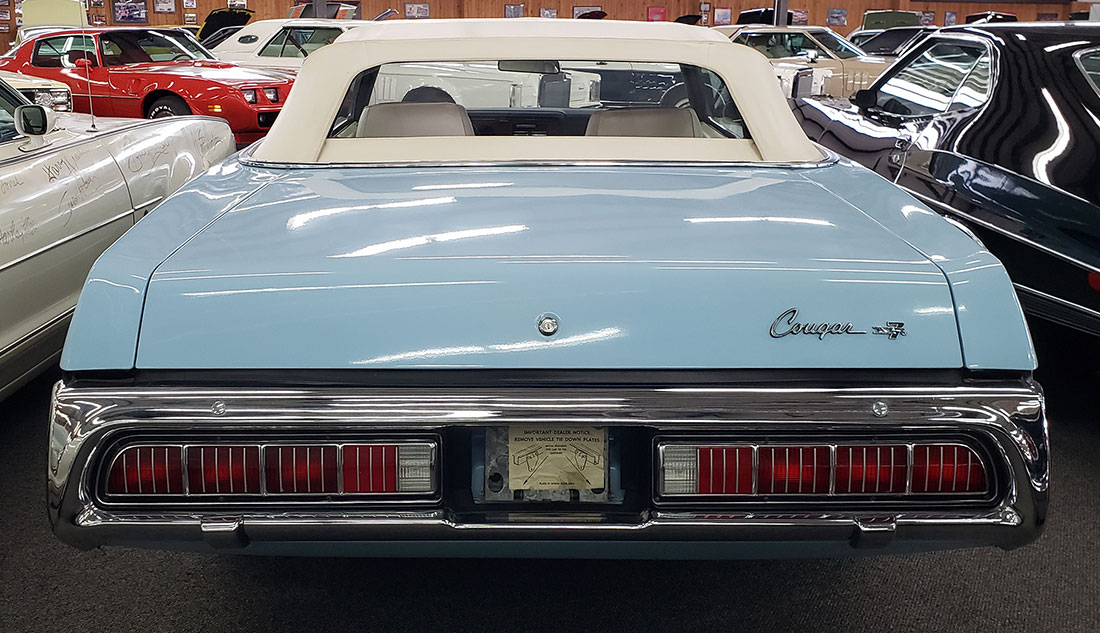 "The Cougar is basically 'brand-new', as it has traveled less than 500 miles in its lifetime, and has benefited from collector's-care its entire life. It's very ­likely the lowest-mile 1973 Cougar on the planet, and we keep it in perfect running condition, cycling fresh fuel and fluids and running it regularly."
The B3 – Light Blue body color has a white top with a stunning all white leather interior with blue carpeting and appointments.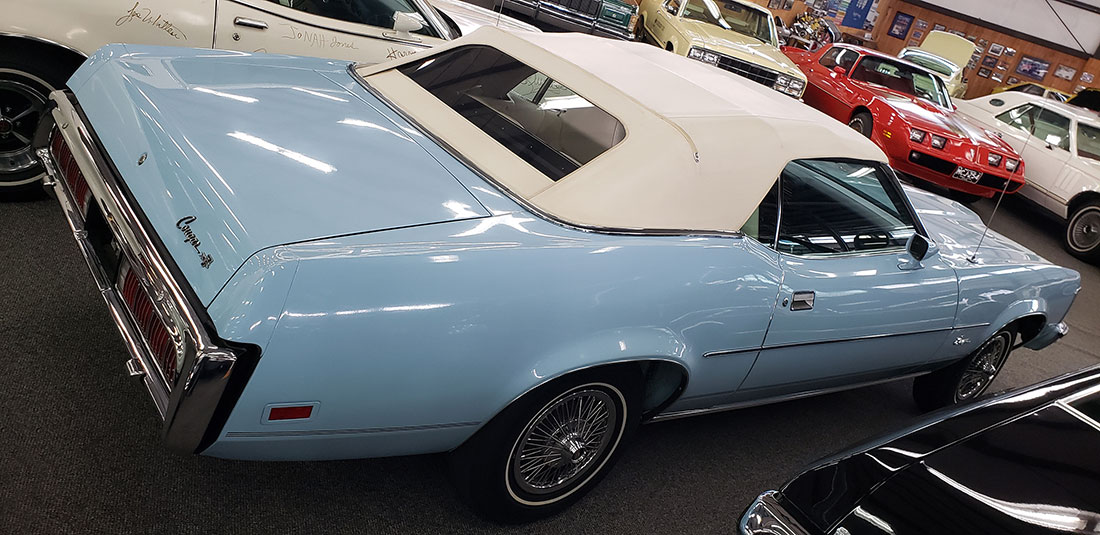 Standard Equipment
Automatic Transmission
Power Front Disc Brakes
Power Operated Top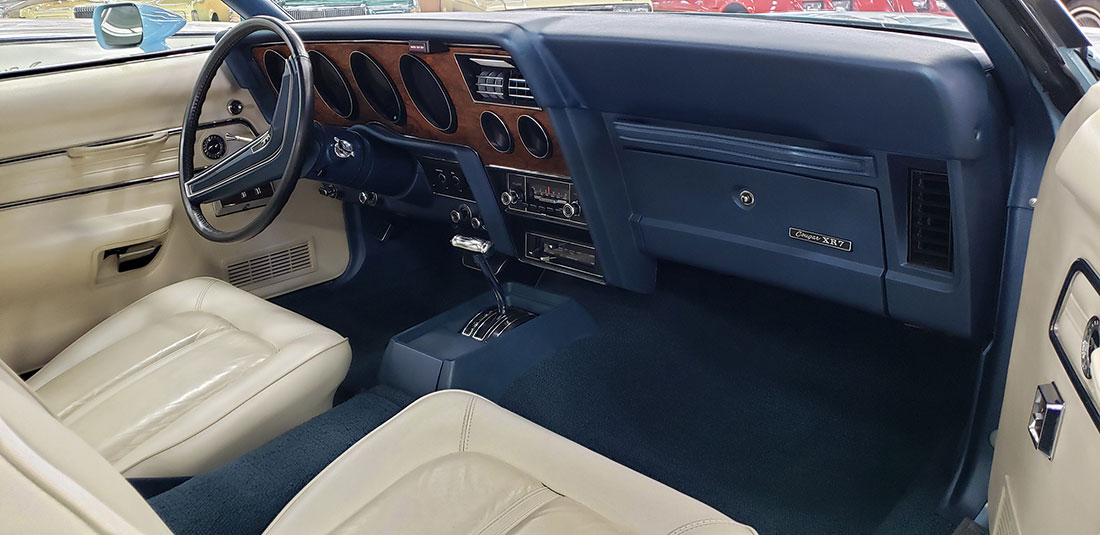 Options Listed on the Window Sticker
XR-7 Convertible
Light Blue
White Convertible Top
351 Cobra Jet
GR 78 x 14 White Side Wall Steel Belted Tires
Convenience Group
Power Steering
Tilt Steering Wheel
Leather Wrapped Steering Wheel
4-Way Power Seat
Options (cont.)
 Whisper-Aire Conditioner
AM / FM Stereo Radio
Interval Windshield Wipers
Protective Bodyside Molding
Appearance Protection Group
Dual Racing Mirrors
Tinted Glass – Complete
Heavy Duty Battery
Power Windows
Wire Wheel Covers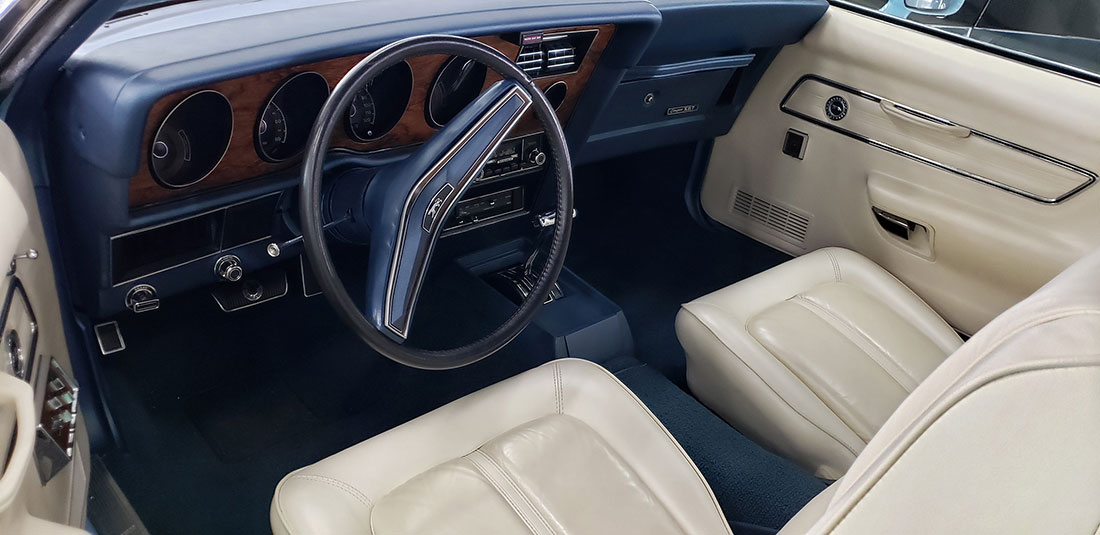 One nifty option on the car, that you RARELY see anymore, is the "leather­-wrapped" steering wheel. This wheel was prone to getting scratched-up and dry-rot­ted. With less than 500 miles, the original leather wheel on this car is as – new.
Note: This is a very rare option for the 1973 Cougar.
 Text from The Big Book Mercury Cougar: The Classic Years 1967-1973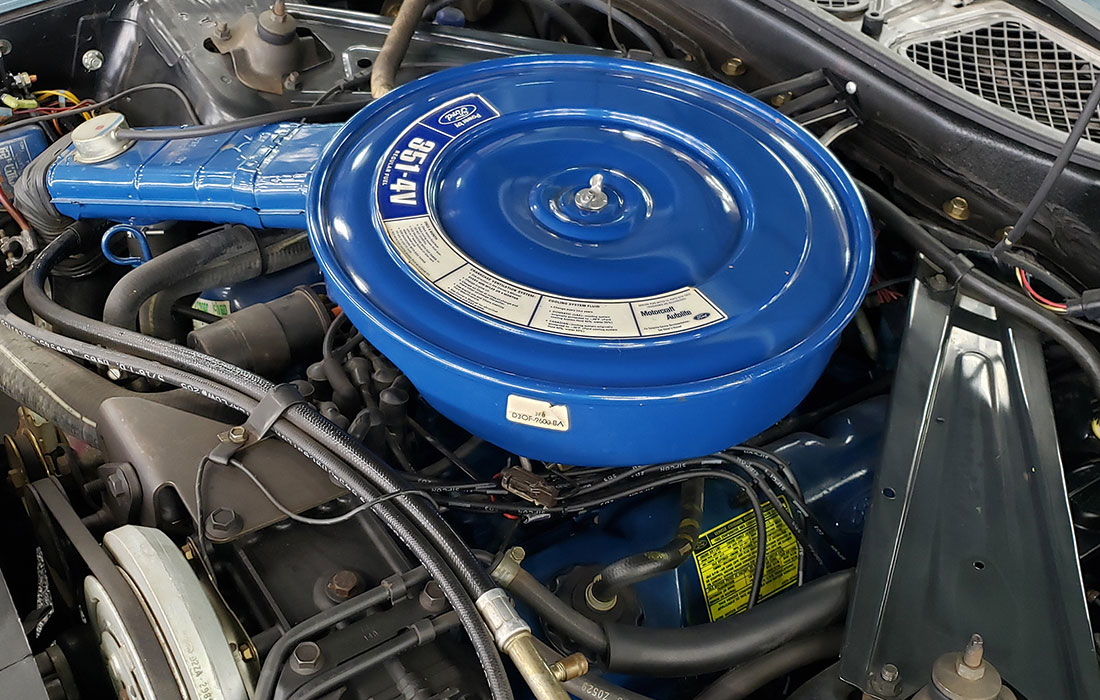 Our collection is available by appointment-only. Please contact Rick Schmidt to arrange a visit.
Rick Schmidt
V.P., C.O.O.
National Parts Depot
rschmidt@npdlink.com