1969 Mercury Cougar "Super Cat"
This article was written with the help of Steve Eitzen of TCCN fame

During the Streep Scene extravaganza that was happening in 1969 at the new car and rod and custom shows around the country there was a contest to win a 1969 Cougar. This Cougar was no run-of-the­mill Cougar but a 428 Cobra Jet equipped Cougar. The Coca-Cola Company, in conjunction with Lin­coln-Mercury were giving the car away to one lucky winner. To make this Cougar even more special the engine got the Dyna Don Nicholson treatment and the results were in articles published in Car Craft magazine.

This Cougar was a Car Craft Magazine project car and, basically the show version of Nicholson's '69 Super Stock Cougar. It was featured in a series of Car Craft magazine issues in 1969 as built by "Dyna Don". Super Cat was then shipped around the country to various Auto Promotional Events. Additionally "Dyna Don" took it to various Races to make exhibition runs during major NHRA events.
Car Craft Magazine took the Cougar to Irwindale Raceway and put it through it's paces. The first pass netted a 14.18 time at 100.55 mph. Playing with tire pressure and changing driving technique resulted in better results. With 32 p.s.i. in the tires and shifting at 5500-5600 rpm, the e.t. came down to 13.93 and a top speed of 102.38 mph.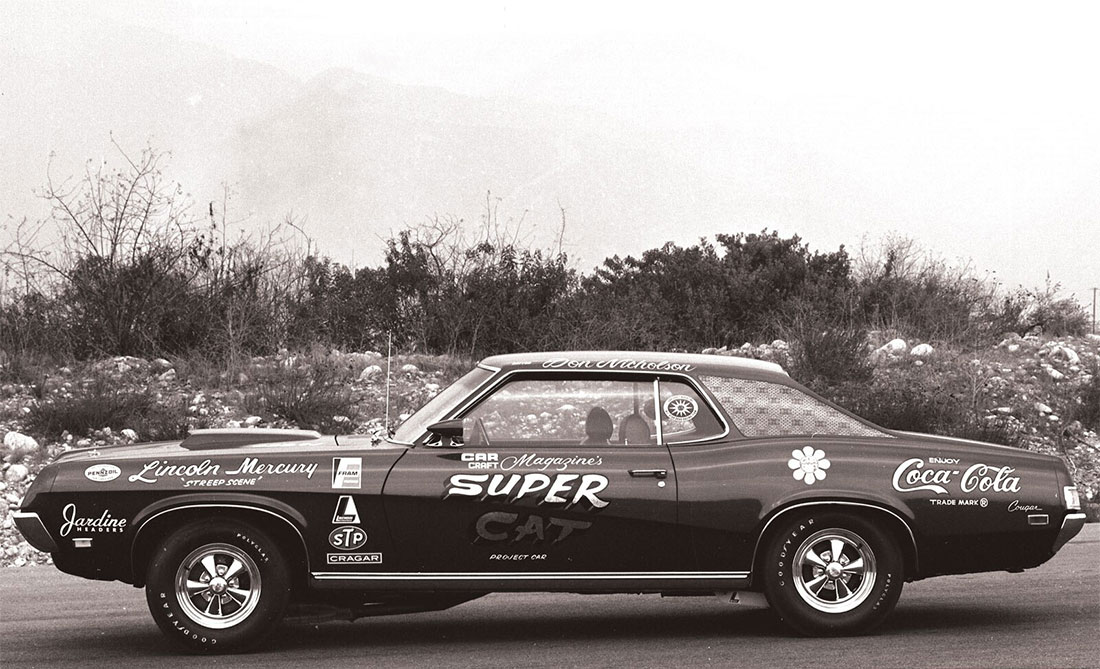 Dyna Don Nicholson then took the Cougar to his shop to see if he could work some magic on it. Editor John Raffa and Dyna Don pulled the engine of the new 428-powered '69 Cougar, blueprinted it and Dyna Don added some of his per­sonal tricks and touches. The car was also equipped with a set of Lakewood traction bars and headers from Jardine's. Back at the track, the car turned in a 13.46 time at 105 mph.
When the Cougar appeared at the track the next time, things were much different. Along with the magic worked up on the engine, the car got new shocks, Cragars with 9.00×15 Goodyear slicks and a change in shift linkage. Dyna Don pulled out the stock Hurst linkage and replaced it with a Hurst Competition-Plus setup. With Dyna Don driving this time the Cougar did a best of 12.78 at 109.35 mph. The Cougar later competed in some F/Stock drag racing.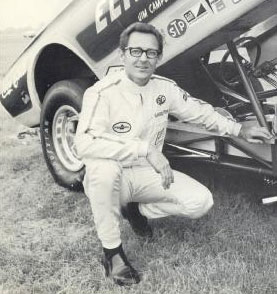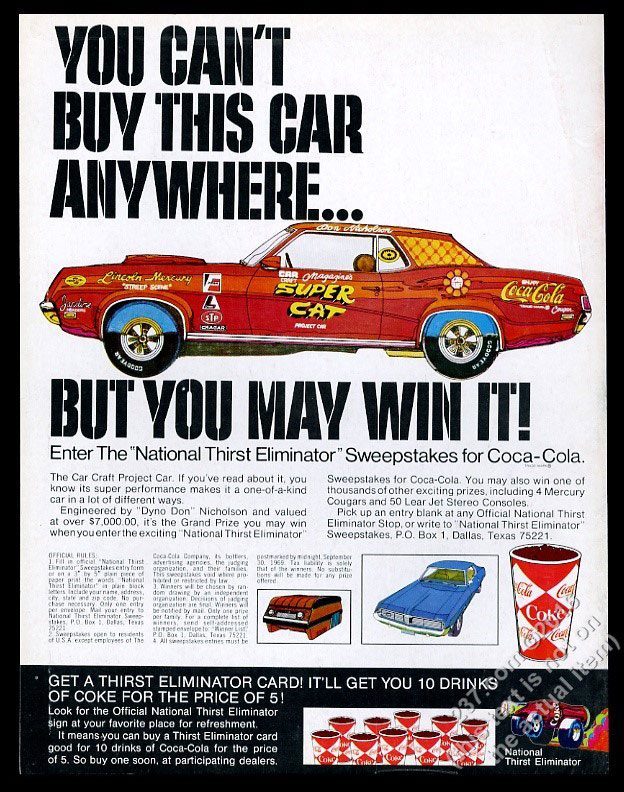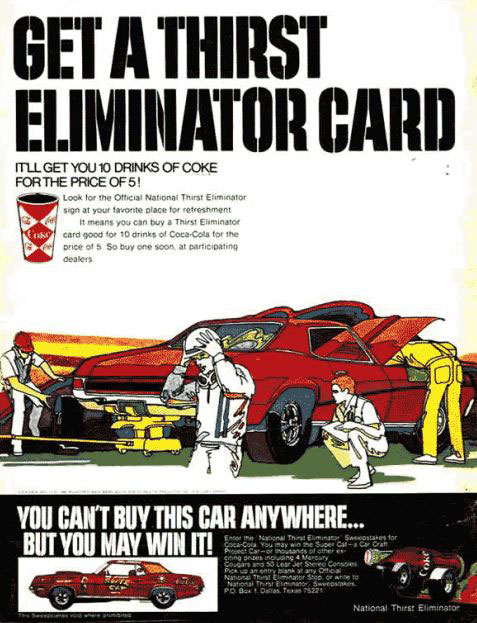 At Auto shows around the country, Lincoln Mercury exhibited this car with "Dyna Don" in attendance. They had a slo­gan saying join the "Streep Scene". It was a word derived from StreeUStrip combined to make one word. Also, at the exhibit as part of the display was a projection screen in front of two seats where people were able to sit beside "Dyna Don" and go for a trip down the dragstrip as if you were in his race car. This was in the "Dyna Don" Funny car that he campaigned with the name "Eliminator" on the side and is most likely the origin of the name for "Cougar Eliminator."
In September 1969 the car was given away as part of an ad cam­paign for the Coca-Cola Co. The lucky fellow in Ohio who won Super Cat had to turn around and sell the car immediately because he couldn't afford to pay the income tax on his prize. The next owner kept it for a few years, then parked it alongside the road with a "For Sale" sign in its window.
Super Cat's next owner ran a used car lot and purchased the car as a promotional gimmick. The used car salesman eventually moved his business to Florida and, in 1980, his son took over the business.
At this point Super Cat was moved to a carport behind the used car lot and left there to suffer the ravages of rust and neglect.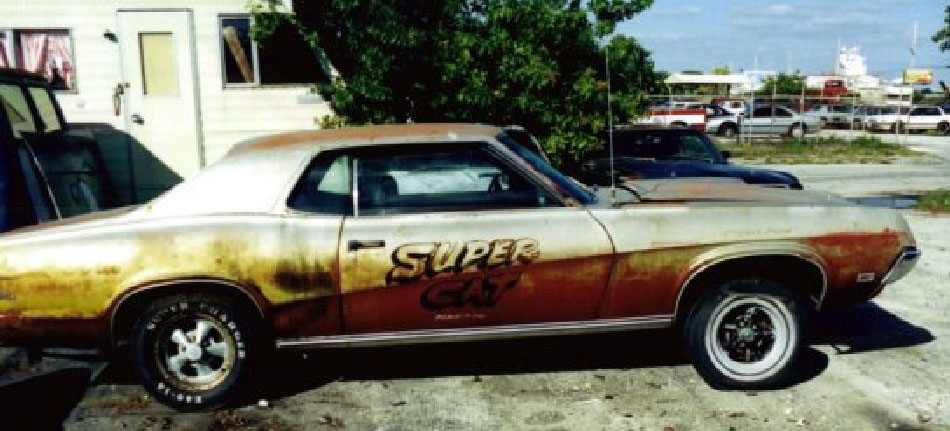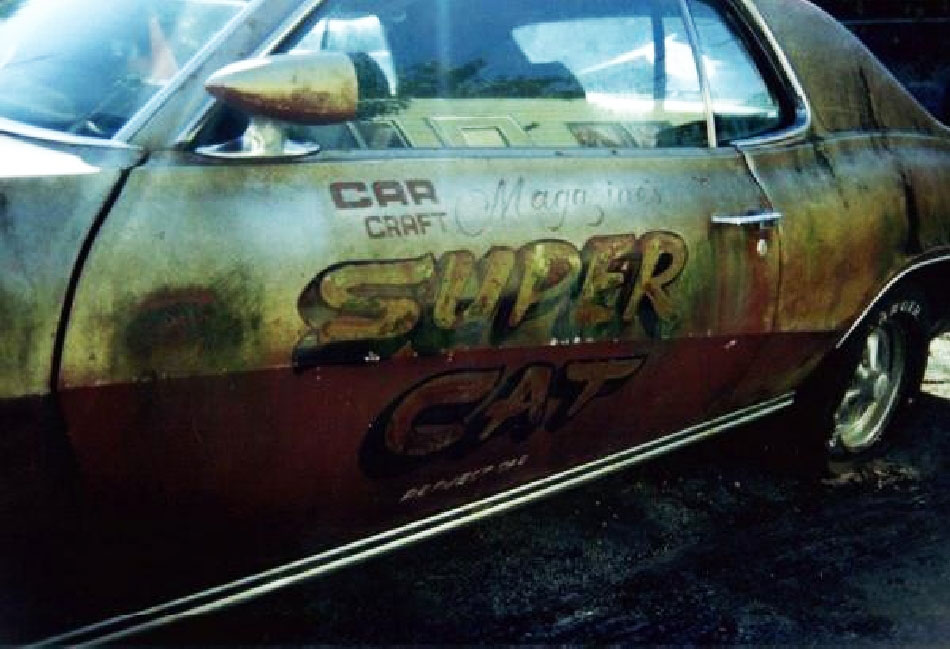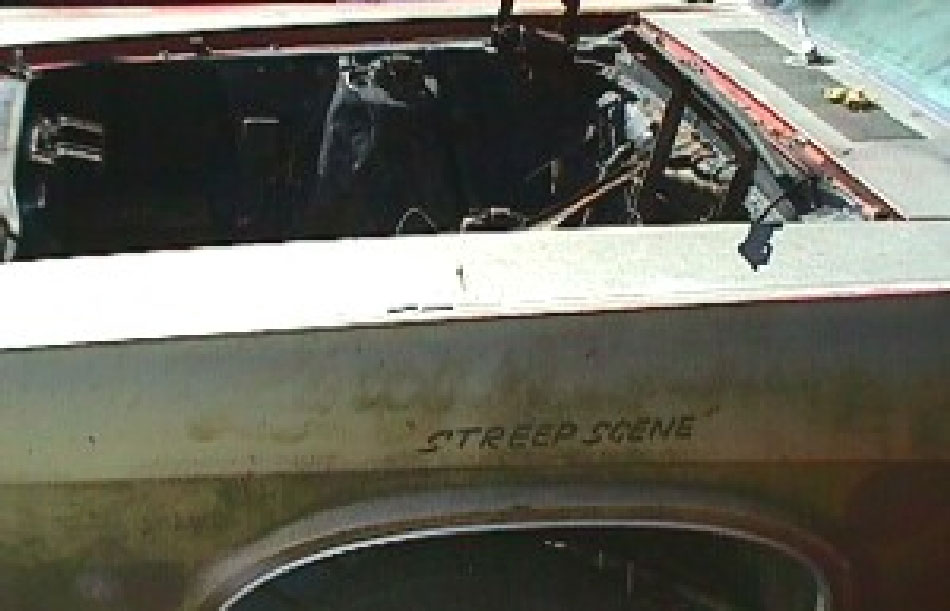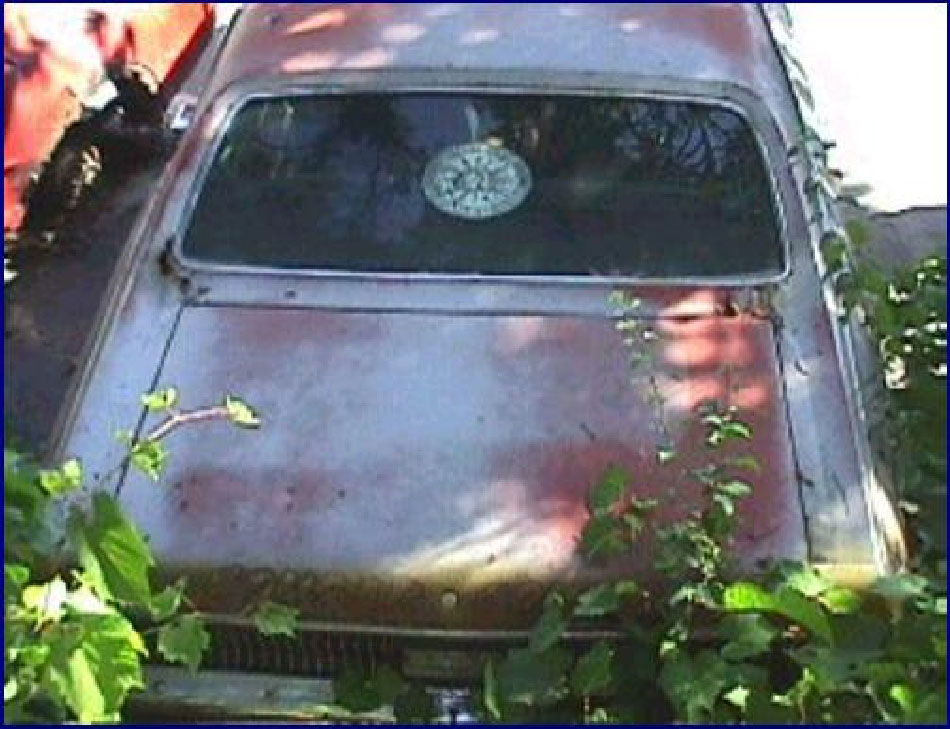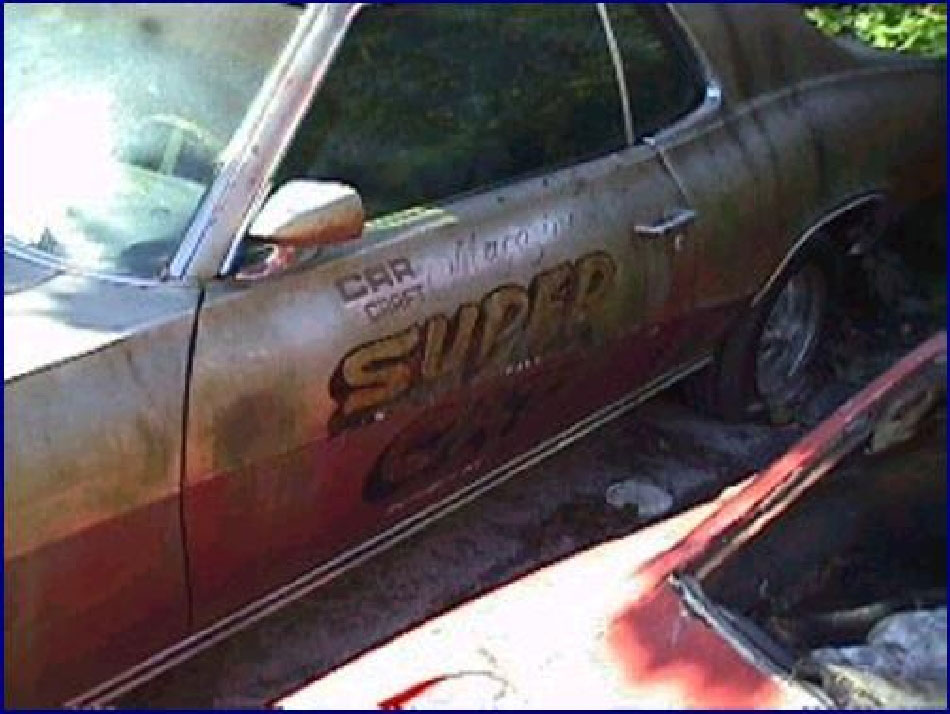 The car was still in that carport in 1999, when Tony Begley heard about it through the International Mercury Owners Association. Begley owns Northern Illinois Classic Auto Brokers (NICAB) and is quite knowledgeable about Ford mus­cle cars, so he recognized Super Cat for what it was and purchased the car.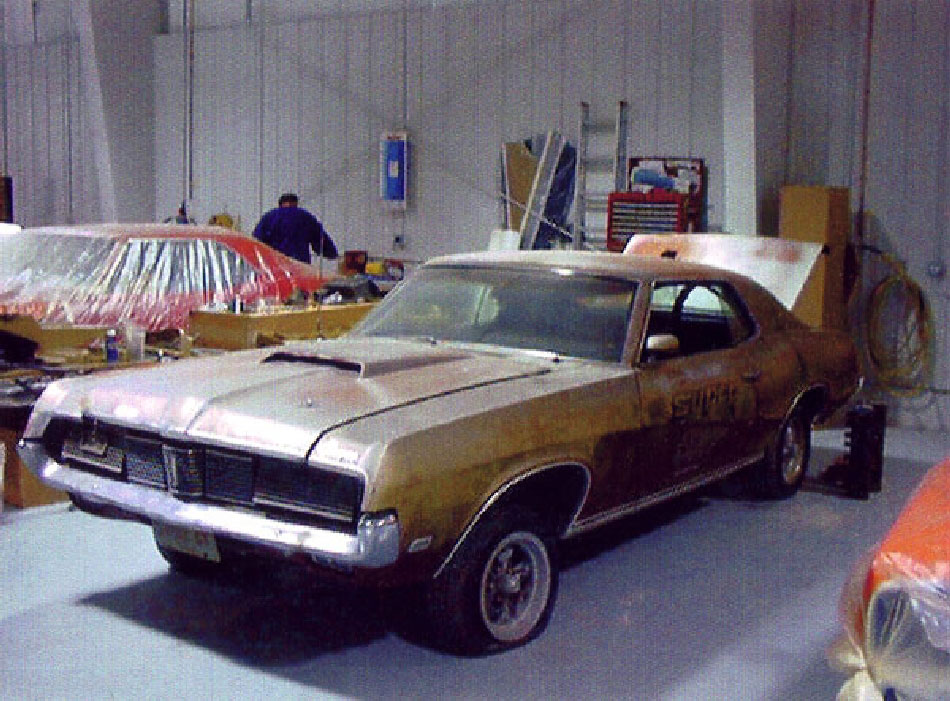 The car had not been repainted and still sported the original graphics/names and logos but it was severely faded and deteriorated. The chrome was in bad shape and the floors were badly rusted, requiring extensive restoration. The restoration task went to Performance Restorations in Mundelein, Illinois, who performed a rotisserie restoration on the car. When Performance Restorations received the car the original 428 engine block and heads were in the trunk. They talked with Dyno Don and his mechanic who seamed to remember everything about the car. Performance Restorations researched the car extensively to put it back exactly the way Dyno Don did it in 1969.
After completion, Super Cat was list­ed for sale by Northern Illinois Classic Auto Brokers in Wauconda, Illinois. These final pictures were taken in the Seattle area and then Super Cat moved on to another new home.
Text from The Big Book Mercury Cougar: The Classic Years 1967 – 1973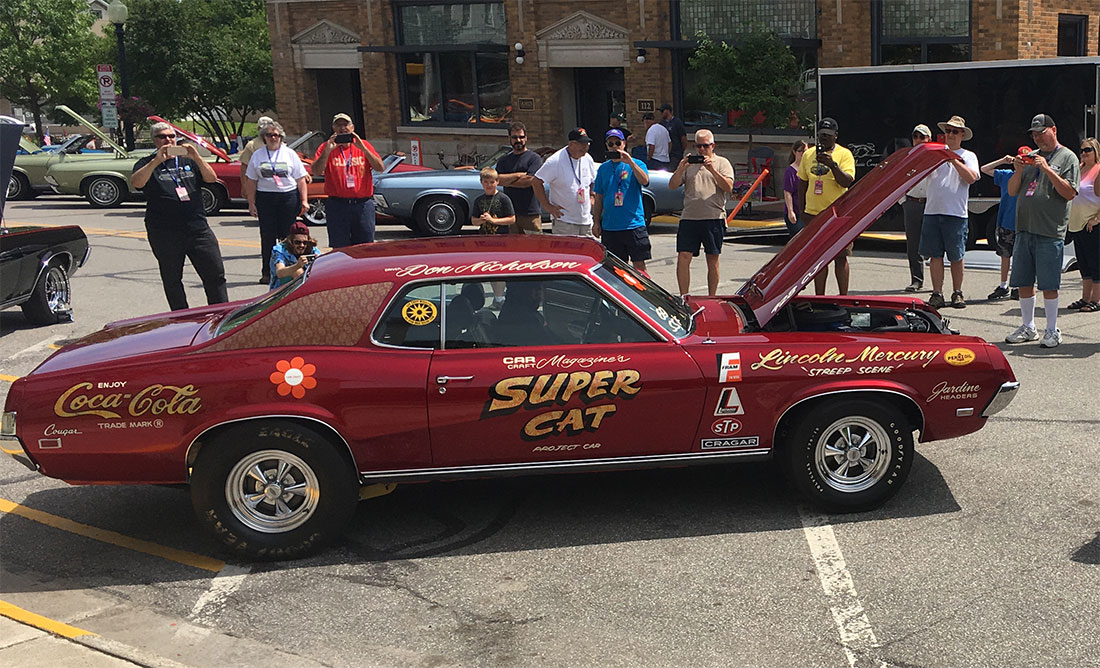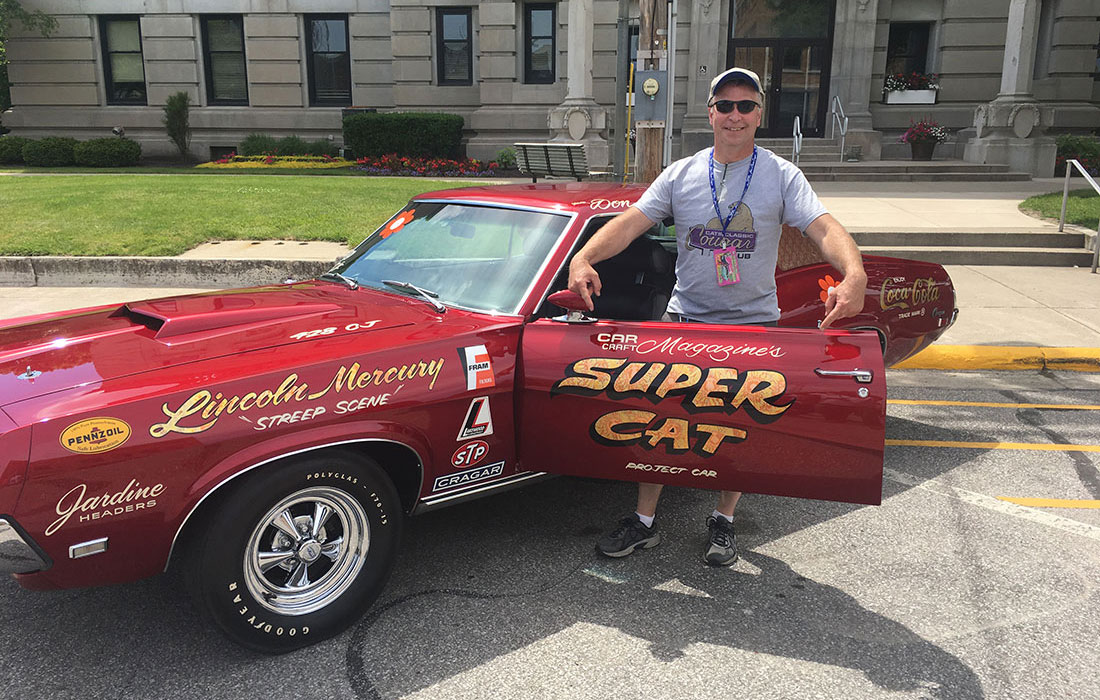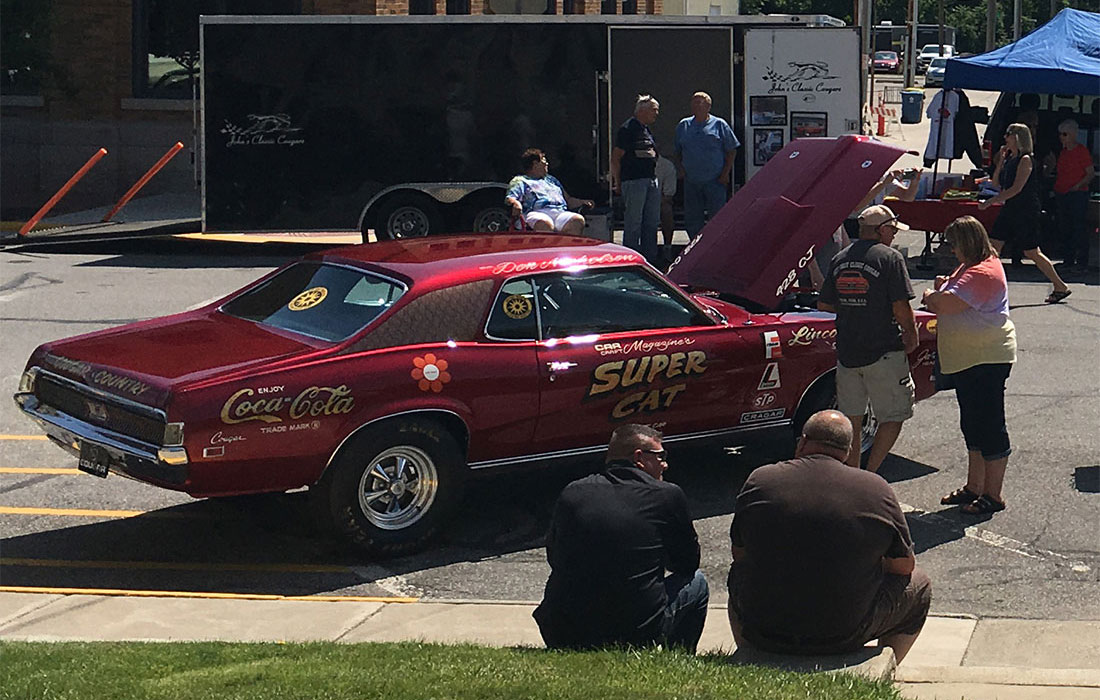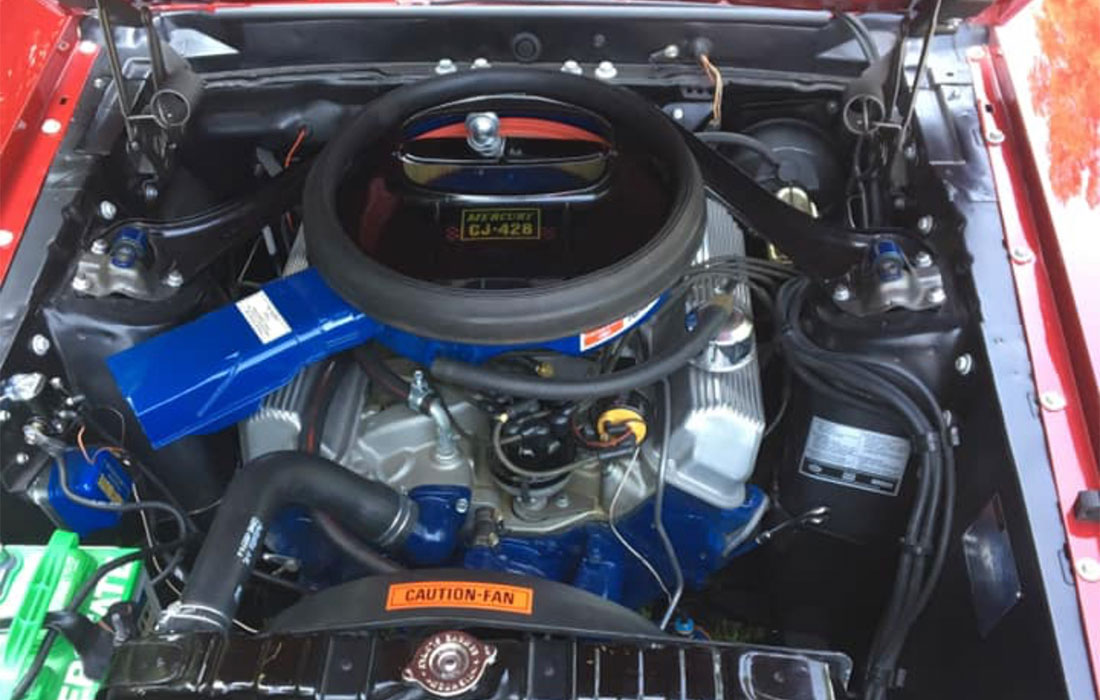 Written by Barry Margolis
SuperCat, a 1969 Cougar designed and built by "Dyno" Don Nicholson, was first prize in a Coca Cola sweepstakes. The "kid" who won it, found he was unable to pay the taxes, and parked it in front of his house with a big "for sale" on it.
Enter Rick (no last name, please) and his Dad; HUGE Mustang enthusiasts. Dad sees the car, stops, and he and the owner agree on a price. Dad races it for a few years, but loses interest, and it just sits amongst a half-dozen race Mustangs in their stable.
In the mid-70's, Dad sells SuperCat to an individual who continued to race it, ultimately blowing the engine. A couple years later, Dad buys it back, complete with blown engine, for nostalgia purposes. So far, no one has paid more than $5K for it.
Rick felt it was a "keeper," and the family held onto it for the next twenty years. Rick brought it to Ft. Lauderdale, with the hope of rebuilding it back to it's original condition. Being a Mustang guy, SuperCat was sort of a "step child" to him, and the project sat untouched.
During the late 90's, I met Rick at a local car show. He told me the SuperCat story, and offered to sell it to me for $15K. He truly wanted it to be sold to a Cougar enthusiast. At that point, it was almost completely disassembled, needed LOTS of work, and would probably have been a $50K (or more) total restoration.
Not being in my budget, I posted SuperCat on the Sunshine State Cougar Club classifieds. The asking price was $24K. In less than a month, it was sold to a collector in the Midwest for an undisclosed price and a promise that it would be restored.
Just this past March, at a show more than two hundred miles from home, I ran into Rick again. He asked if I knew what happened to SuperCat; there had been no mention of it recently. He expressed concern that it may have become a "give up" project for the purchaser. I hadn't heard anything about SuperCat recently, either, and we went on to discuss his pair of Shelby racers.
But in mid-April, after being offered for sale for $200K, SuperCat was sold at auction, professionally-restored to its original condition, for $140K.
The first call I made was to Rick.
To add the rest of the story. I don't know for sure who bought it next and had it restored. But, it went to Performance Restorations in Mundelein, Illinois and was restored by Ron Moller. After the restoration, it was sold to Kevin Suydam in Washington. Kevin traded it to a Classic Car broker in Minnesota for two Hemi Cuda's. Tom Abrams (Reliable Carriers) purchased it from the broker and it currently resides in his collection.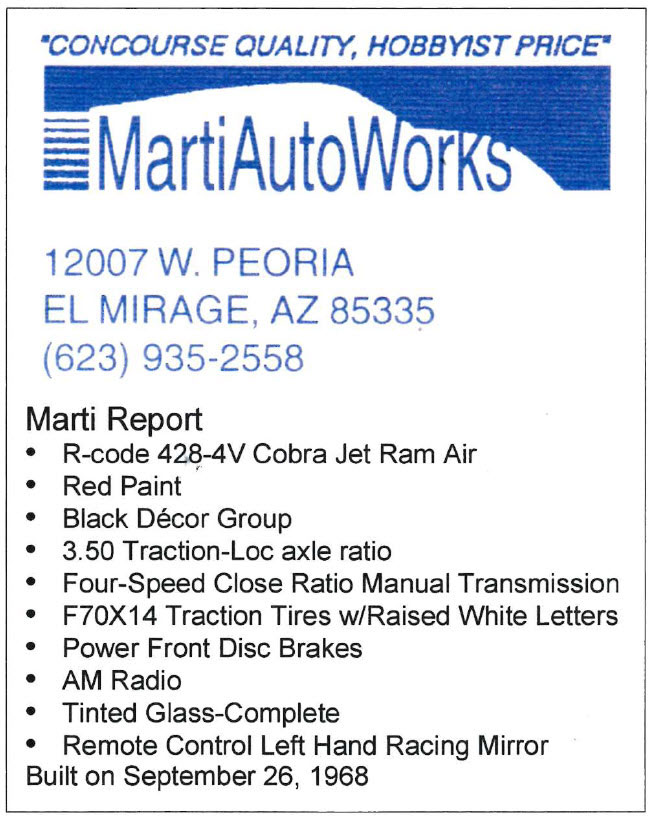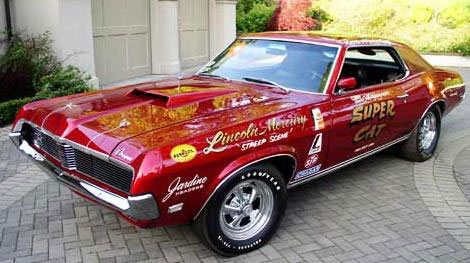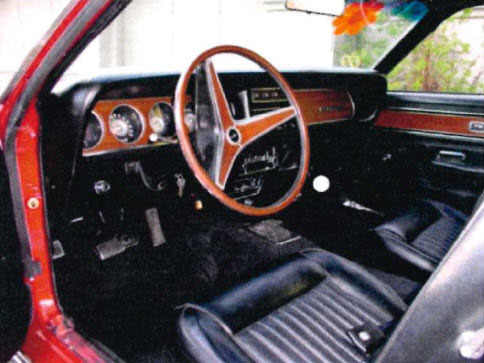 Super Cat Hits Mecum Auctions
In late 2022 and early 2023, "Dyno" Don Nicholson's 1969 Merucry Cougar "Super Cat" went up onthe auction block at Mecum Auctions. The following text is from the second attempt to sell this wonderful Cougar.
1969 MERCURY COUGAR 'DYNO DON SUPER CAT'
Driven by 'Dyno' Don Nicholson
HIGHLIGHTS
The Mercury Cougar was the upscale alternative to the Mustang, and that brand had special ways to promote it. The example here was one of them, a factory promotion by Mercury using veteran driver "Dyno" Don Nicholson in conjunction with Car Craft magazine and Coca-Cola. The Super Cat was documented by Kevin Marti as coming off the San Jose assembly line with its R-code 428 Ram-Air Cobra Jet engine in late September 1968, built for Lincoln-Mercury Product Planning. As optioned, it was one of 206 created with this engine and the Code 6 close-ratio, 4-speed transmission, though it was the only modified vehicle used for this contest. Lettered for SS/F but actually a hot street machine built by Car Craft's magazine crew, Dyno hammered out a best ET of 12.78 seconds at 109.35 MPH in testing before the contest for Coke's "National Thirst Eliminator" got underway.
Looking underhood reveals 428 CI of detailed FE-power featuring the rubber-seal air cleaner, cast valve covers and correct engine paint. This Cougar coupled its premium driveline to an optioned street/strip 3.50 Traction-Lok differential and came with power front disc brakes. The exterior is in red with fully renewed lettering, graphic accents and decaling. Inside was a deluxe black interior featuring wood-grain trim, bucket seats, a booted Hurst shifter with white ball knob, a Philco AM radio, pedal dress-ups and a driver's remote mirror. In addition to the added graphics, this Cougar has classic covered headlamps, the Ram-Air hood scoop and lower rocker trim from the factory, as well as chromed headers and traction bars. The final add-on was the set of iconic Cragar S/S wheels with Goodyear tires.
The Super Cat's return came with major accolades, winning the MCACN Outstanding First Time Shown and Platinum Pick Judge's Choice awards in 2016, and being featured on the event's program cover and access lanyard card in 2019. Provenance here will include the Marti Report, a 1973 Ohio title, vintage photos and Car Craft magazines, a National Thirst Eliminator Sweepstakes giveaway board, the MCACN Invitational Display 2019 materials and print coverage of Nicholson's reflections in the Spring 2002 Quicksilver magazine. Finally, this Cougar will be sold with a historic title.
Click on any image to exit the slideshow and manually go through the images.