Types of Cougar Documentation
Build Sheet – Window Sticker – Invoice – CAC Report – Marti Report

The Build Sheet is a computer printout "traveler" which was used at all stations along the assembly line to specify the configuration of a particular vehicle. It contains: color, trim, engine, springs, type of glass, etc.
You may be lucky enough to find your Build Sheet in your own Cougar. They have been found under the rear seats, under the carpeting, under the trunk mat, and even stuck to the paint on the driveshaft! (OK, that was just one instance)
It's important to keep in mind that it was not the practice to place the Build Sheet with the car. They were to be discarded at the end of the assembly line.
Therefore, if you do find the Build Sheet, consider yourself very lucky.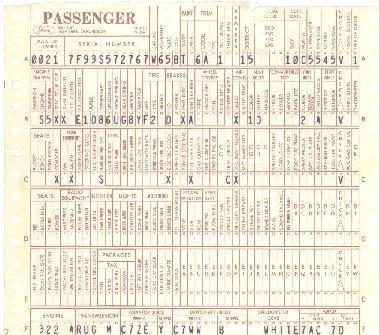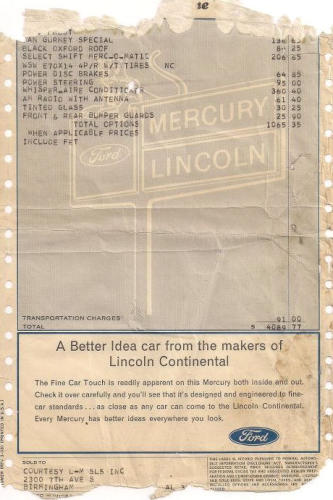 The Window Sticker, like the Build Sheet, is a computer printout specifying all options and costs for a given vehicle order. It is affixed to a side window of the car, hence the name.
It is also known to some as a "Monroney Sticker" after Senator Mike Monroney of Wisconsin who in 1959 got a bill passed through Congress requiring prices for each vehicle be posted on each vehicle.
The dealership, ship-to address, transportation charges also are included. But it's important to keep in mind that it was not the practice at the dealership to preserve the Window Sticker, and few original owners thought to save it.
Therefore, like the Build Sheet, if you do actually have the Window Sticker, consider yourself very lucky.
The Invoice, sometimes called the "Gate Release," was used to document the transfer of the vehicle from the factory to the dealership. It specifies all important features of a car, and resembles a Window Sticker, because it lists the VIN, dealership, and all options that a particular car had. This makes them highly sought-after by restorers trying to document the history of their cars. Invoices are generally never seen by the customer, and are not normally a part of the documentation on a car.
Luckily for Cougar owners, as well as other Ford owners, a former Ford employee, Lois Eminger, rescued boxloads of these Invoices from going to the incinerator.
These invoices are now sold by Marti Auto Works to verified owners of these cars.
There are no Invoices available for pre-1969 Cougars.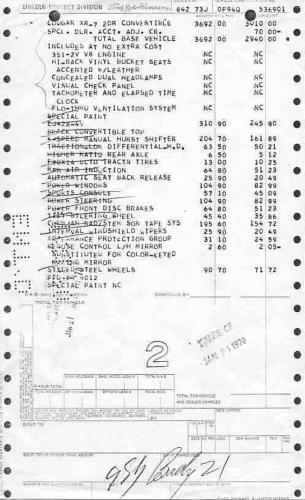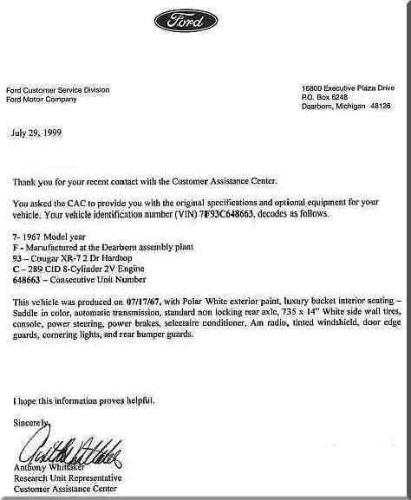 The acronym, CAC Reports, stands for the Ford Customer Assistance Center Reports.
Begining in 1995, Ford recovered several years' worth of archived income order-entry records that had been recorded on reel-to-reel tapes. Ford mainframes originally used this data in generating the varied reports needed for a billion-dollar company. After languishing for decades, it seems someone finally allocated whatever man-hours were required to make the tapes usable again.
Sometime in 1995, Ford's Customer Services Division began providing what was thought unimaginable only a few months earlier: a report on your Ford car, including its estimated assembly date and a list of its original equipment. There is no fee charged for this service.
Since then, it has been the found that these CAC Reports are often poorly prepared and full of inaccuracies. It seems the data from the original records is manually decoded, sometimes off-shore, and therefore the opportunity to introduce errors is fairly high. Our experience with these reports is to take the information provided with a grain of salt.
To request a CAC Report for your Cougar, contact:
Ford Motor Company
Customer Assistance Center
PO Box 43360
Detroit, MI 48243
In the collectible Ford / Mercury hobby, we are very fortunate to have Marti Auto Works services available to us. There is nothing like them in the GM or Mopar world. These reports add much to the value of your Cougar and are an important addition to it's documentation portfolio.
Are you restoring a car? Are, you considering buying a Cougar, but don't know how "original" the car really is? Or, do you just want to know everything that can be known about your Cougar? Marti Auto Works has access to the complete production database for all Ford-Lincoln-Mercury cars and trucks built for model years 1967 to 2007.
Different levels of information are available, depending on what you need: Basic, Deluxe (shown), and Elite, which features a framed window sticker, statistics report, and doortag, in addition to the Deluxe report.
This report decodes your VIN, doortag, and provide the complete list of options as the car left the factory. Also, depending on the level of detail you need, it can provide original dealership information, important statistics, or custom statistics.
Marti Auto Works
13238 W Butler Drive, El Mirage, AZ 85335
Phone: 623-935-2558
Fax: 623-935-2579