Ride-Engineered by Lincoln-Mercury
From the 1977 Mercury Cougar Brochure
Our ride is known far and wide. It is the sum of a lot of things, large and small, that go to make up the total environment we call "Ride-Engineered by Lincoln-Mercury." Much of the riding comfort you'll experience in your 1977 Cougar stems from its road-tuned suspension design, front and rear. In front, fully independent coil springs and shock absorbers cushion front wheel move-ments, soaking up the bumps. A link-type front stabilizer bar fights excessive sway and "lean" when cornering. The rear suspension is based on calibrated helical springs and hydraulic shock absorbers. Rubber bushings are used at all pivot points, front and rear, reducing vibration and road noise even further.
One good turn leads to another. Standard power steering on your 1977 Cougar gives you fingertip control and nearly effortless guidance. A flex coupling in the steering shaft helps isolate road jolts from reaching your hands at the wheel. Cougar's wide stance also contributes to its sureness on the open road and through the winding turns.
Room at the top—and everywhere else. Cougar's passenger compartment retains generously dimensioned headroom, hiproom and legroom. The body is strong and rigid, working with a unique torque box frame to help keep road shocks, noise and vibration down.
A secret between you and the outside world. Cougar offers over 60 pounds of insulation in such major areas as roof, floor, fenders, roof pillars, cowling, dash, hood, luggage compartment—even behind the rear seat. A welcome addition to your sense of peaceful quiet as you drive.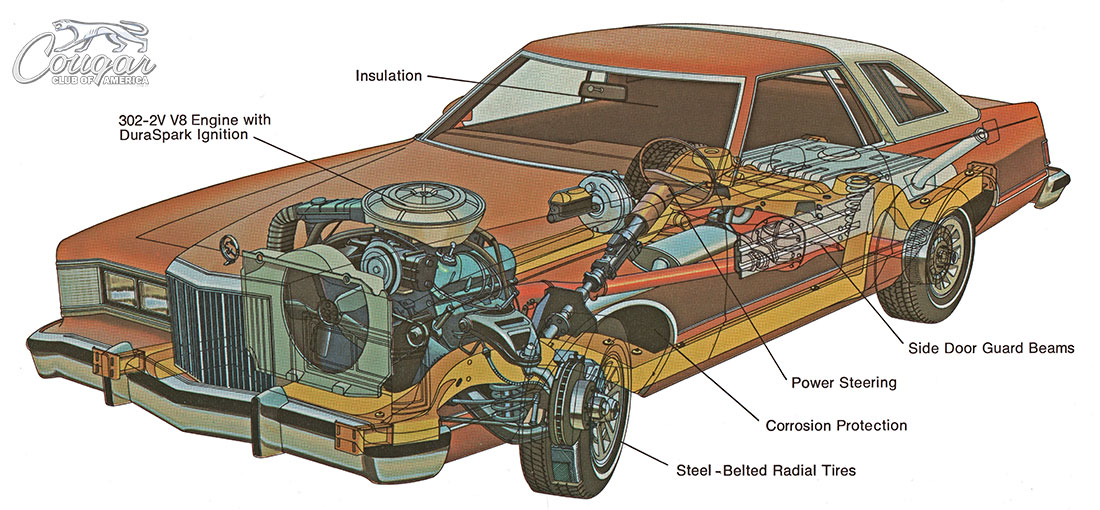 Put a stop to all that. Cougar's power brakes (front disc, rear drum) put a vacuum power assist system at your command to afford positive stopping power. Reduced maintenance, anyone? Since 1973, Mercury engineers have eliminated or extended the scheduled maintenance requirements of 30 items, under normal driving conditions. Recommended spark plug change and engine tune-ups on most V8 engines, for example, have been extended to 22,500 miles. What's more, oil filter and oil change intervals on these engines have been extended by 50% over 1976 intervals, to every 7,500 miles for oil and every other time for filter. All 1977 Mercury engines are equipped with our new DuraSpark solid-state ignition system, which offers an increased electrical voltage output over our 1976 system.
Corrosion protection expanded. In 1977, all Mercurys will feature expanded use of precoated steel to provide additional corrosion protection in several major body areas. Mercury Cougar will also feature use of a sealer on the underside of the rear wheelhouses and the continued use of sealers for protection in the lower areas most susceptible to corrosion.
Cougar puts it together. The "Mercury ride" is more than just a system of components. It is a considered concern for all the elements which make up the way a car rides and handles. This is what we mean when we say "Ride-Engineered by Lincoln-Mercury."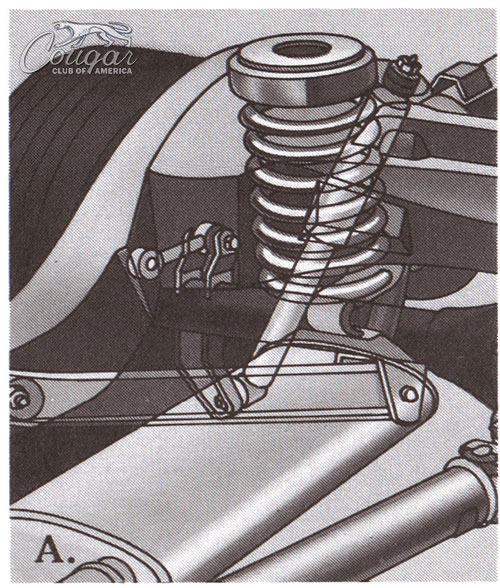 A. Coil Link Rear Suspension
Cougar's rear springs and shock absorbers work as a unit to help provide a smooth, controlled ride.
B. Power Brake; front disc, rear drum
Cougar's standard system offers a power assist swept area of 368.9 square inches of stopping power.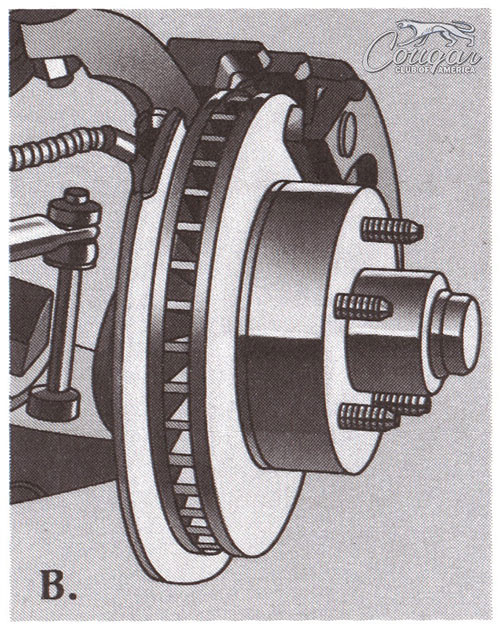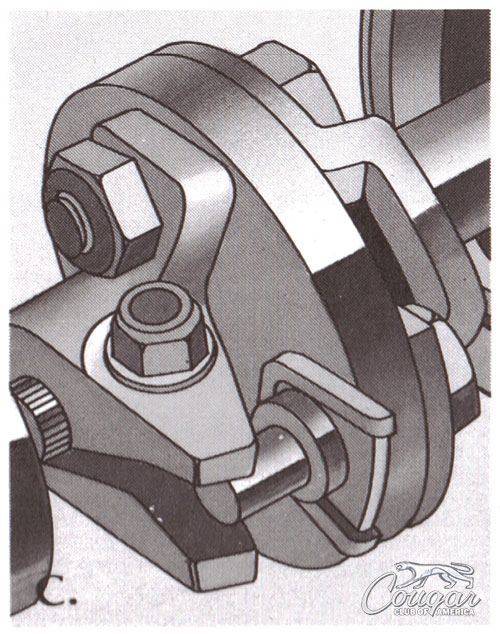 C. Steering Column Flex Coupling
Helps reduce road shock before it reaches driver's hands. A particularly desirable feature on irregular road surfaces.
D. Closed Coolant Recovery System
Heated coolant overflow is captured and retained in the reservoir and returned to radiator automatically when it cools.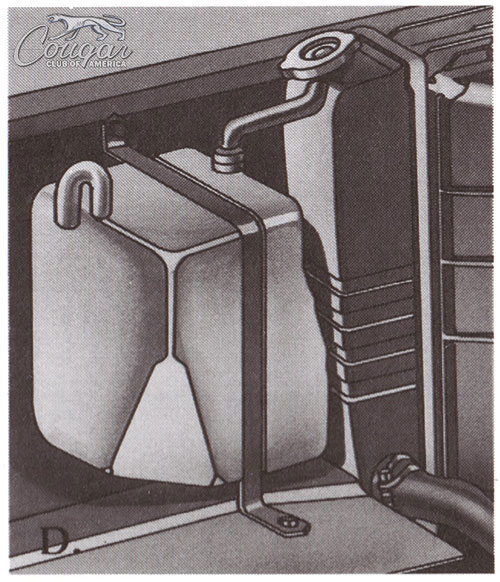 E. Body / Frame Construction
Cougar's body / frame unit has energy-absorbing perimeter frame and strategically located butyl rubber mounts to help reduce road shock and vibration from reaching the passenger compartment.