The Cougar Station Wagon was only available in 1977 and 1982.
1977 Mercury Cougar Station Wagon "Cougar Villager"
The 1977 Mercury Cougar Station Wagon (also called the "Cougar Villager") was actually based on the Ford Torino Wagon & Ford Torino Squire / Mercury Montego MX Wagon and Mercury Montego MX Villager wagon.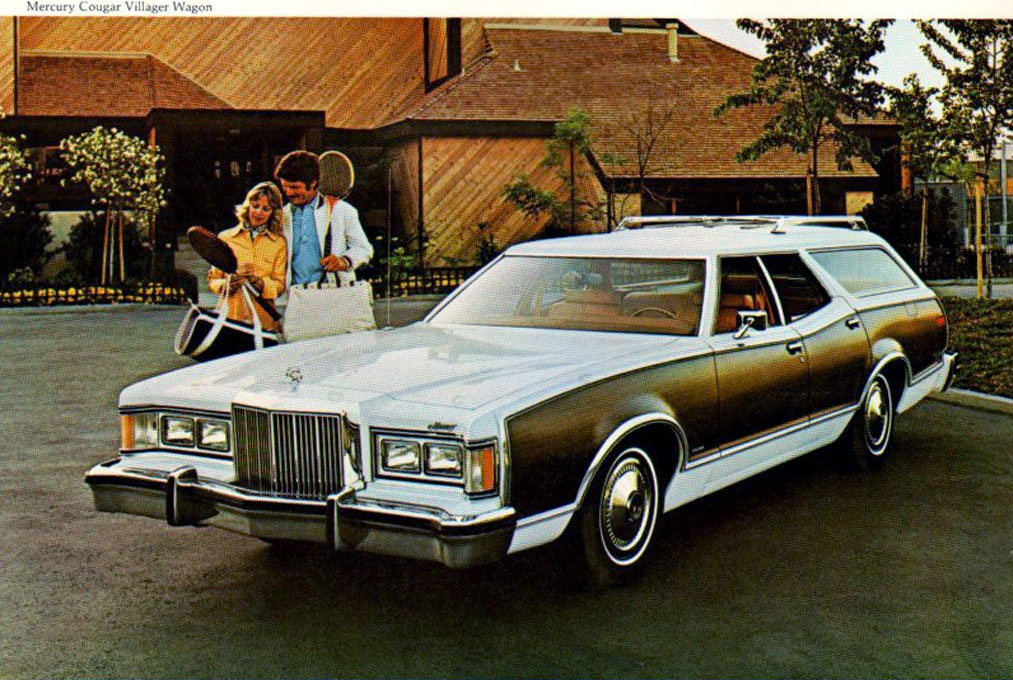 Some wagons came with the Brougham Package.
The standard engine for the Cougar Station Wagon was the 351 2v. The 400 2v was optional.
1977 Mercury Cougar Villager Station Wagon Statistics
Body Type: 5-door Wagon
Drive: Rear Wheel Drive
Transmission: 3-Speed Automatic
Length: 18 ft. 6 in. | Width: 6 ft. 6 in. | Wheelbase: 9 ft. 8in.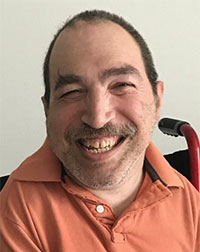 Waheed, Kamran
Station Wagons / Two Tone Registrars

| | | |
| --- | --- | --- |
| Engine: V-8 Select-Shift Automatic | 351-2V | 400-2V |
| Horse Power: | 149 hp | 168 hp |
| Weight: | 4,660 pounds | 4,724 pounds |
| Top Speed: | 104 mph | 108 mph |
| Acceleration: 0- 60 mph | 14.4 seconds | 13 seconds |
| MPG: | 12.7 mpg city / 15.3 mpg hwy | 11.5 mpg city / 13.8 mpg hwy |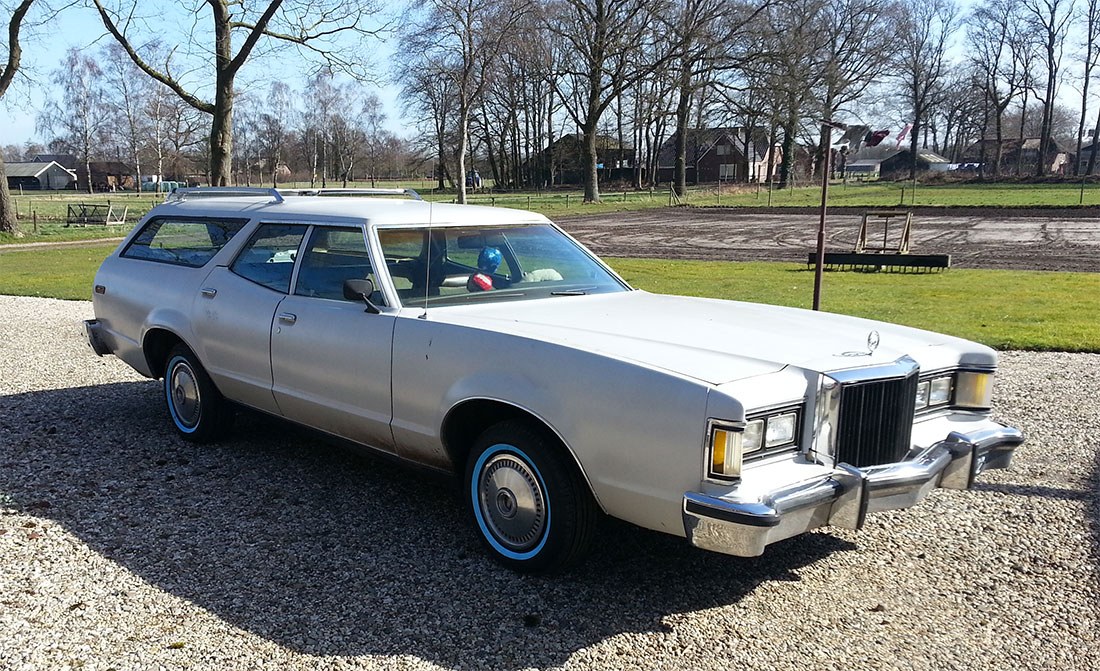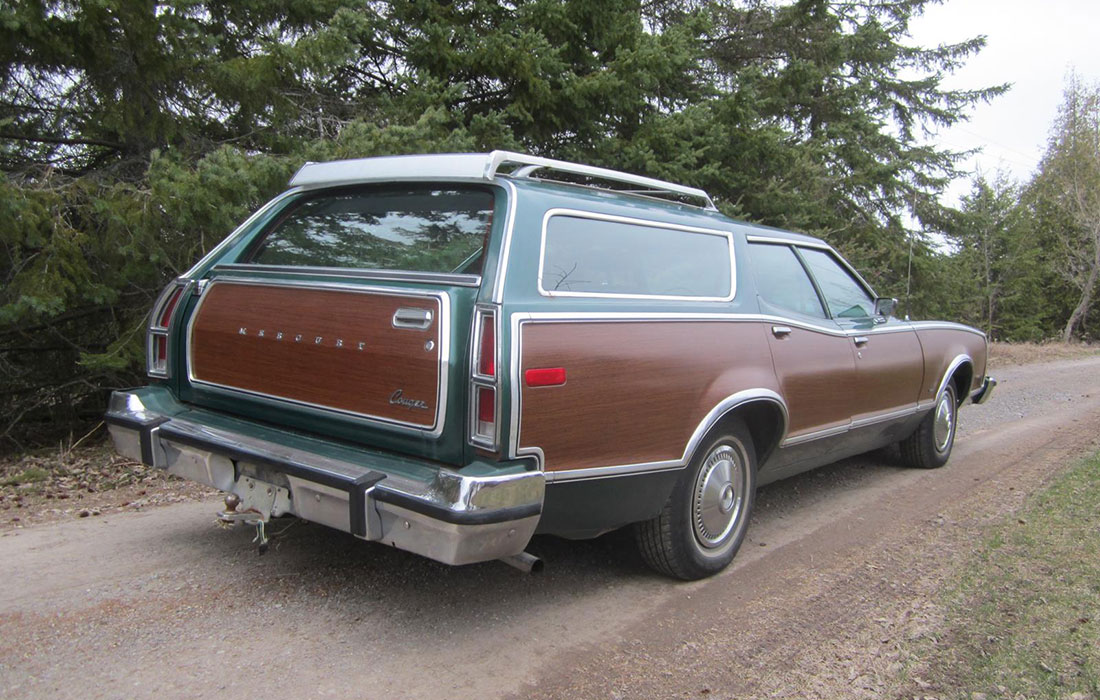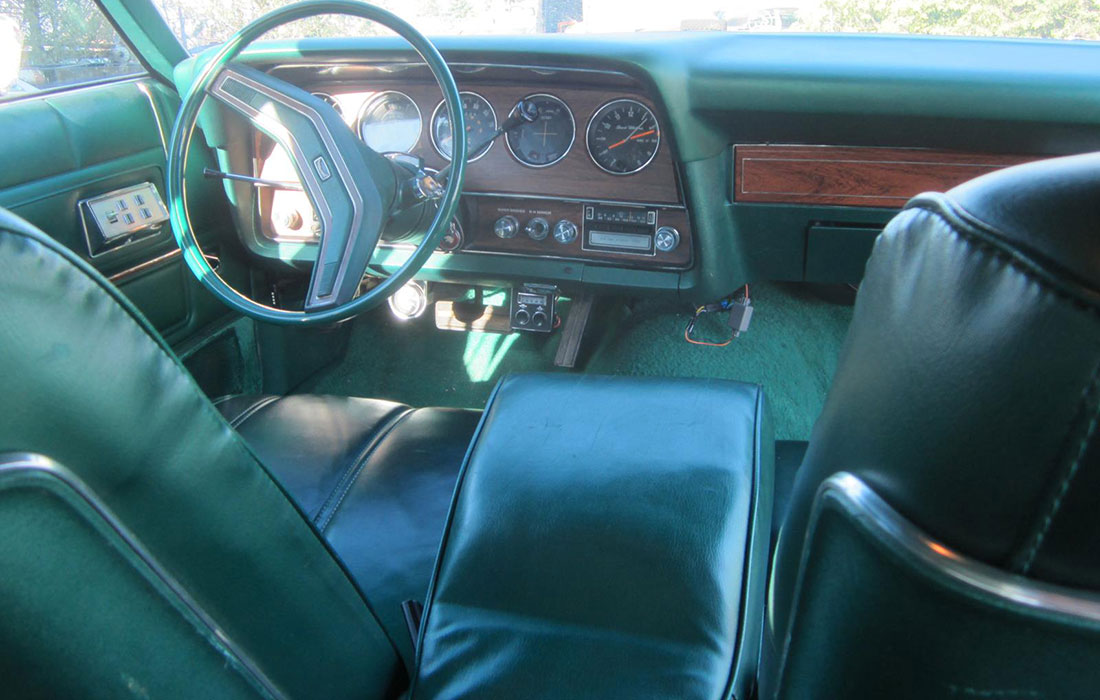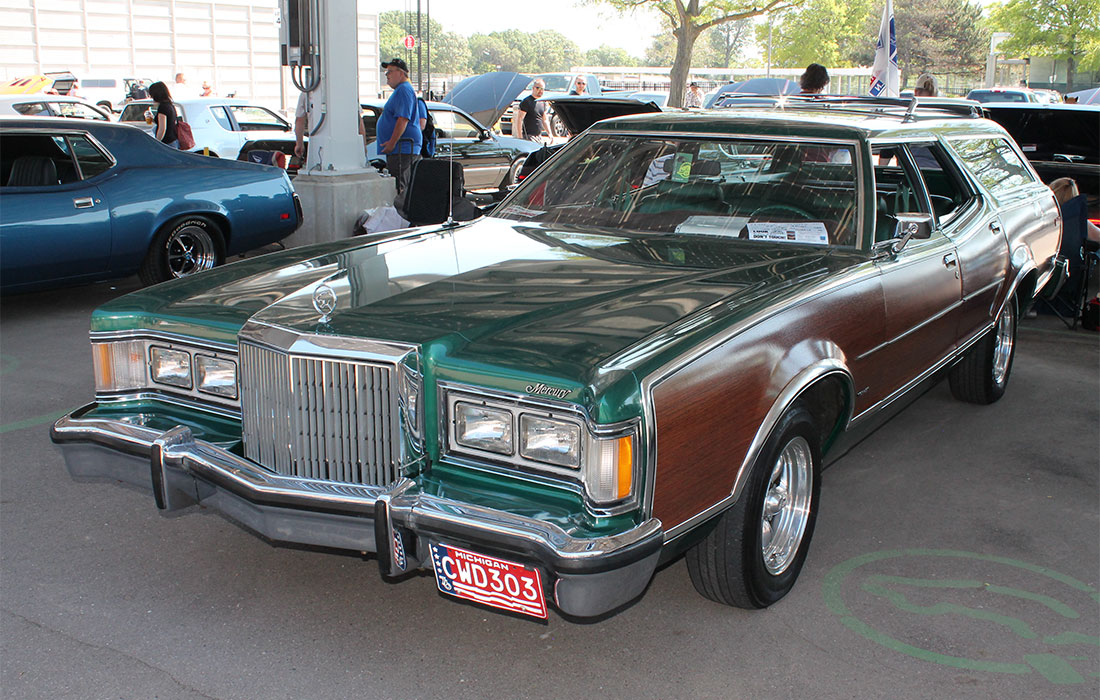 1977 Mercury Cougar Villager Station Wagon Postcard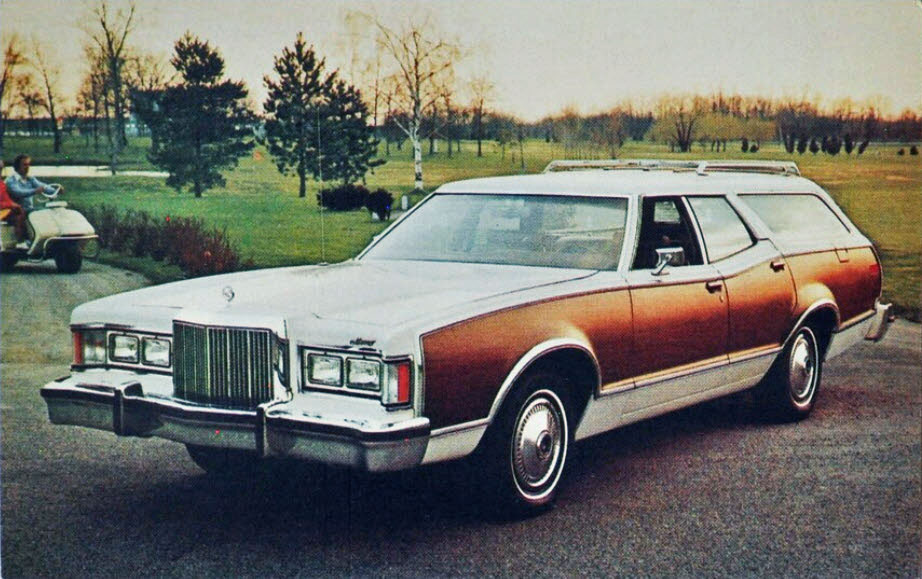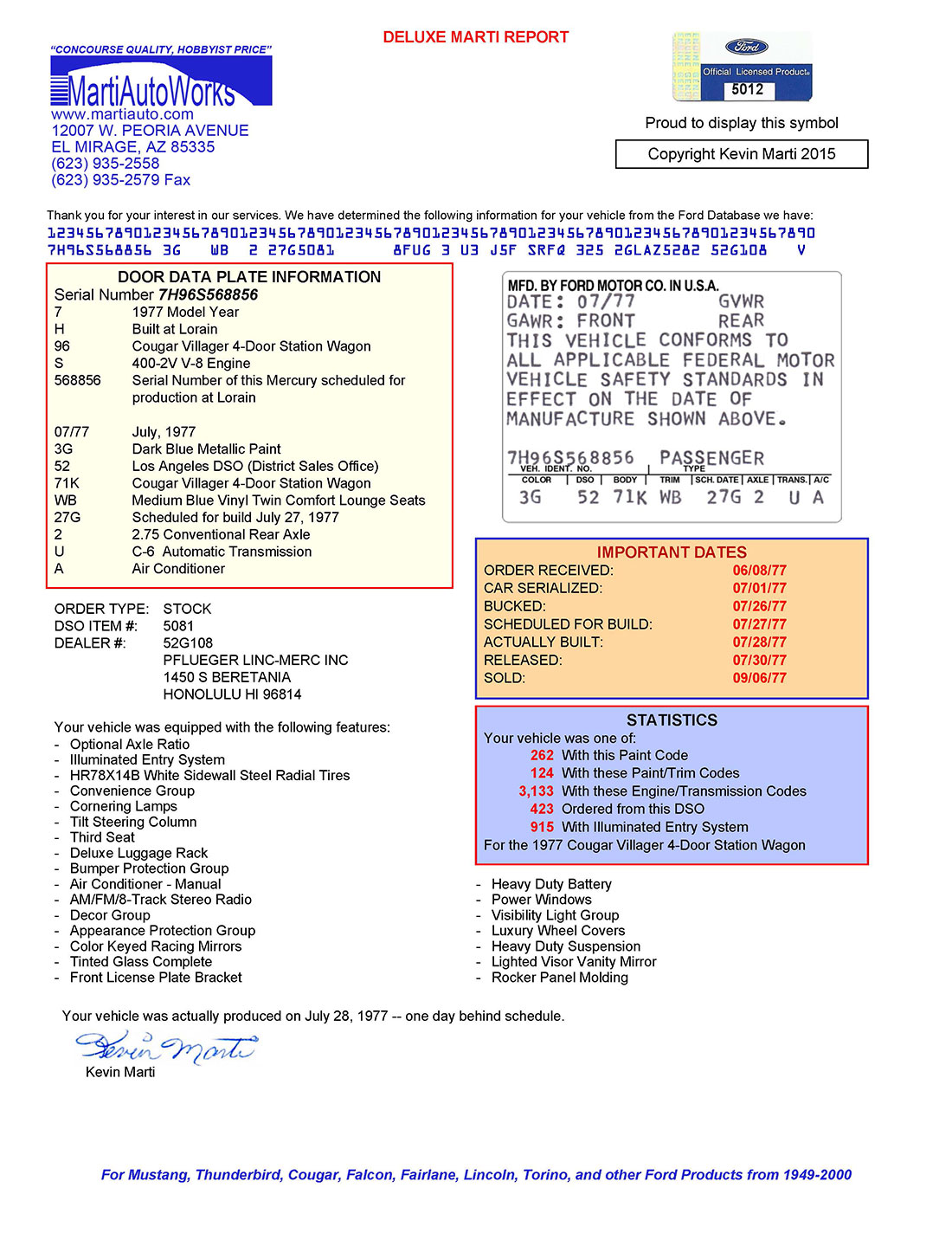 1982 Cougar Station Wagon
Practicality of a Wagon, Luxury of a Cougar
For 1982, the Cougar lineup included a new Cougar Wagon. And what a wagon! Start with people. There's room for six.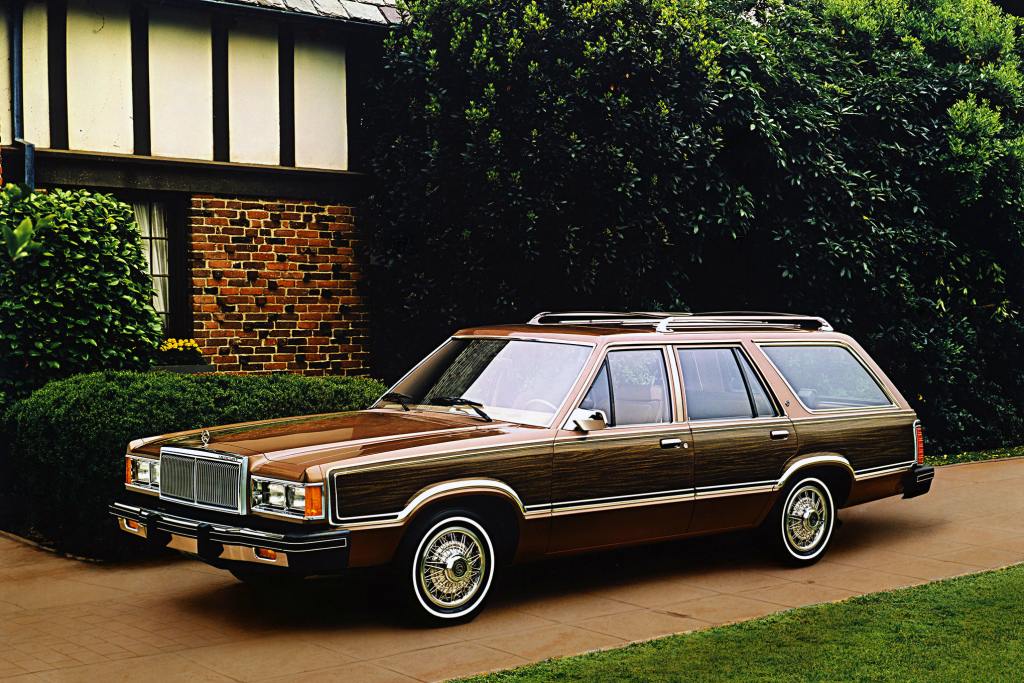 Carrying capacity? With the rear seat up, Cougar Wagon has 41.9 cubic feet of cargo space; with the rear seat down, you get about twice the cargo space–73.6 cubic feet.
Cougar Wagon also offers you a special optional two-way liftgate. You can choose to raise the entire liftgate or only flip-up the glass portion–a convenient feature for grocery shopping or stops at the hardware store.

The 1982 Cougar Wagon features all the standard luxuries of the Cougar GS.
On the exterior, bodyside moldings with color-keyed inserts, special striping, the vertical grille, and Cougar hood ornament create a wagon that is truly classic. True to the Cougar level of interior luxury, you get a Flight Bench seat with integral fold-down center armrest, a luxury steering wheel, and rich woodtone accents. The flat cargo floor is fully carpeted, and there's a lockable stowage compartment.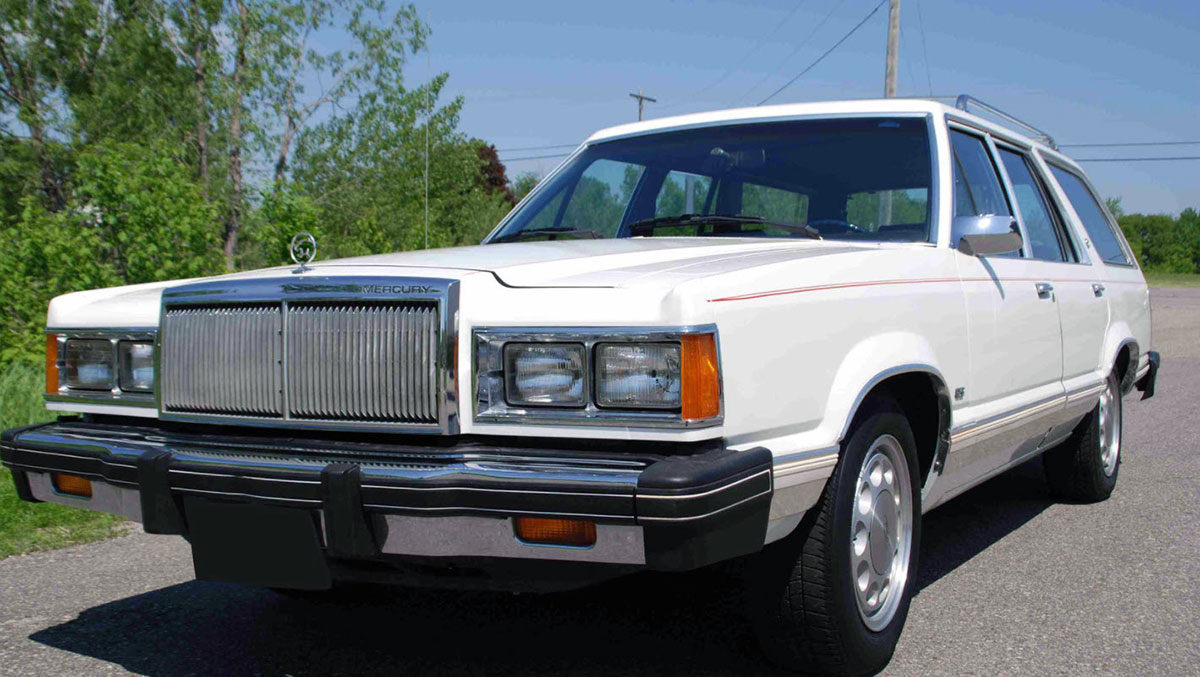 And there are special wagon options. Most notable is the stylish Villager option with woodtone accents on the sides and liftgate; a bright luggage rack with woodtone inserts provides adiitional cargo carrying capacity and luxury.
The new Cougar Wagon. Combining carrying capacity and luxury.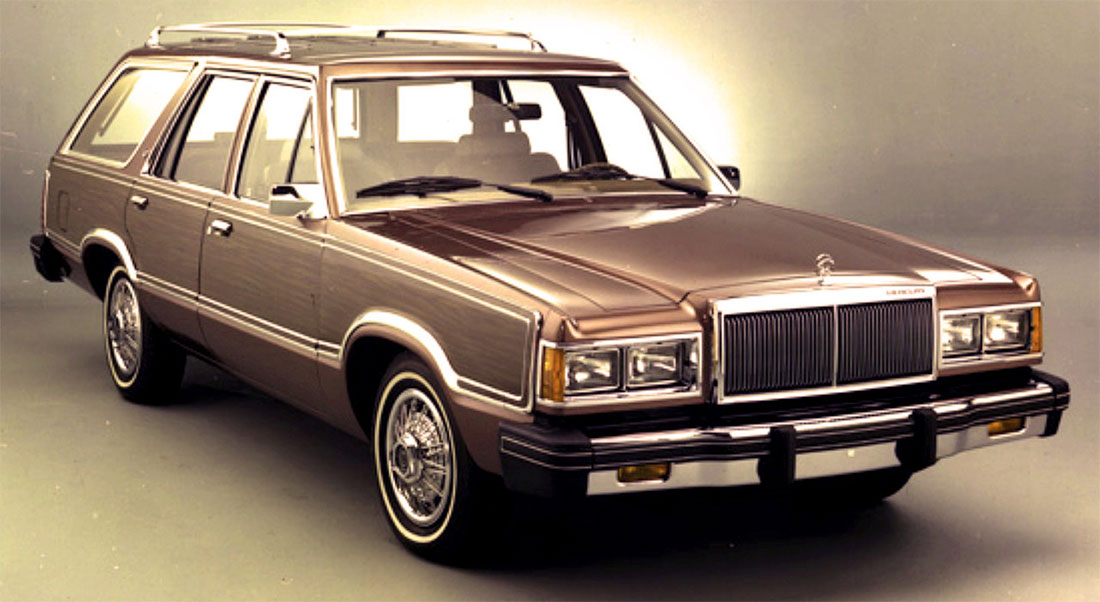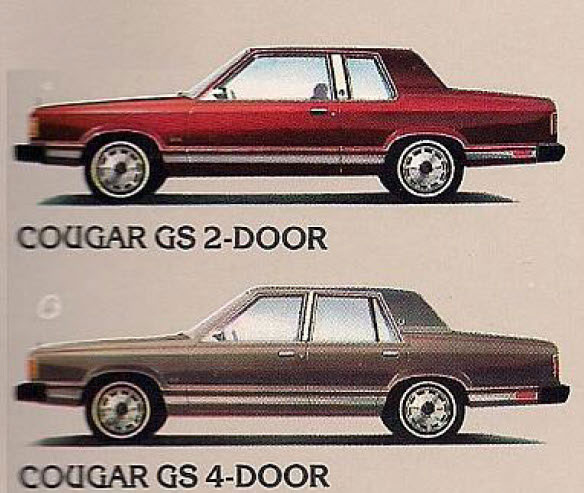 Standard Functional Features
Dual rectangular halogen headlamps
3.3 liter I-6 engine
Select-Shift automatic transmission with locking torque converter
Power brakes
Rack-and-pinion steering
Standard axle ratio, 2.73:1
P175/75 R14 BSW steel-belted tires
Economy spare tire
Hybrid MacPherson strut front suspension; four-bar link coil spring rear suspension
Front stabilizer bar
Inside hood release
Fluidic windshield washer
Steel bumpers with black rubber end caps
Side-fill fuel tank (16-gallon capacity)
Dual braking system
Brake failure warning light
Deluxe sound insualtion package
Viscous drive fan
Dual-note horn
Standard Interior Features
AM radio (may be deleted for credit)
Cloth Flight Bench seat
Color-keyed seat belts with tension reliever
18-ounce cut-pile carpeting
Woodtone instument panel appliqué
Rear seat ashtray
Cigarette lighter
Glove box lock
Woodtone steering wheel
Steering-column-mounted controls for wiper/washer, high/low headlamp beam, horn, and turn signals
Day/night mirror
Cut-and-score cloth headlining
Burloom luggage compartment mat
Front and rear door trim panels with upper woodtone appliqués and lower carpeting
Right-hand visor vanity mirror (non-illuminated)
Carpeted package tray
Standard Exterior Features
Bright grille
Full-width wraparound taillamps
Left-hand remote-control sail-mounted mirror
Lower bodyside moulding with color-keyed vinyl insert
Front bumper guards
GS badge on front fender
Rear bumper sight shield
Hood and bodyside accent stripes
Cougar hood ornament
Bright belt, drip rail, rear window, windshield, door, and window frame moldings
Deluxe wheel covers

Includes all standard Cougar GS sedan features, plus these additioanl and/or differences:
Liftgate open warning light
Cargo area light
Tinted liftgate glass
Carpeting on load floor and back of second seat, and liftgate
Lockable stowage compartment
Bright liftgate lower edge and taillamp molding
Standard axle ratio, 3.08:1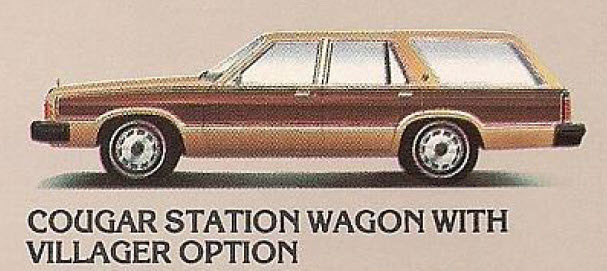 Includes all standard Cougar GS sedan features, plus these additions and/or deletions:
Medium Rosewood woodtone on bodyside and liftgate
Bright surrond rails with Medium Rosewood woodtone inserts
Rosewood woodtone narrow protective bodyside molding
Villager script on liftgate
Delete GS badge, bodyside molding, and hood and bodyside accent stripes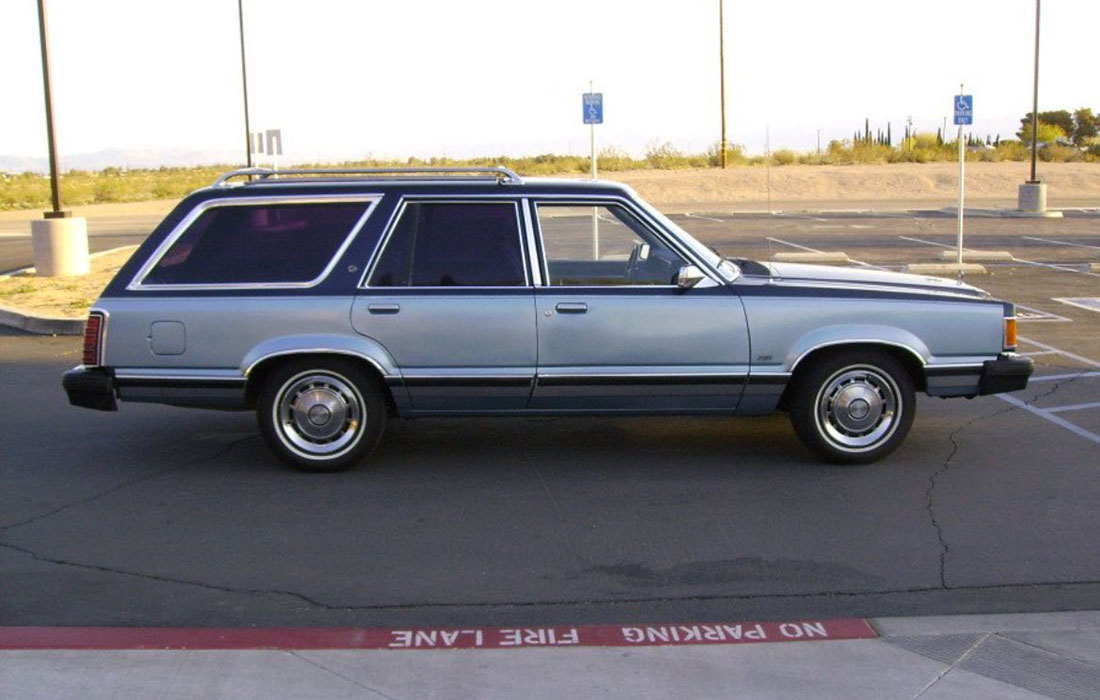 The 1982 Cougar Station Wagon would be the second and final year for Cougar Wagons.
The 1982 Cougar Station Wagon GS package focused more on luxury.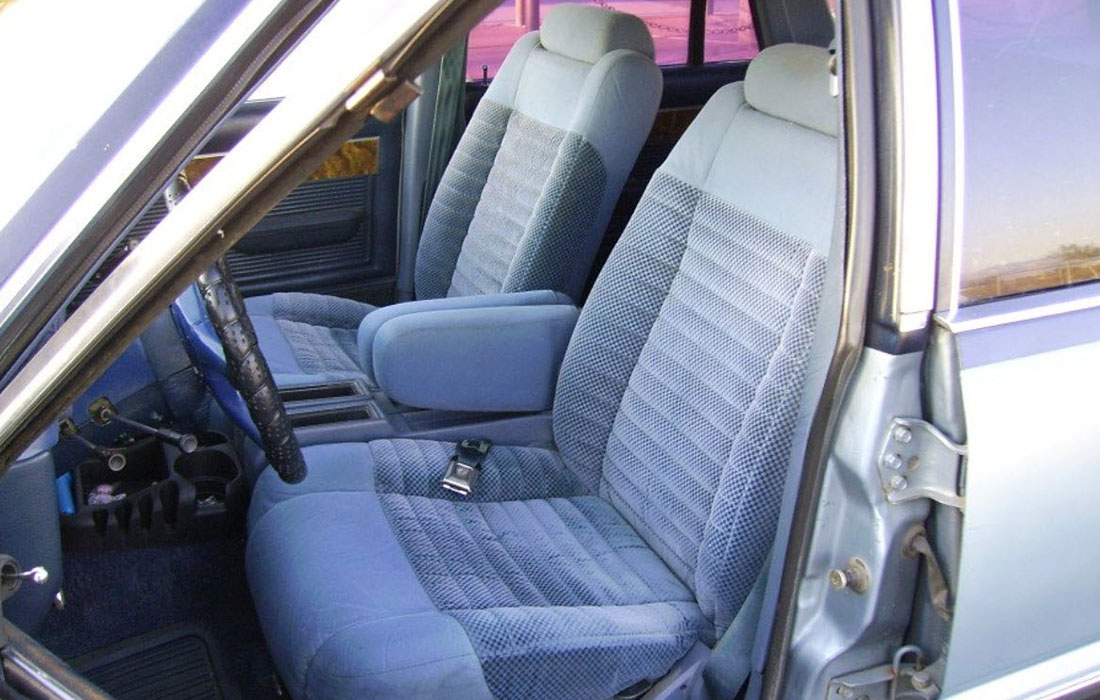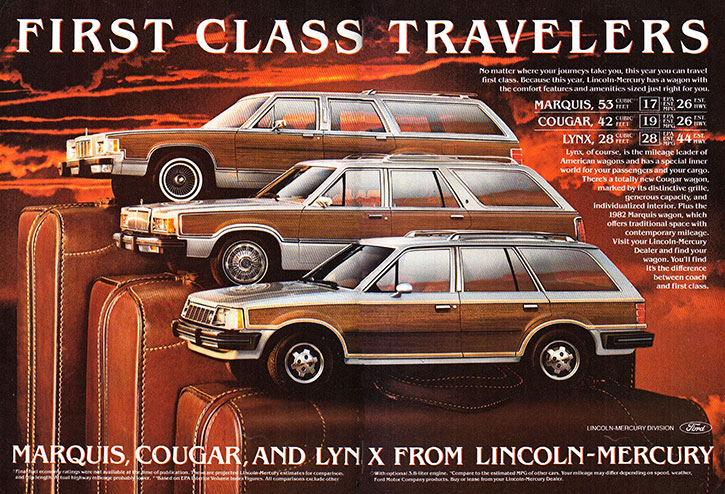 1982 Cougar Wagon Specification
Production: September 1981 to October 1982
Class: Mid-Size Luxury / Executive
Body Style: Station Wagon
Doors: 5
Drive: Rear-Wheel Drive
Length: 16 ft. 4 in.
Width: 5 ft. 9 in.
Height: 4 ft. 5 in.
Wheelbase: 8 ft. 8 in.
Passenger Volume: 93.7 cu. ft.
MPG: City – 13.4 / Highway – 16.1
Weight: 3,115 pounds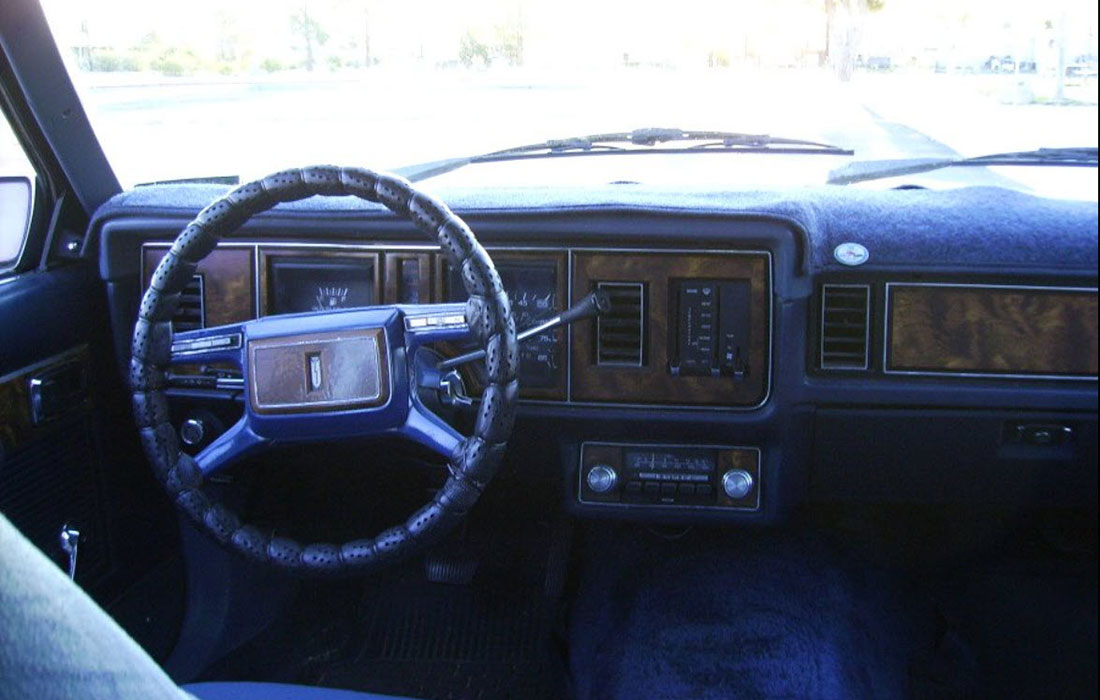 If you own one of these unique Cougars and have not registered it yet, please send your contact information along with the VIN and data plate information of the Cougar, other documentation you have, and pictures to the address or email below so it can be accounted for.
If you happen to spot a Cat wagon on the prowl and are able to catch it or see one in "Cougar Heaven", please send the data plate information to this address or email.
Kamran Waheed
c/o CCOA Cougar Station Wagon Registry
1419 Tierra Calle
Carrollton, TX
75006
USA